The future of Roberto De Zerbi, a Manchester City fitness update, Rodri's red card and return – Every Word: Pep Guardiola's Pre-Brighton press conference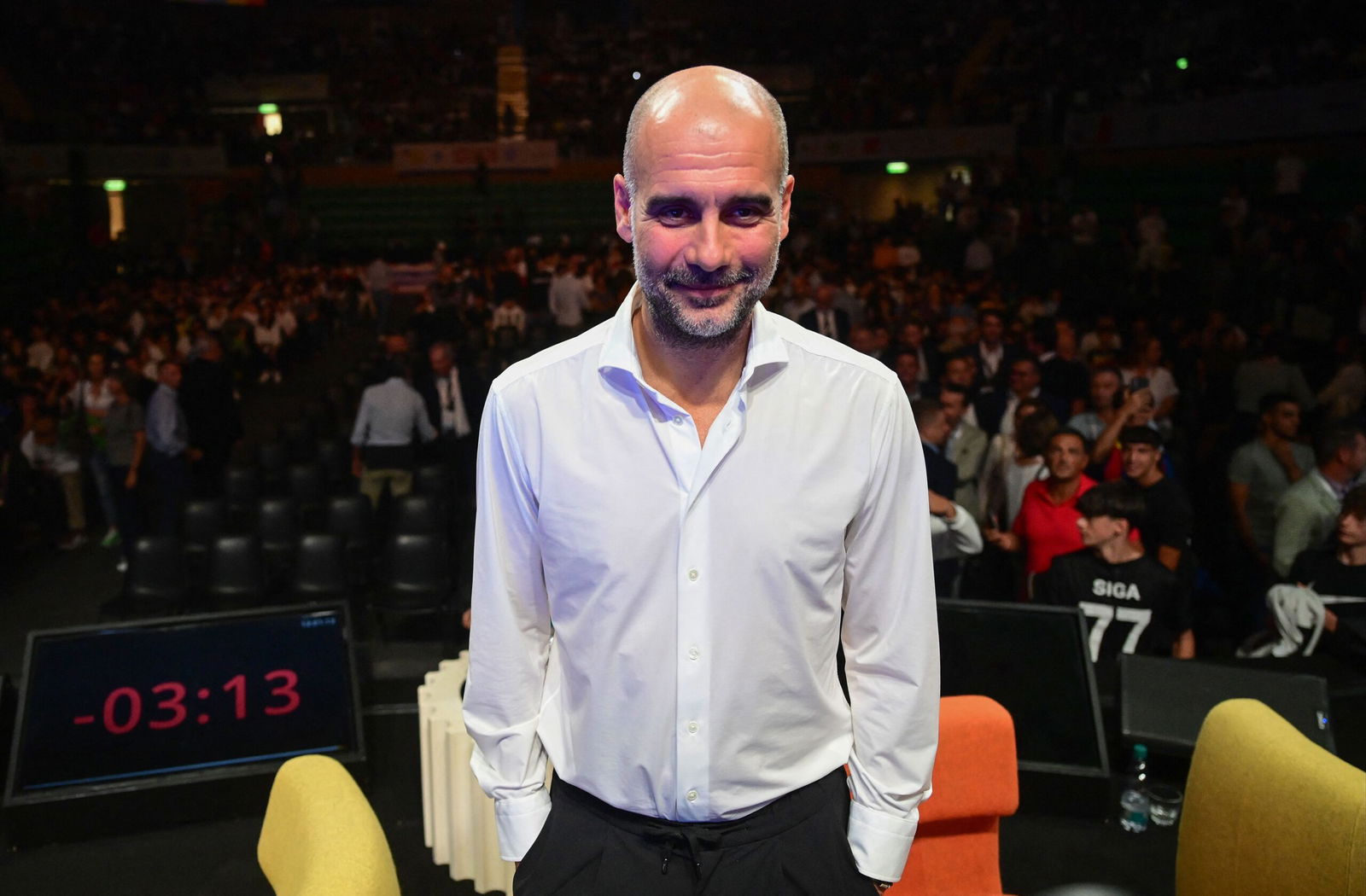 Manchester City manager Pep Guardiola has spoken to the media ahead of Saturday's Premier League clash with Brighton at the Etihad Stadium.
The treble-winners return to action following the October international break, bidding to bounce back from consecutive Premier League losses, after defeats to both Wolves and Arsenal.
Manchester City fell to a late defeat at the Emirates Stadium as a result of Gabriel Martinelli's deflected effort in the dying embers of the contest, as Pep Guardiola's side dropped to third in the Premier League table, two points behind current leaders Tottenham.
Guardiola has been handed a notable boost ahead of Saturday's meeting with Brighton at the Etihad Stadium, with Rodri returning from a three-match suspension and John Stones available to start a Premier League game for the first time this season.
Manchester City drew 1-1 with Brighton back in May at the AMEX Stadium, meanwhile an Erling Haaland brace helped the Sky Blues beat the Seagulls 3-1 at the Etihad Stadium last October.
Roberto De Zerbi's side suffered a shock 6-1 thumping to Aston Villa late last month and are winless in their last four matches in all competitions, despite a resolute 2-2 draw with Liverpool prior to the international break.
Saturday afternoon's fixture is the first of several testing upcoming clashes for Manchester City, who travel to Old Trafford to face Manchester United next weekend.
The Blues also have the opportunity to take a major step towards UEFA Champions League Group Stage qualification in midweek, with a trip to Swiss side BSC Young Boys on Wednesday night.
Attention will however firmly be fixed on returning to winnings way in the Premier League, and ahead of Saturday's meeting with Brighton, here is every word from Pep Guardiola's pre-match press conference at the City Football Academy on Friday.
On Manchester City's team news
"No problems, except Kevin (De Bruyne). No, I don't know. (When Kevin De Bruyne) will be back)."
On Brighton
"Last season was really good too, that's why they qualified for Europe. Some decisions (were made) against them in the last games (or else they) could fight for the Champions League. They continue at the same level (this season)."
"We don't play in a similar way, they are unique for the way they play. We are aggressive without the ball, high pressing, we want the ball like they want it, but they way they play, they do it."
"Always they find the right man, the right man in the right position to have the man free. I see football this way. As a team that plays so slow, then after so quick with the counter-attack. They play perfectly with two rhythms and that's why they're a success. I have the feeling they control the game, they can lose of course, but they can do it."
On Roberto De Zerbi
"He's a handsome man. I admire (him), it doesn't matter the team they face, they play the way (they want to). He comes from Italy, how he plays is a little counter-cultural, he was at Sassuolo and it doesn't matter if it's (at the) San Siro or Turin, he plays the same way. Then he was at Shakhtar (Donetsk) and Shakhtar have to win. At Brighton, he's doing the same."
"I like to watch his team play and it's not a surprise the success his side has (had), even when they lost 6-1 to Aston Villa, it doesn't matter, he plays his own style. It doesn't matter. It will be one of the toughest tests we have, and we will try to go for it."
On whether Roberto De Zerbi will one day join a 'top club'
"He's converting Brighton into a top club; (Alexis) Mac Allister has gone (to Liverpool), (Levi) Colwill (has) gone (back to Chelsea), and they continue to play at a good level. The simple things they do perfectly and they have exceptional players of course, but I have the feeling with him they're better."
On whether he has spoken to Kalvin Phillips following his comments about his future during the international break
"No, no. The transfer window is over. We are here together. When we need a game with transitions or need chaos, Kalvin (Phillips) is perfect. At the winter time, he will be here. The (January) transfer window, nobody knows."
On the 2023 Ballon d'Or award
"Always I said that the Ballon d'Or should be two sections; one for (Lionel) Messi, then after another one, so (Erling) Haaland should win, yes. We won the treble, he scored a million goals. The worst season for Messi is the best for the rest of the players. Both deserve it. Realistically, I want Haaland to have it cause he helped us achieve what we achieved, I would love it. But Messi won the World Cup. It's good players here (from Manchester City) are up for the award, it makes us so proud."
On John Stones' fitness before and after the international break
"We were a little bit concerned. We spoke with Gareth (Southgate), we have an incredible relationship. We were concerned because (John) Stones didn't play one minute in the last two months and then to play for the national team. He was so important and we could not use him. We're happy he got minutes, but what if he gets injured? So he plays some minutes and comes off. They love to play for their countries, I never say to not go there, but if a player plays few, few minutes, we are concerned. But thankfully everything was alright and he's ready for the next games."
On Manchester City's relationship with national teams
"Absolutely. When we can talk on our thoughts on everything with national team managers and directors, it's perfect, it should be. More conversations. Training might not be good for certain players, we know them for many years. In the end, we want both to benefit from the player, we want the player to be fit. The more talk, the better it will be."
On the return of Rodri
"So important. He will learn. He got sent off (against Nottingham Forest). But there were two fouls on Rodri where the referee didn't apply the rule. Without that, he doesn't get sent off. After that he has to learn. Control emotions, stand up and go. I'm pretty sure he will learn."