Match Report and Player Ratings: Wolves 2-1 Manchester City (Premier League)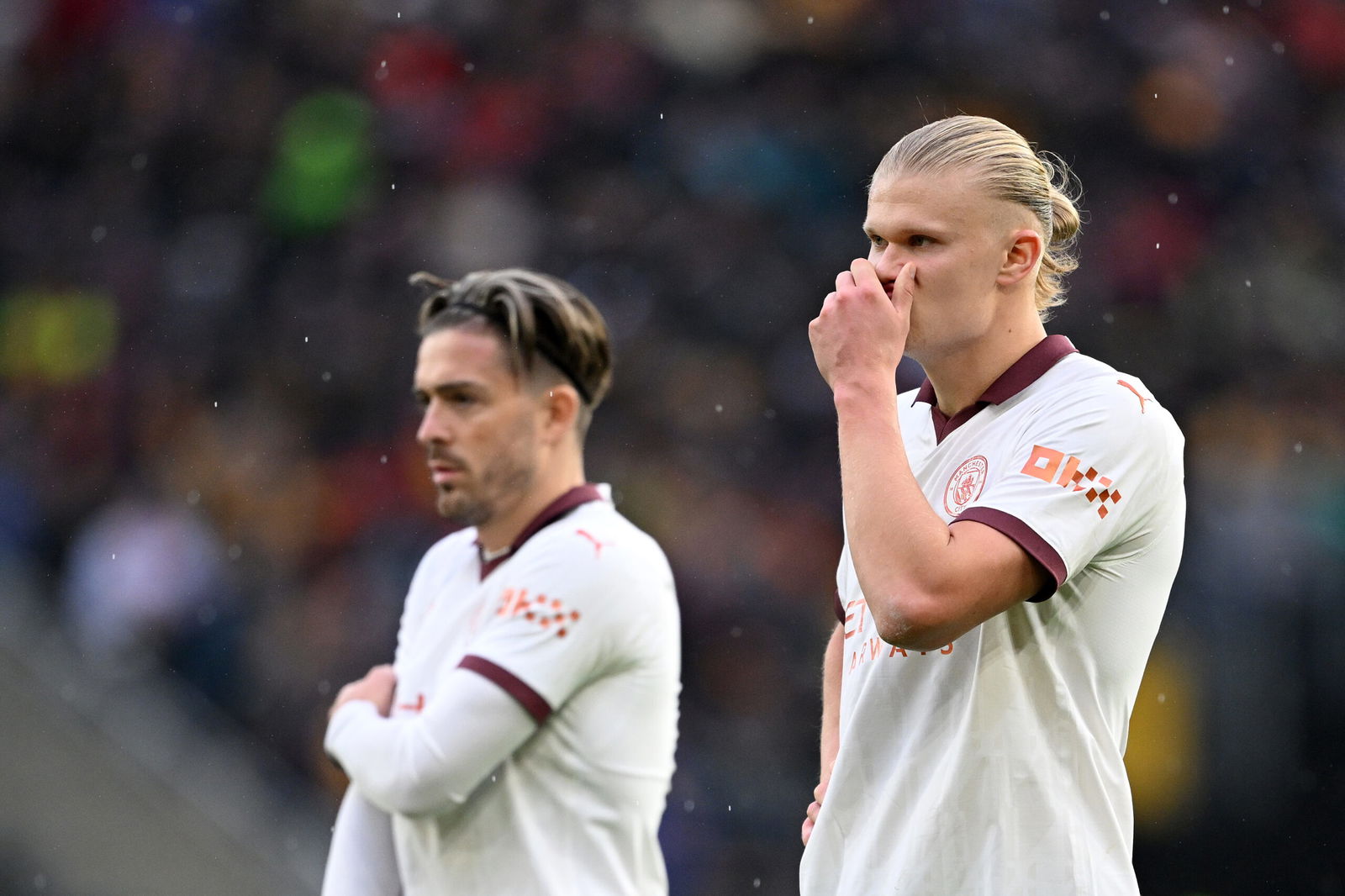 Manchester City's unbeaten run in the Premier League ended on Saturday afternoon with a 2-1 defeat against Wolves.
Pep Guardiola's side arrived in Molineux wounded from the Carabao Cup exit in midweek after a 1-0 loss against Newcastle United at St. James' Park, only for Wolves to deal another major blow to the Catalan coach's team.
City kickstarted the match intensely, creating multiple chances in the opening minutes. Nathan Ake's attempted shot from distance was off target, but the start seemed encouraging for the defending champions.
Matheus Nunes created a promising chance soon afterward, but Erling Haaland couldn't bury the ball past Jose Sa. A little over ten minutes later, Manchester City lost the ball in midfield, and fell prey to Pedro Neto's terrifying run down left. He moved past Phil Foden with ease and beat Nathan Ake in a race towards goal before attempting a shot.
The ball took a deflection from a sliding Ruben Dias and flew past Ederson to give the hosts the lead. Conceding the early goal uncharacteristically threw City off their game, who struggled against a relentless Wolves attack largely led by Neto.
The Sky Blues regained composure close to the half-hour mark, attempting to dominate possession. Foden led Manchester City's press impressively, desperate to find a way past the Wolves' defence, but to no avail. Despite firing two shots wide, Jeremy Doku remained the biggest attacking threat.
Summer signing Nunes faced unparalleled hostility from Wolves fans, who directed chants and boos at their former player every time he touched the ball. Oscar Bobb replaced him at half-time as Manchester City walked back on the pitch looking for an equaliser.
City got themselves back on level terms soon from a wonderful Julian Alvarez free-kick, who curved the ball into the top corner. However, the celebrations were short-lived as Nelson Somedo found his way behind Nathan Ake, leaving Hwang Hee-chan to regain the lead for Wolves.
City looked to create more attacks in the final 15 minutes of the game but were comfortably shut out by the Wolves defence, which ultimately forced the treble winners to accept defeat at full-time.
Having suffered two consecutive losses, Pep Guardiola is now left with a huge challenge to revive his injury-laden squad as they stare towards two important away fixtures. Manchester City will now gear up to take on RB Leipzig in the Champions League before returning to Premier League action, where they face Arsenal at the Emirates Stadium.
Here's how we think City players fared in defeat against Wolves this weekend.
Player Ratings
Ederson – 5
Could not have done anything else for the first goal, but arguably should have done better for the second.
Kyle Walker – 5
Dependable with attacks but left plenty of space behind him for Wolves to exploit on the right despite being booked early in the first half.
Manuel Akanji – 6
Struggled in the initial minutes, recomposed himself, and upheld the defensive line.
Ruben Dias – 5
Conceded an unfortunate own goal. Made important interceptions, but Manchester City defenders – including himself – were far off the mark.
Nathan Ake – 4
It was not his day; massively struggled against Pedro Neto and Nelson Semedo.
Mateo Kovacic – 5
Lost the ball that led to the first goal and was pushed into Rodri's role, where he looked nervous. Not at his best, but near-perfection is an unfair ask for the position. Should have been better with passes.
Matheus Nunes – 5
First to find his way past the Wolves' defence, played a big role in Manchester City retaining possession in the first half but didn't create much – all amidst cruel treatment from home fans.
Julian Alvarez – 7
Scored the goal but couldn't create as much impact as he would have liked. Completely boxed in by the defence but kept City alive.
Phil Foden – 5
Played an instrumental role in City's press but couldn't find the right pockets of space until the final ten minutes of the game.
Erling Haaland – 4
Difficult to find upfront wasn't clinical with the minimal chances he received.
Jeremy Doku – 6
City's best-attacking threat, and it made no difference, off the mark with attempted goals and struggled after being moved to the left.
Substitutes
Oscar Bobb – 6
Bold choice of replacement for Nunes created a chance for Haaland and won the free-kick that got Manchester City their goal.
Kalvin Phillips – 5
Had decent spells while retaining the ball, but passes lacked creativity; conceded a goal, but he shared the blame with all around him.
Jack Grealish – N/A