Five Things Learned: Wolves 2-1 Manchester City (Premier League)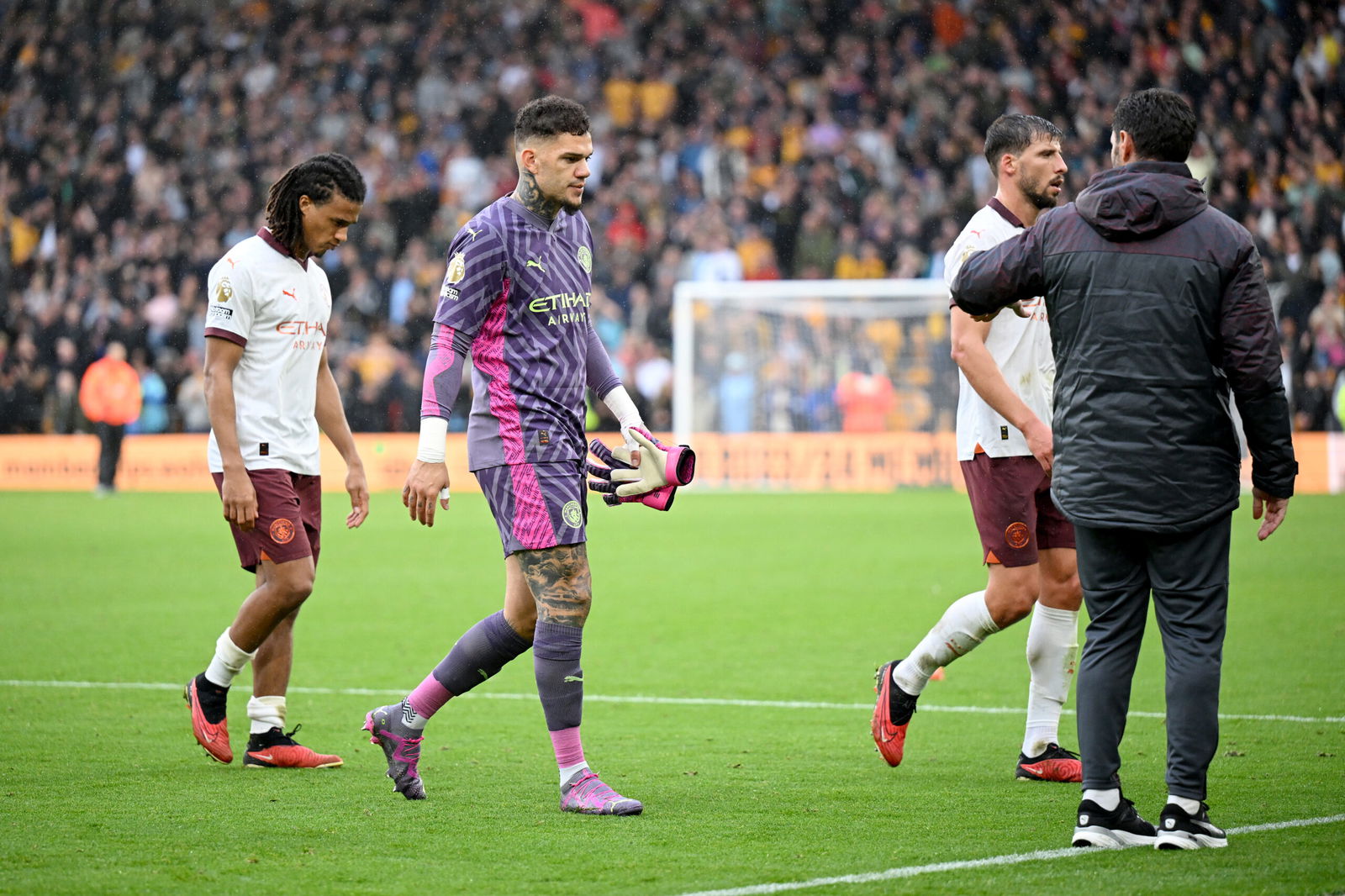 Manchester City's unbeaten start to the Premier League season was abruptly ended by a surprise victory for the struggling Wolverhampton Wanderers on Saturday afternoon.
Pep Guardiola was forced to watch on from the Molineux stands after amassing too many yellow cards in previous games, and the Catalan was not treated to the best viewing.
Wolves took an early lead as Pedro Neto raced past several Manchester City players before shooting and seeing his effort deflected off his compatriot Ruben Dias and into the net.
City tried and tried to channel their inner wolf and blow the house down but to no avail as the Wanderers stood strong and took their slender lead into the break.
The Premier League champions came out kicking in the second-half and managed to conjure up an equaliser through a set piece.
After substitute Oscar Bobb was fouled on the edge of the box, World Cup winner Julian Alvarez fired his free kick into the top left corner, leaving Wolves keeper Jose Sa helpless.
The scoreline did not stay level for long though, as the home side stormed into the lead once more through Hwang Hee-Chan.
Pinball ensued in the box leaving the ball to eventually drop to Matheus Cunha, who played it back to his teammate for the South Korean to strike home.
Time ticked by for Manchester City with all efforts on Sa's goal not proving profitable for the visitors despite them piling on the pressure.
Pep Guardiola's men failed to find an equaliser, and disappointingly crashed to a second successive defeat with an abject display in the Midlands.
All good things come to an end
Manchester City have had some fantastic starts to Premier League seasons under Pep Guardiola and 2023/24 was pretty impressive in its own right.
Coming off the back of winning the Treble, City rallied through injuries and adversity to win six games on the trot but of course all good things have to come to an end.
Wolves, to their credit, fought valiantly to be the first team to take three points off of the Blues this campaign.
There is no need to panic, the Premier League is a marathon, not a sprint and these are the results that wake up a team, reminding them nothing is guaranteed in this division.
It is a tough one to take for the Cityzens for sure, especially given Wolves' start to the season, but it is a lesson that Manchester City will learn from, and the Blues remain top of the table, albeit by a slender point!
Midfield presence missing
Many brushed away the absence of Rodri as a small problem that would likely only come into being for the Sky Blues' upcoming away trip to Arsenal.
After being dismissed against Nottingham Forest for violent conduct last weekend, the Spanish midfielder knew that he would miss three games.
City are yet to even play the Gunners but have already picked up two losses from their two games so far without Rodri.
Guardiola's side look a far weaker side when both him and the injured Kevin De Bruyne are missing from the engine room, as they are at the moment.
Despite having several midfielders to step in such as Matheus Nunes, Kalvin Phillips and Mateo Kovacic, none can bring what the pair's presence does for the entire team.
Leaky backline strikes again
At Molineux, City once again conceded, and with just three clean sheets in 11 matches this season, the club have consistently struggled defensively.
In the same week as a damaging 1-0 loss away to Newcastle United in the Carabao Cup, the Blues appeared not to have learned their lesson, allowing Wolves to take the lead.
A lot of the great City form in the recent past has been built on strong defensive performances which can help to belittle opponents' morale after not finding the net against the champions.
Yet City conceding such preventable goals so frequently gives their opponents hope and belief that they can got toe-to-toe with them and get a result.
This is exactly what happened on Saturday, leading to Manchester City's eventual demise and this lack of shutouts will certainly worry Guardiola.
An unhappy return home
It was never going to be an easy afternoon for Matheus Nunes, who returned to his former club on Saturday.
After forcing through a summer move from Wolves in the summer, the Portuguese international was booed with every touch of the ball at Molineux. The hostile reception seemed to be getting to the midfielder too, as he gave away possession on several occasions, inadvertently helping out his former teammates.
Clearly those in the City dugout had seen enough of this and made a positive change at the break to replace the 25-year-old with youngster Oscar Bobb.
Nunes has had a decent start to life in Sky Blue but the first-half was not one of his finest moments at his new club.
Arise Alvarez!
It is no secret that Manchester City have had some wonderful free-kick takers in the past, from special one-offs to regular showstoppers.
From Elano's hit versus Newcastle United in 2007 to Yaya Touré's fine repertoire throughout the 2013/14 season, the Blues have rarely gone without.
In recent years, Riyad Mahrez and Ilkay Gundogan have been the providers of set piece goals from afar, but with both departing in the summer, it was a mystery as to who would step up.
This question was emphatically answered on Saturday afternoon as Julian Alvarez hauled his side back into the game with a powerful effort.
In what was a turbulent afternoon for the Premier League champions, but this proved to be a positive note.