Kalvin Phillips' starting place, John Stones injury update, Jack Grealish vs Jeremy Doku – Every Word: Pep Guardiola's pre-Wolves press conference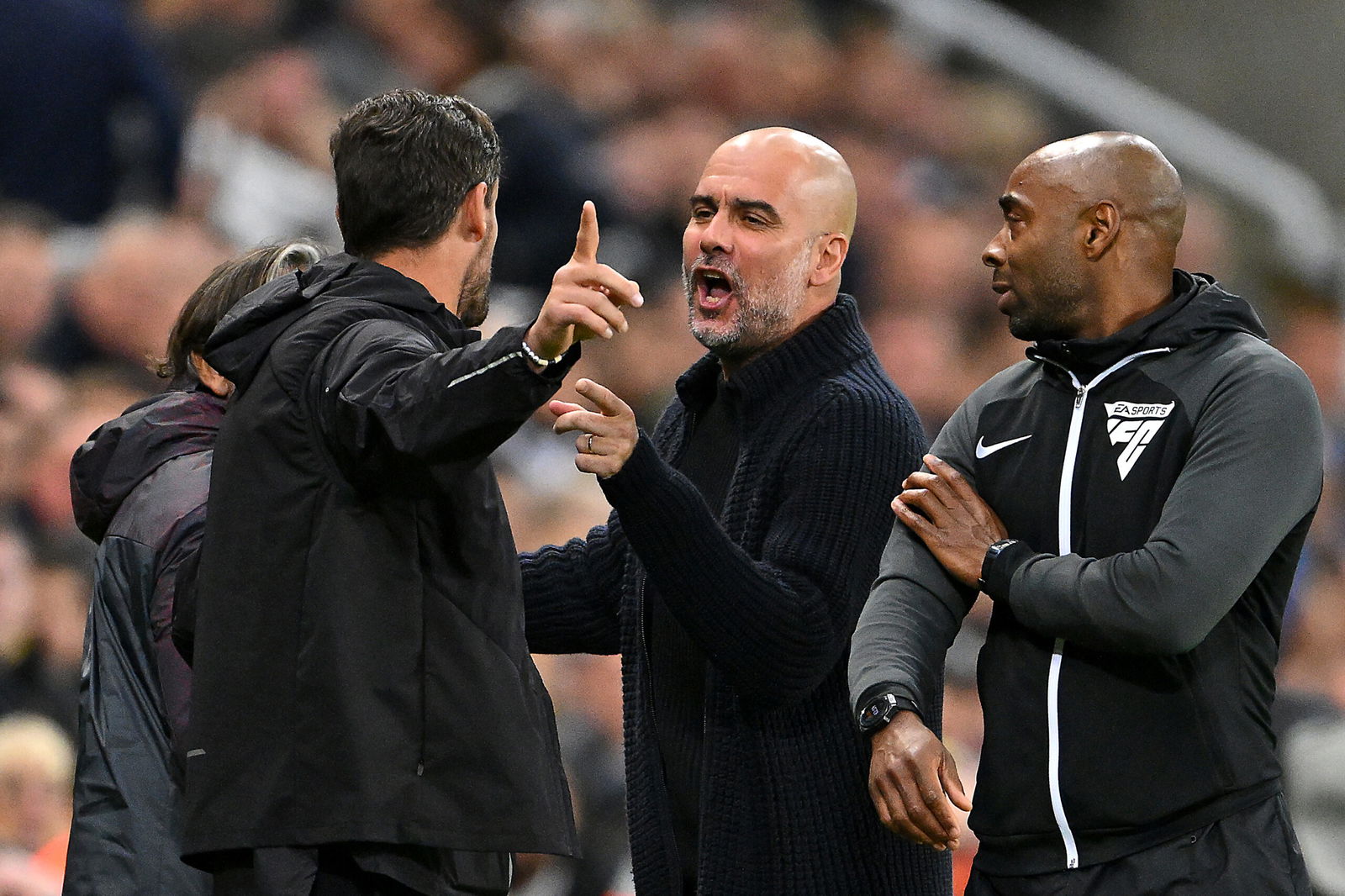 Manchester City manager Pep Guardiola has spoken to the media ahead of Saturday's trip to Molineux to face Wolves in the Premier League.
The 52-year-old provided a fresh fitness update and reflected on Wednesday's first defeat of the season, as Manchester City crashed out of the Carabao Cup with a 1-0 loss to Newcastle United at St James' Park.
Alexander Isak's 53rd minute goal was enough for Manchester City to suffer their earliest exit from a domestic cup competition in over decade, and abruptly ended talk of a possible quadruple following last season's treble triumph.
The Sky Blues will also have to wait another year to try and win the Carabao Cup, after three successive exits off the back of winning the competition for four consecutive seasons.
Pep Guardiola's attention will swiftly return to the Premier League, with the possibility for Manchester City to further extend their lead at the top of the table this weekend, as Liverpool host Tottenham on Saturday evening.
Manchester City could make it seven successive Premier League wins with a victory over Wolves at Molineux, with Gary O'Neil's side winless in their past three games, and with just one win all season.
The fitness of John Stones and Bernardo Silva, competition between Jeremy Doku and Jack Grealish, as well as Kalvin Phillips' starting place ahead of the weekend were among the topics addressed by Pep Guardiola during his press conference at the City Football Academy on Friday afternoon.
Here is every word from the boss ahead of the weekend's Premier League contest against Wolverhampton Wanderers at Molineux on Saturday afternoon!
On Manchester City's latest squad fitness
"We have training. I think John (Stones) is still not ready, Kevin (De Bruyne) is not ready. I think the rest is fine. I don't know about Bernardo (Silva)."
On John Stones' progress in recovery from injury
"He's better, he feels good. Training alone. Today is Friday. Maybe next week, or after Leipzig. It is what it is. It's a pity, but if you are not, you are not, you have to find a solution. The players want to come back. Recover and come back."
On his expectations for the game against Wolves
"The game was good against Newcastle. We played good first-half, they couldn't accept the rhythm. It's football, you win games and lose games. We were disappointed but focus on the next one."
On Jack Grealish vs Jeremy Doku
"Jeremy can play on the right. Who's going to play more is who's going to play better. Phil (Foden) can play on the left too. The guy who performs well and feels better has a good chance."
On Manchester City's summer signings settling in well
"More than impressed with the new ones, playing at a high level. Some of them (need a year), the other ones can click."
On Wolves (A) being an 'easy' game for Manchester City
"Normally all the games are easy! If we don't win the Premier League by December, it's a disaster!
"Incredible respect for Wolves, the quality they have. The guys upfront, the manager did incredible at Bournemouth. Against Brighton the chances they miss, against Liverpool they have chances.
"The quality is there, hopefully we can respond these three games before the international break."
On whether Rodri is difficult to replace in his Manchester City side
"Just for the amount of minutes he plays, it's not easy. He's out, we'll find another quality, the skills he hasn't (got) we use for the benefit of the team."
On whether Rodri's absence is a chance for Manchester City to experiment
"No, we try to do similar things in the seasons. It was not bad."
On Kalvin Phillips
"He has a chance (to start against Wolves) like the other ones. He's part of the group, an incredible contribution when he doesn't play. I don't have any complaints. Sometimes we look for something specific. If another team has the skills.
"Kalvin is a perfect one if the game is everything, with the details he struggles more. Newcastle was tough, he was there, his physicality. He helped us to win against (Nottingham) Forest."