Match Report and Player Ratings: Manchester City 1-0 Newcastle United (Premier League)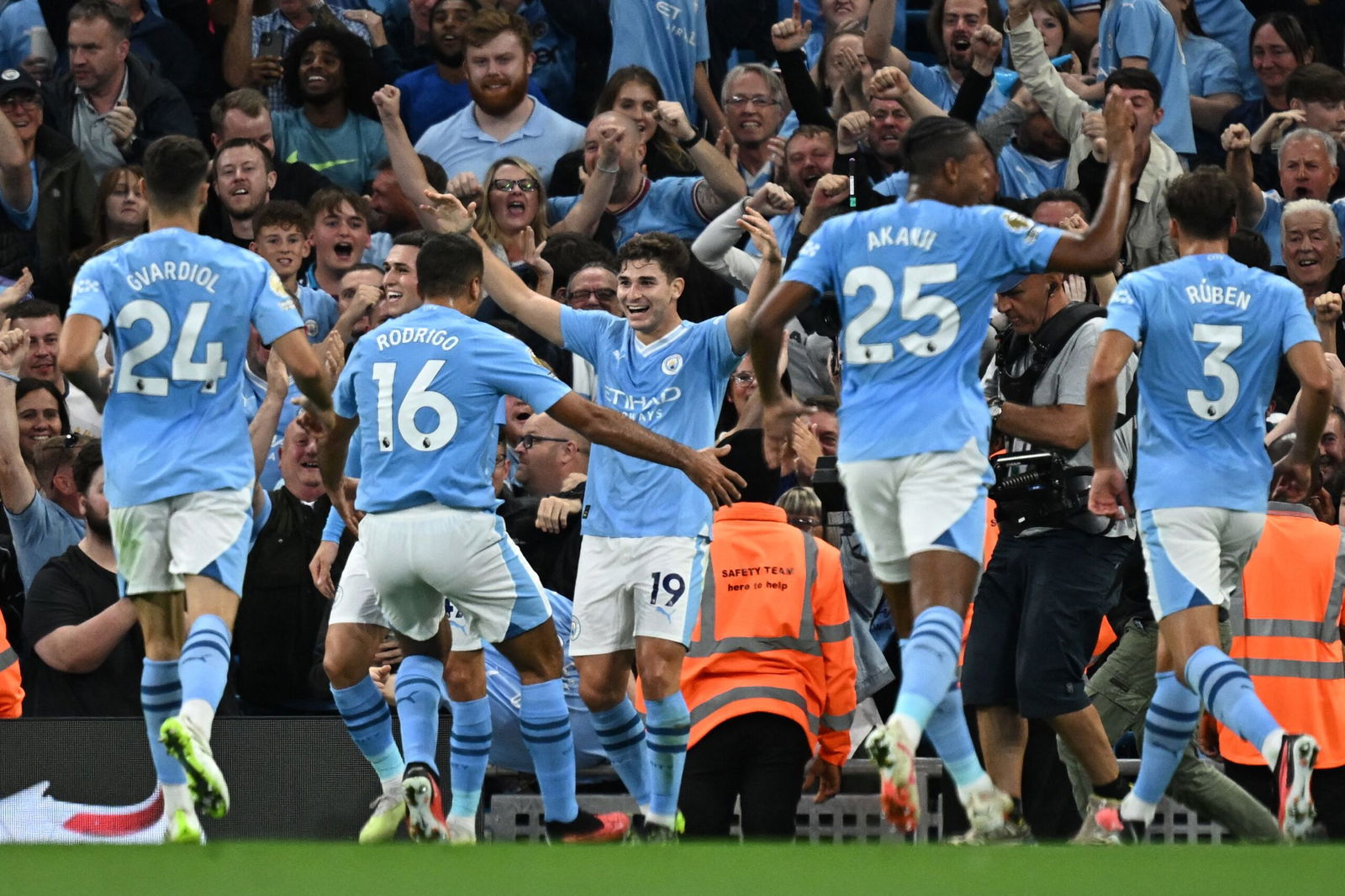 Manchester City earned a hard-fought 1-0 win over Newcastle United in their opening home game of the Premier League season on Saturday evening.
Pep Guardiola's side walked out on the home turf for the first time this season, welcomed by roaring fans at the Etihad Stadium following a historic treble-winning campaign. The European champions were in for a challenging task against Eddie Howe-led Newcastle.
The match's opening minute saw Newcastle centre-back Fabian Schär go down with a shoulder injury following an aerial clash with Erling Haaland. He received medical attention and was deemed fit to continue, following which both teams entered a fast-paced match.
A string of tidy passes allowed the defending Premier League champions to assert their dominance on possession early in the game. At right wing, Phil Foden spearheaded City's attack but floated to inner left space behind Erling Haaland when needed.
Foden creates a few early chances for Haaland, but his misjudged first touches prevent him from scoring a goal. In the meantime, Newcastle gradually resisted the pressure and hit back with quick counter-attacks.
Miguel Almiron combined well with Alexander Isak and Joelinton to find space on the left, putting Manuel Akanji and Josko Gvardiol to the test. The City defensive duo gave up space a few times but recovered well. They also received help from Julian Alvarez and Jack Grealish, who dropped deep for defensive responsibilities.
City had an impressive spell close to the half-hour mark where multiple players took shots inside the box, but each of them was blocked by Newcastle players crowding inside the box.
However, the defense soon left space for Julian Alvarez to exploit and score City's opener in the match. Phil Foden received the ball from Mateo Kovacic and cut a pass to Alvarez. The Argentine arrived in the space left behind Newcastle's defenders and buried the ball into the top-left corner of the net.
The rest of the first half saw City's defense stand tall against Almiron-led counter attacks while Jack Grealish attempted multiple shots on the other end. The second half started on a quieter note, with City particularly slow in the restart.
Newcastle players faced a barrage of yellow cards after subsequent reckless fouls, including a potential red card offense by Anthony Gordon.
Foden and Haaland linked well to create multiple chances but City struggled to find the second goal for the night. In the meantime, Almiron continued pressing for Newcastle and found a golden opportunity when he stripped the ball away from Rodri.
Callum Wilson picked the possession and raced to the goal but couldn't move past Gvardiol. City's latest signing single-handedly blocked the attack and won the possession for City, with everyone in a Sky Blue shirt breathing a huge sigh of relief.
Newcastle were relentless with their attacks but City held on, ending the match in a 1-0 win to bag the three points. The defending champions also extended their unbeaten run at home this year, having won each of their last 17 matches at the Etihad.
Kevin De Bruyne's knee injury, followed by his surgery, ruled him out of action for several months. City desperately needed Foden to step into that creative role, and he did a convincing job against Newcastle. Additionally, Ruben Dias' return was another huge positive in the match.
Here's how the Manchester City players fared in their first home fixture of the season against Newcastle United:
Ederson – 7
Unbeatable in ball distribution, an impressive long ball to link up with Haaland. Wasn't truly tested in the goal, and made comfortable saves.
Kyle Walker – 8
Completely shut down the right flank against counter attacks. Was reliable in switch of play, but could have been used more given the space left up the pitch.
Ruben Dias – 8
Solid performance in the first match since return from injury, showed no signs of caution.
Manuel Akanji – 7
Lost the ball a few times and was caught behind by Almiron, but recovered from all errors. Moved the ball into the midfield and avoided blunders.
Josko Gvardiol – 7
Looked more comfortable in the left-back role compared to his last appearance in the Super Cup. Prevented a potential equalizer from Rodri's mistake.
Rodri – 6
Struggled in the second half of the match. Misplaced passes and a blunder almost cost a goal.
Mateo Kovacic – 7
Growing into the role, made promising runs during ball progression and successfully found Haaland at the end of passes.
Jack Grealish – 6
Solid defensively but offered less than he would have liked in attacks. Unlucky with the match official's (Robert Jones) decisions.
Julian Alvarez – 8
Scored the opening goal. Attempted risky runs with the ball during attacks, losing the ball a couple of times. But pulled double duty, dropping deep to help the defence.
Phil Foden – 9
Best player in the City shirt, massively stepped up in his second start of the season. May not have been at his best, but certainly wasn't far away from it.
Erling Haaland – 6
Linked well with Phil Foden but couldn't convert the goals. First touches and Kevin De Bruyne's absence continue to haunt the Norwegian.
No substitutions made by Pep Guardiola in this one.