How Josko Gvardiol could fit in at Manchester City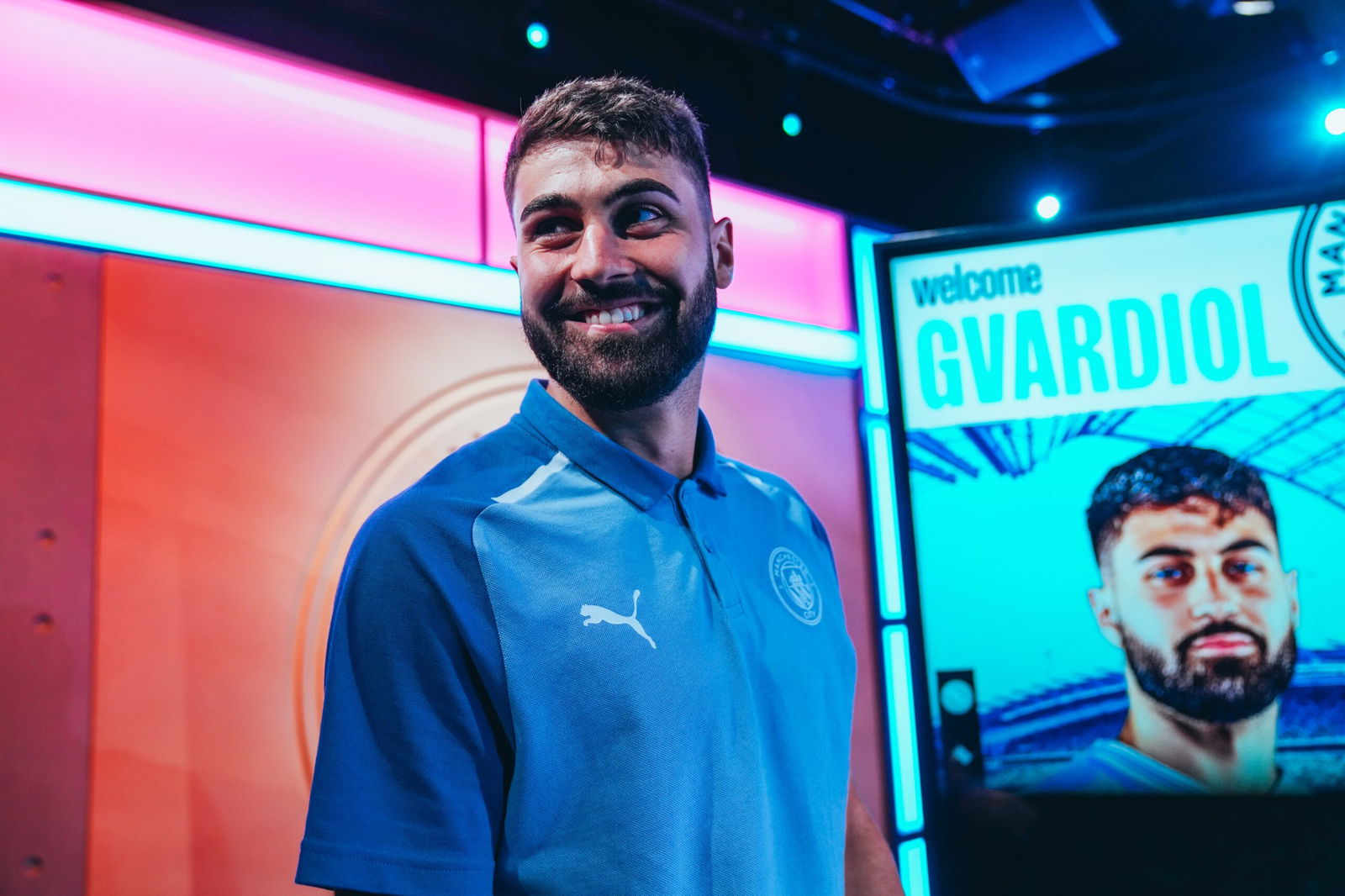 Pep Guardiola continues to fight the footballing status quo, and the Catalan's latest defensive ploy has lead to Manchester City signing RB Leipzig centre-back Josko Gvardiol. But where could the Croatian fit in?
After winning an historic treble courtesy of a revolutionary new tactic featuring four centre-backs occupying the defensive slots, most clubs would look keep that core of stoppers unchanged.
Manchester City, however, are not most clubs, and have moved with intent this summer to secure the signing of RB Leipzig defender Joško Gvardiol to bolster their backline ahead of several other potential suitors at the top of European football.
The headline arrival of the Croatian will surely trigger a shake-up in the composition of Pep Guardiola's side, so here are three ways we think Manchester City might line up at the back in 2023/24.
Josko Gvardiol on the left of a back three
Huge amounts of Manchester City's success last term can be attributed to the system which saw John Stones push forward from defence to join Rodri in midfield, leaving three centre-backs when in possession, usually comprising of Rúben Dias plus two out of Kyle Walker, Manuel Akanji, Nathan Aké and Aymeric Laporte.
This left the onus of defending the flanks largely up to the two wide central defenders, with Aké in particular proving to be an adept fit for the role, as he was equally comfortable tucking inside to help his fellow defenders and hugging the touchline to shut down opposing wingers.
On paper, that position as the left-sided defender would suit Josko Gvardiol to a tee, as the 21-year-old largely operated as a traditional left-back when he first joined RB Leipzig, having also played that position for Croatia in the past, before evolving into a central berth.
An argument could be made that, with Aymeric Laporte's future at the club still uncertain this summer, John Stones is Manchester City's only defender more proficient in ball-playing than Gvardiol – and that's if you can still call Stones a defender.
The new man's 89% pass accuracy and 4.4 progressive passes per game points to a technically sound manipulator of the ball, and his reputation for driving out from the back with the ball at his feet is tailor-made for that left slot.
The main argument against this could well be that Nathan Aké does not deserve to lose his place after his stellar contribution to the treble win. But with all four competitions to compete for again, as well as matches in the UEFA Super Cup and Club World Cup, minutes will not be hard to come by for anybody in Manchester City's squad.
Josko Gvardiol in the middle of a back three
In Manchester City's system more than any other, the different defender's roles in the side demand very different skillsets.
The central centre-back sits in the box when the team is on the back foot and is the last line between the attackers and the goal, whilst also having license to drive the team up the pitch on the ball. The wide centre-backs cover in this situation and are asked to both support play on the flank and drop into a narrower shape when under the cosh; whilst the complexity of John Stones' position does not need explaining.
As already mentioned, carrying the ball out of the backline is one of Josko Gvardiol's key strengths, and whilst Ruben Dias has the bravery and confidence to attempt such high-pressure pieces of play, it isn't a natural facet of his game.
Another important demand of the position is aerial dominance; even when up against taller attackers, it's rare to see Dias come out of an individual duel second best.
One of the few occasions we have seen the Portuguese bested in such a situation was actually up against Gvardiol, as the Croatian climbed above his new teammate to sink a headed equaliser for RB Leipzig against Manchester City in the Champions League last-16 – promising in itself, but a patchy Bundesliga aerial success rate suggests improvement must be made in that regard for a strapping 6'1" stopper.
The question is then what becomes of Dias, with his spot in the team pilfered – as we saw in his masterful Champions League final display, the 25-year-old is too good and too influential to be sat on the bench.
Kyle Walker or Manuel Akanji's home on the right of the defence may be the answer, but it wouldn't be a perfect match for Ruben Dias' aggressive nature or physical attributes, so further Pep Guardiola tinkering would be required to make it work.
Josko Gvardiol in a back four
All signs suggest that Pep Guardiola intends to persist with the 3-2-4-1 shape into this season.
However, the tools remain in Manchester City's squad to form a traditional back four should the need arise. John Stones and Manuel Akanji have spent time as right-backs in the past, whilst Rico Lewis is ever-developing and, whisper it quietly, João Cancelo remains on the books at the club.
Both Nathan Aké and Josko Gvardiol are capable of featuring through the middle and on the left, so it's a feasible plan which is available to Pep Guardiola; it's likely going to serve as a back-up though.
Wherever Gvardiol ends up featuring most for Manchester City, it will be hugely exciting to see how one of the brightest young defensive prospects in world football handles his adaptation to the champions of Europe.