Revealed: The staggering impact of Manchester City's Champions League triumph on global shirt and retail sales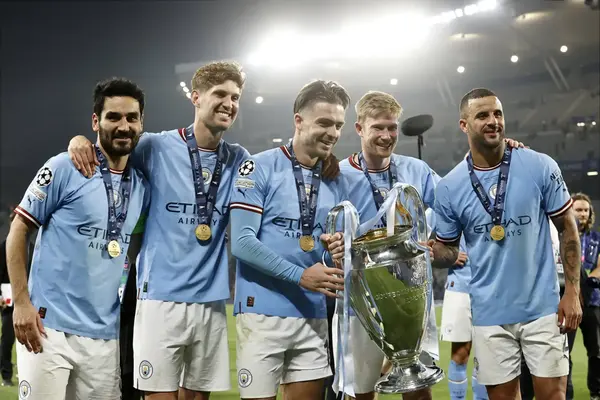 Manchester City have witnessed significant rises in their global shirt and retails sales following the Champions League and Treble win of 2023, it has been revealed.
Pep Guardiola and his players claimed their maiden UEFA Champions League title at the Ataturk Olympic Stadium in the final game of a historic 2022/23 campaign, with a second-half Rodrigo strike creating memories to last a lifetime.
The contest in Turkey topped off a sensational few weeks for Manchester City, following on from a Premier League title success over Arsenal, and an FA Cup final victory over bitter local rivals Manchester United.
That success on the field has now reflected in a dramatic rise in revenue figures off the pitch, with a new report detailing the impact of the club's success on it's rise as a globally recognised brand, and as a rival to the big hitters in the European game.
Manchester City have seen major rises in key markets across the globe, particularly in North America and Asia, while their pre-season tour in Japan and South Korea has also heavily boosted numbers.
That is as revealed by Mark Douglas of The i, who states that Manchester City shirt sales in 'key global markets' in North America and Asia have 'boomed' since the club's UEFA Champions League triumph in Istanbul last season.
The report quotes a 'leading industry figure' who reveals that victory in Europe's premier club competition now means City are "almost there" in their ambition to match Barcelona, Real Madrid, Liverpool and Manchester United for brand recognition across the world.
But how do the numbers stack up against one another following the victory in the UEFA Champions League, and their overall Treble success accompanied by a third successive Premier League title win and an FA Cup victory over Manchester United at Wembley.
The i reports that between the months of June and August in 2023, retail sales – of which shirt sales make up the 'vast majority' – were up 108 per cent on the same period last year. It is further revealed that shirt and retail sales were up 90 per cent across the whole of the 2022/23 season compared to the year before.
Manchester City have also seen staggering increases in figures in Far East Asia, with Mark Douglas' report revealing that shirt and retail sales in South Korea soared by 325 per cent over June and August of 2023, while it was 485 per cent in Japan.
Work is already underway at Puma's HQ on the design concepts for the 2024/25 Manchester City kit ranges, while club bosses are also weighing up their options ahead of the next pre-season tour.
While it cannot be confirmed as to what the club have in mind, Manchester City officials will almost certainly look to use their next foreign jaunt as a way of boosting the club's global appeal even further.
A return to the United States always remains an option for Manchester City, with the North American market being viewed as a key priority in terms of fanbase and revenue growth, while the club have now also built strong connections with key partners in Far East Asia.
With that being said however, City may look to utilise their key following in the Middle-East, by considering the possibility of hosting matches in the United Arab Emirates at some stage during the summer of 2024.