Manchester City agree to 'very good' payment terms in £55 million transfer as midfielder future plans revealed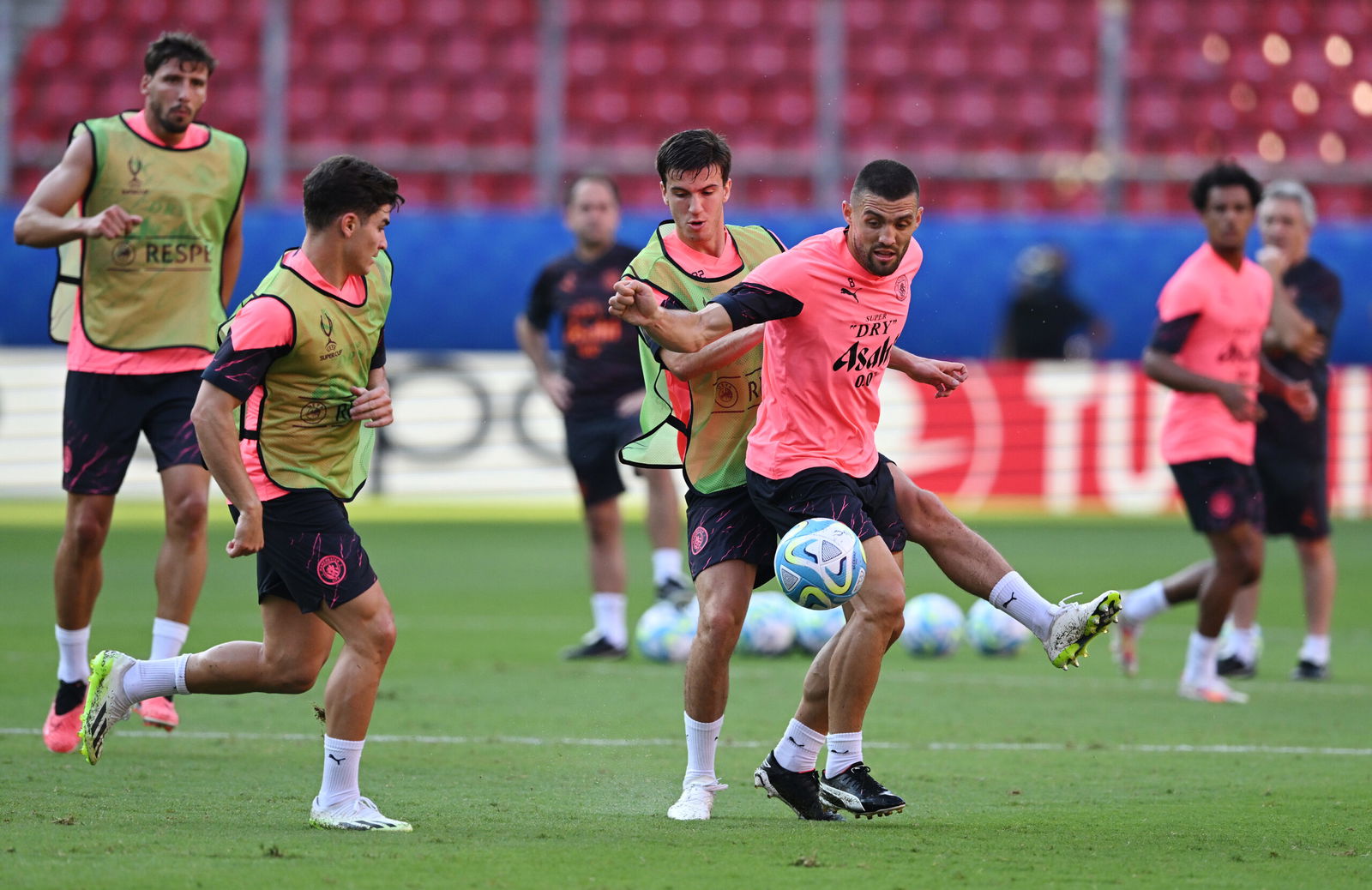 Reports on Tuesday have indicated that Manchester City have secured themselves 'very good' payment terms in the deal to sign Jeremy Doku from Stade Rennais.
The Belgium forward touched down in Manchester on Tuesday evening ahead of his City medical scheduled across the course of Wednesday and the remaining media duties before an official announcement.
Elsewhere, City are also close to completing negotiations over a season-long loan deal for highly-rated Argentine midfield talent Maximo Perrone, with the 20-year-old on the verge of joining UD Las Palmas in La Liga for the 2023/24 campaign.
After day 67 of the ongoing summer transfer window, here is everything that has been reported in the world of Manchester City news and gossip!
Arrivals
Jeremy Doku, along with his family and representatives, have now arrived in Manchester. (City Xtra)
Manchester City have currently booked the first part of Jeremy Doku's medical tests for Wednesday. (Fabrizio Romano)
Jeremy Doku to Manchester City has 'very good' payment terms; City will not pay the 'largest part' of the fee this summer, instead paying the 'main part' of the fee over 'many' years. (Fabrizio Romano)
Jeremy Doku will be Manchester City's new number 11. (Sacha Tavolieri)
Manchester City's move to sign Lucas Paqueta from West Ham is now totally off. (Sky Sports News)
Departures
Manchester City did not even discuss the possibility of a buy option in Maximo Perrone's UD Las Palmas loan move, as the club consider the midfielder as a 'potential big part of future plans'. (Fabrizio Romano)
Contract Renewals
Bernardo Silva's new Manchester City contract announcement is 'coming very soon'. (James Ducker)
Confirmed Deals
Josko Gvardiol: RB Leipzig to Manchester City, (£78 million)
Mateo Kovacic: Chelsea to Manchester City, (£25 million plus £5 million in add-ons)
Juanma Lillo: Al Sadd SC to Manchester City, (Unknown terms)
Inigo Dominquez: Al Sadd SC to Manchester City, (Unknown terms)
Thomas Krucken: VfB Stuttgart to Manchester City, (Unknown terms)
Spike Brits: AFC Wimbledon to Manchester City, (Unknown terms)
Harrison Parker: Manchester United to Manchester City, (Unknown terms)
---
Riyad Mahrez: Manchester City to Al Ahli, (£30.4M plus €5M add-ons, Permanent)
Carlos Borges: Manchester City to Ajax, (€14M plus €5M add-ons, Permanent)
James Trafford: Manchester City to Burnley, (£15M plus £4M add-ons, Permanent)
Shea Charles: Manchester City to Southampton, (£10.5M, Permanent)
Adedire Mebude: Manchester City to KVC Westerlo, (£1.65M, Permanent)
Ilkay Gundogan: Manchester City to FC Barcelona, (Free transfer)
Enzo Maresca: Manchester City to Leicester City, (Unknown terms)
Rodolfo Borrell: Manchester City to Austin FC, (Unknown terms)
Callum Doyle: Manchester City to Leicester City, (Season-long loan, £500,000)
Josh Wilson-Esbrand: Manchester City to Stade de Reims, (Season-long loan)
Issa Kabore: Manchester City to Luton Town, (Season-long loan)
Yan Couto: Manchester City to Girona, (Season-long loan)
Liam Delap: Manchester City to Hull City, (Season-long loan)
Kian Breckin: Manchester City to Wycombe Wanderers, (Season-long loan)
Finley Burns: Manchester City to Stevenage, (Season-long loan)
Alex Robertson: Manchester City to Portsmouth, (Season-long loan)
Filip Stevanović: Manchester City to RKC Waalwijk, (Season-long loan)
Morgan Rogers: Manchester City to Middlesbrough, (Unknown terms, Permanent)
Josh McNamara: Manchester City to Southampton, (Unknown terms, Permanent)
Cieran Slicker: Manchester City to Ipswich Town, (Unknown terms, Permanent)
Yangel Herrera: Manchester City to Girona, (Unknown terms, Permanent)
Herbie James: Manchester City to Tottenham Hotspur (Pre-Agreement, Permanent)
Benjamin Mendy: Released
Terrell Agyemang: Released
Rowan McDonald: Released
Follow City Xtra on Threads here: threads.net/@city_xtra