John Stones injury blow, a message to Man City fans, and the threat of Newcastle – Every Word: Pep Guardiola's pre-Newcastle press conference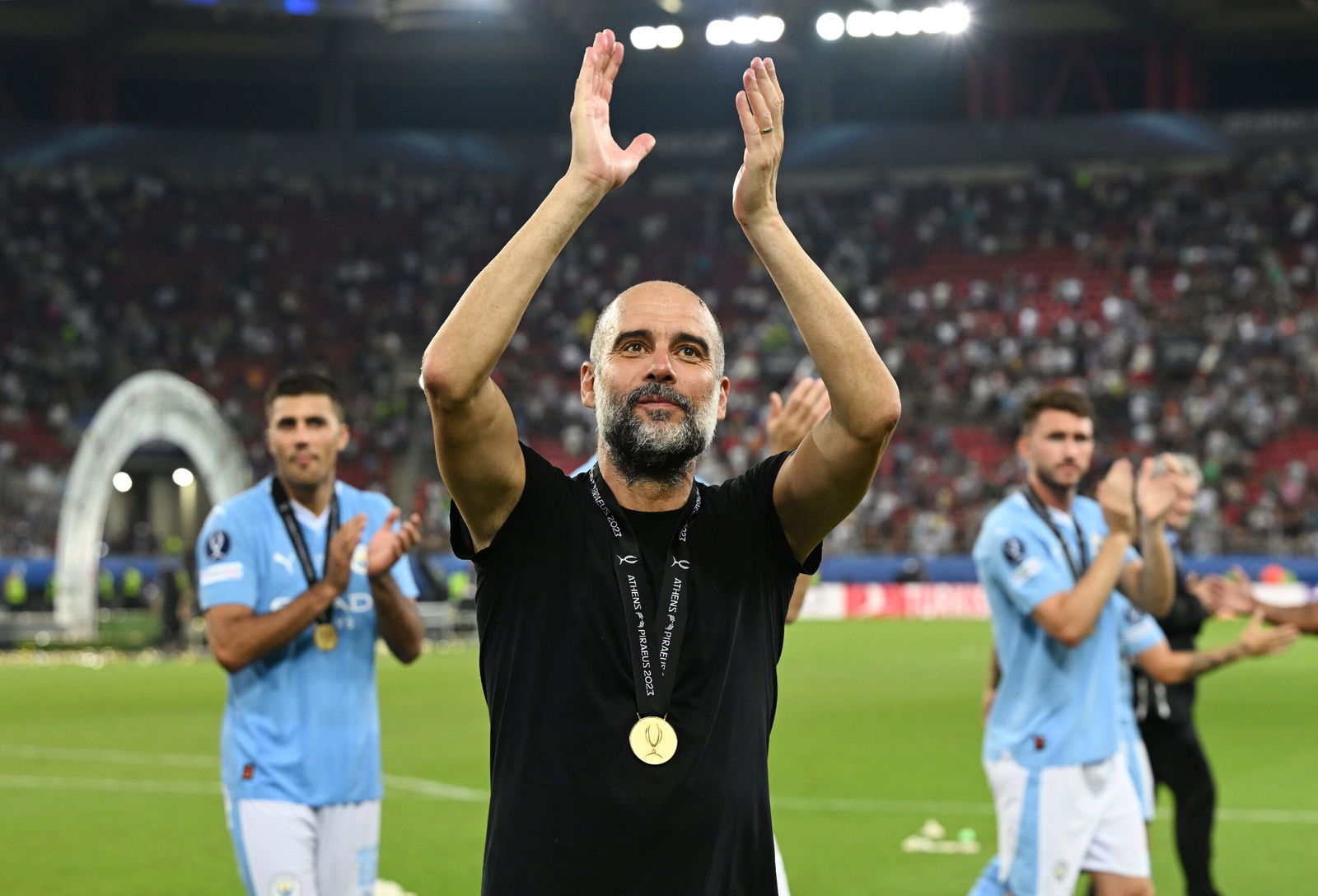 Manchester City manager Pep Guardiola has addressed the media ahead of his side's return to Premier League action following a week's break on Saturday night.
City come into the blockbuster clash against top-four challengers Newcastle United off the back of their first trophy triumph of the new season, having beaten Sevilla in the UEFA Super Cup via a penalty shoot-out on Wednesday night.
Youssef En-Nesyri's first-half header had Sevilla largely dominating proceedings before Cole Palmer would head home an equaliser to send the game to a shoot-out that would ultimately see Manchester City come out on top through a 5-4 outcome.
Newcastle United will be embarking on their own European adventure this season, as they enter the UEFA Champions League for the first time under their new ownership model after their fourth-placed finish in the Premier League last season.
Eddie Howe and his players will be looking to go one step further this season, and their clash against Manchester City this weekend provides an early opportunity to make a real statement against the current holders and treble winners.
The threat posed by Newcastle United, a special message to Manchester City fans, and a major injury blow to several first-team squad members were among the topics spoken about by Pep Guardiola during his press conference at the City Football Academy on Friday afternoon.
Here is every word from the boss ahead of the weekend's return to Etihad Stadium action for the 2023/24 season!
On whether Manchester City are ready after the Super Cup
"Of course we are ready. We need these type of challenges. We face difficulties with the injuries we have, the calendar… This is the challenge we have to take a step forward. We need that. That is what it is."
On Newcastle United
"It's a Champions League team. If you are a team that qualifies for Champions League next season, it's because you are a really, really good team. Nobody believed what would happen last season and look what happened. And they continue with this. Eddie Howe has built a fantastic, fantastic team for many reasons, in build-up in transitions and ball possession, set-pieces. They control everything and it will be a massive, massive test for us."
"I have the feeling they are there (at the top of the Premier League) to stay for a long, long, long time."
On whether Newcastle United are Premier League title contenders
"If they handle the competitions this season, the Champions League, the FA Cup, Carabao Cup and the Premier League. If they handle it well they can compete, but it's completely different when you play one game a week or four games a week but if they are able to handle it, of course they are contenders."
On the support needed from Manchester City fans vs Newcastle United
"Tomorrow hopefully we will have the stadium full. Stay with us please because we are not in our best moment. Especially in our bad moment, please stay with us because we need the noise and support. It's the first time that we have joined together after the FA Cup final against United and the Champions League final against Inter Milan, after Sevilla. It is the first time we come back and hopefully we will come back and we can celebrate together."
On Manchester City's latest injury situation
"Yes. Maybe Ruben (Dias) will play. John (Stones) is out. Last training he felt not comfortable, I don't know how long that will be."
On the fitness of Julian Alvarez and Bernardo Silva
"Julian had a problem, was in discomfort otherwise he would have played. And he is becoming so important for us and he only managed to play in Greece for 15/20 minutes. Especially as he's an incredible penalty-taker. In terms of personality, that's why he played the last minutes. Of course, Bernardo will be back soon. Next week, he will be ready."
On covering for Kevin De Bruyne's absence
"Last season when (Ilkay) Gundo stayed, Kevin got injured, or we just had to make adjustments because people know you and people have to find the solutions for something you have done. I'm pretty sure you have to do something differently. Right now, I don't know."
On Cole Palmer
"It's not necessary to ask me about how good he is, otherwise he will not be here. Secondly, he did not need to score two goals in two finals to make me realise how good he is. I don't define a player just for that. Cole, last season or the previous season, he arrived in a moment that was extraordinary. I remember a game in the FA Cup, he defined the game. After that he had an injury, and another injury, and another injury and could not be… And playing for Man City is not easy when you have Bernardo, a lot of players. But Cole right now is important…"
On Manchester City's current level of performance
"We are not at our best, we are not at our top, that is normal. We need to adjust a few things. But the spirit is there, because we competed incredibly well against Arsenal, we lost for a deflection. And the final except for 10/15 minutes in the second-half we lost our control against Sevilla, and in the rest of the game we were there, so I don't have doubts about.
"But still we need time to adjust a few things, and a few important players are not here, will not be here, and John (Stones) is out, and Bernardo (Silva) is out, and Ruben (Dias) I don't know, Josko (Gvardiol) arrived in the first minute and did not train much, a lot of principles he still didn't know it.
"We need time, but in the meantime we have to try to not drop points and we are really pleased for the title we won, for the first we need one to finalise the circle in winter time (FIFA Club World Cup), we have the final of the World Cup, and the club could have all the titles, and this is a joy, a pleasure and tomorrow…"
On the Premier League schedule
"We want to continue to compete and we are now in a big, big problem. Not just for this game but in general and that is what it is. Every manager would say the same in my position. People went to sleep at 4AM in Greece when they played at 10PM. Arrive, recovery with 35c or 40c IN Greece. Come back, arrive here late, and then it's this game, tomorrow's game, today we cannot train.
"I would train but we are not going to do anything because we do not have time. I would love one more day. But okay, we accept it, this is the challenge. Every manager would say the same. This is the challenge. This is why we won. Because we over come all the time this kind of position. All the time we have less time to recover between the games, not a problem. We have to go there and try.
"One of the more physical teams, one of the more efficient teams in the Premier League right now, I would say are Liverpool and Newcastle. This is what defines the big teams, how we compete with the problems."