The 33 matches Kevin De Bruyne could miss for Manchester City after suffering devastating hamstring injury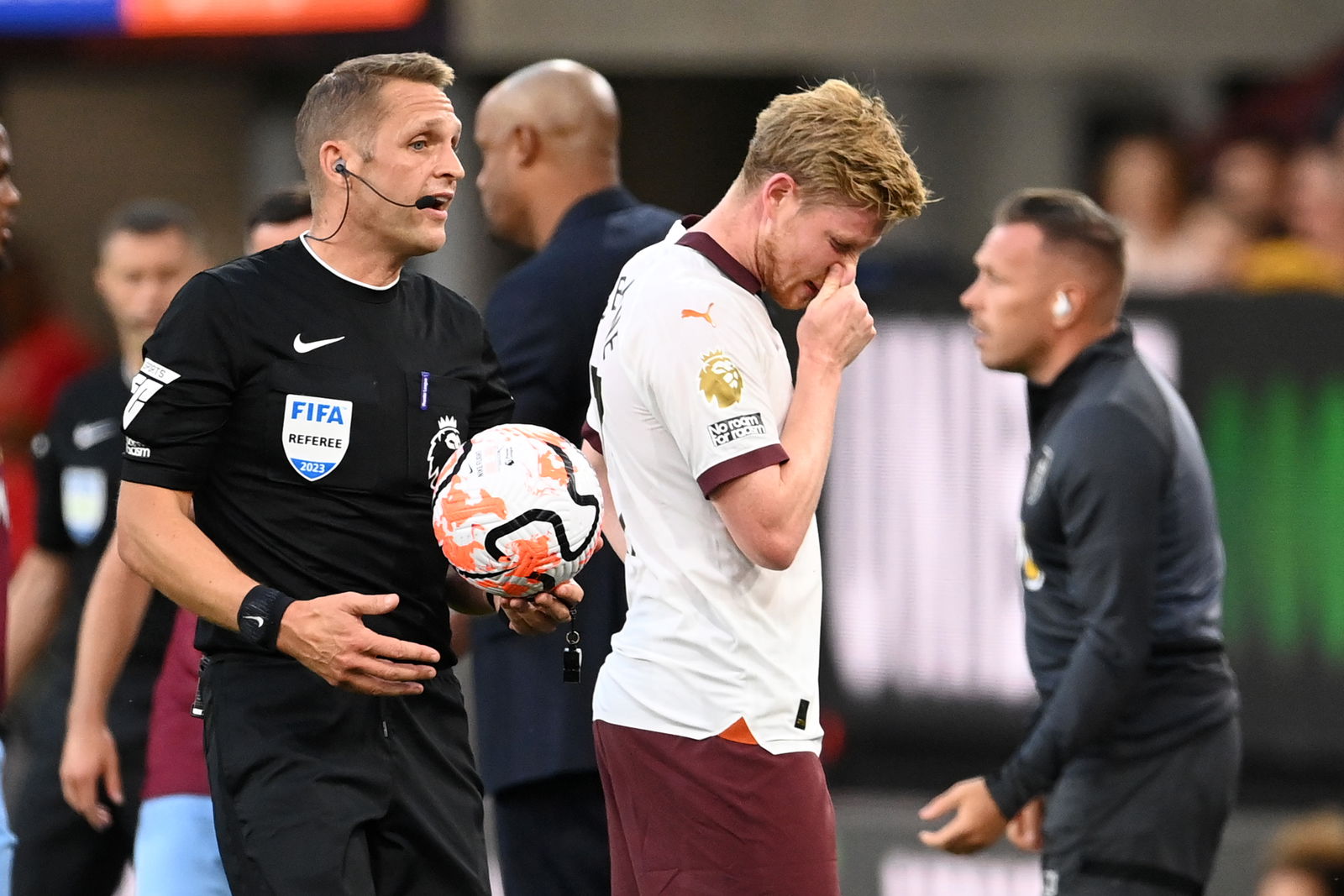 Manchester City are set to be without Kevin De Bruyne for a significant period of time due to a serious hamstring injury.
The 32-year-old faces four months on the sidelines after suffering a hamstring injury against Burnley in the Premier League on Friday evening, with the Belgian expected to undergo surgery in Antwerp.
De Bruyne, who also suffered a hamstring tear during the UEFA Champions League Final against Inter Milan in June, underwent tests to discover the extent of the injury on Monday, with manager Pep Guardiola confirming the major blow.
The Belgian midfielder registered 16 assists and scored seven Premier League goals last season, playing an integral role to Manchester City's treble-winning success.
De Bruyne is at risk of missing a significant chunk of the new campaign, with the Sky Blues potentially without the midfielder until the new year.
Manchester City could look to sign a new midfielder during the remaining weeks of the transfer window in wake of the 32-year-olds injury.
West Ham and Brazil star Lucas Paqueta continues to be targeted, with the treble-winners having had a verbal offer of £70 million rejected by the Hammers.
Manchester City are due to compete across six competitions during De Bruyne's expected absence; with Premier League, Champions League, Carabao Cup, FA Cup, Super Cup and Club World Cup matches.
De Bruyne missed Manchester City's win over Sevilla in the UEFA Super Cup on Wednesday, with the Sky Blues beating the La Liga side 5-4 on penalties.
Should Kevin De Bruyne not return until 2024, then the 32-year-old would miss over 30 matches for Manchester City.
UEFA Super Cup:
Sevilla (N) – Wednesday 16th August 2023
Premier League:
August: Newcastle United (H), Sheffield United (A).
September: Fulham (H), West Ham (A), Nottingham Forest (H), Wolves (A).
October: Arsenal (A), Brighton (H), Manchester United (A).
November: Bournemouth (H), Chelsea (A), Liverpool (H).
December: Tottenham (H), Aston Villa (A), Luton Town (A), Crystal Palace (H), Brentford (H), Everton (A), Sheffield United (H).
UEFA Champions League (Opponents TBC):
Matchday 1: 19/20 September 2023
Matchday 2: 3/4 October 2023
Matchday 3: 24/25 October 2023
Matchday 4: 7/8 November 2023
Matchday 5: 28/29 November 2023
Matchday 6: 12/13 December 2023
FIFA Club World Cup (Opponents TBC):
A minimum of one and maximum of two matches between the 12th and 22nd December 2023.
Carabao Cup (Opponents TBC):
Round Three – 26/27 September 2023
Round Four – 31 October/1 November 2023
Quarter-Finals – 19/20 December 2023
Semi-Final (First-Leg) – 9/10 January 2024
Emirates FA Cup (Opponents TBC):
Round Three – 6/7 January 2023
Follow City Xtra on Threads here: threads.net/@city_xtra