Shopping at the Co-Op, hanging medals on his wardrobe, learning under Kyle Walker – Every Word: Rico Lewis' Pre-BSC Young Boys press conference (UEFA Champions League)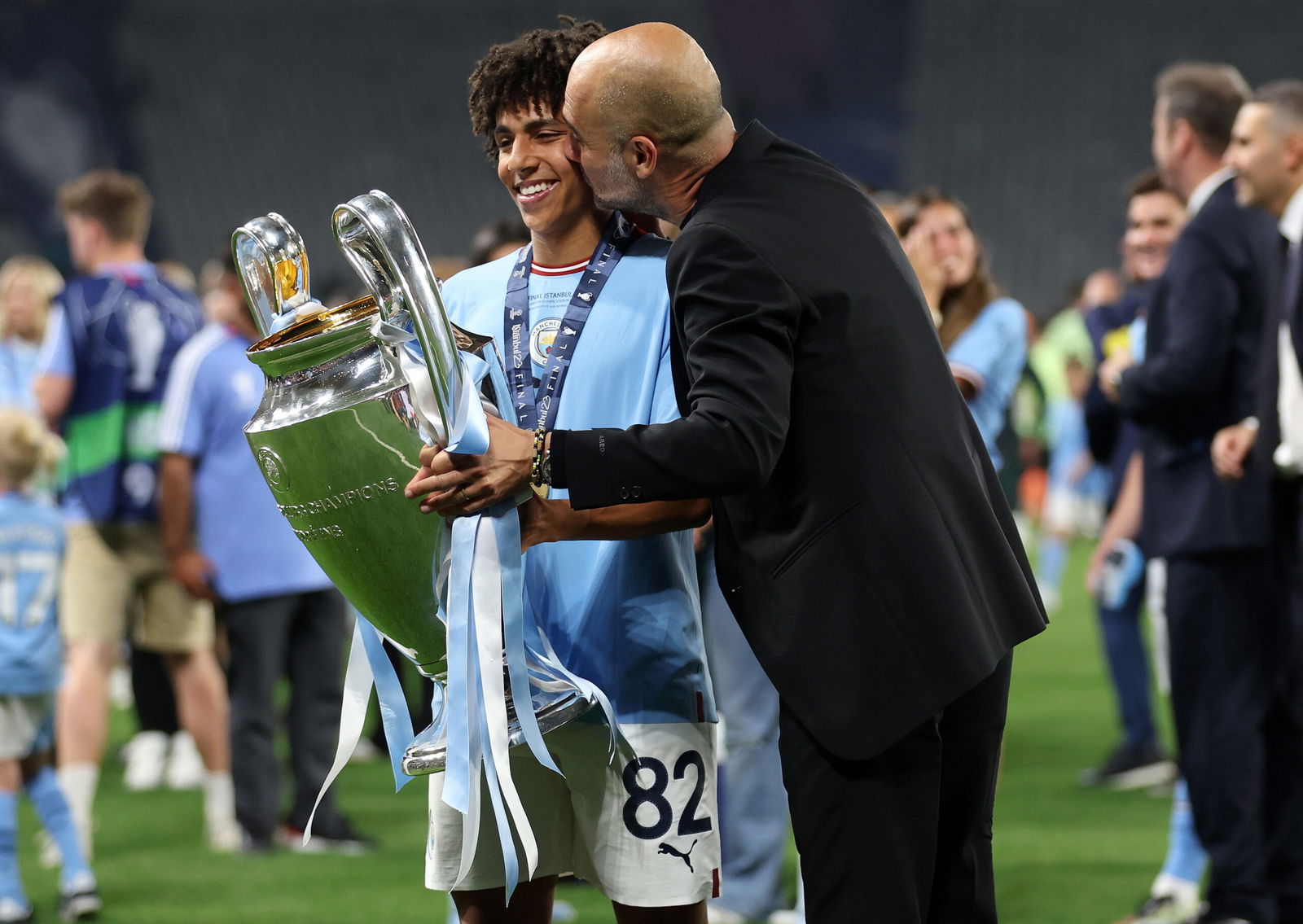 Manchester City's Rico Lewis has looked ahead to Tuesday's UEFA Champions League clash against BSC Young Boys at the Etihad Stadium.
The treble-winners can secure their place in the knockout stages of the UEFA Champions League in midweek, with Manchester City needing a victory at the Etihad Stadium over BSC Young Boys in matchday four.
Manchester City have won their opening three Group G fixtures by a 3-1 scoreline and return to the Etihad Stadium for the first time since beating Red Star Belgrade in matchday one of the competition.
The Blues beat BSC Young Boys in the Swiss city of Bern in October, with Erling Haaland's brace securing the victory, after Manuel Akanji's opening goal was cancelled out by Meschak Elia.
Manchester City are currently unbeaten in the UEFA Champions League for over a year and extended their winning streak at the Etihad Stadium to 22 matches on Saturday, with a 6-1 win over Bournemouth in the Premier League.
Summer recruit Jeremy Doku was directly involved in five of the Blues' six goals, as the 21-year-old's staggeringly impressive start to life at the Etihad Stadium continued, while Pep Guardiola's side returned to the top of the Premier League table.
The Belgian international winger could feature again for Manchester City on Tuesday evening, as BSC Young Boys visit the Etihad Stadium in a midweek contest that precedes a Premier League clash against Chelsea this weekend.
Ahead of the midweek meeting, Rico Lewis spoke to the media at the City Football Academy to preview the visit of the Swiss side. Here is every word from the versatile Manchester City defender!
On feeling like a different person to the player who first joined the Manchester City first-team last year
"I'd say in terms of the person, I'm the same. But as a player, it's almost impossible not to develop around the best players and manager in the world. At first, you get starstruck. Watching them from TV to sitting next to them in the changing room, it's quite amazing – but after a while, you speak to them, they are normal people. They have been so welcoming so it's an easy transition."
On Pep Guardiola's comments about him being the best young player he has ever trained
"Obviously, it's quite difficult to comprehend that someone that like that would say something like that about myself. Obviously it's an amazing comment, but I've got to carry on doing what I can do."
On what he has done with his Manchester City medals
"They're hung up on the side, on my wardrobe – I need to find a better place for them! (Anything else being collected?) We've got the miniature trophies. It's more the shirts, I've got one for scoring my first goal, every kit we've worn. I'll probably hold on to things from that first season for the rest of my life."
On being targeted by opposition players
"It happens to a lot of players. People see a young pressure and target them, but you can take it as a compliment, you just need to carry on playing as I need to. It doesn't affect how I play, I understand it's going to happen before the game but I just to play my game and shut it out."
On learning under Pep Guardiola
"Hard to say one thing in particular. I've learnt so much. Keeping focus 100 per cent of the time. You can be punished in men's football for minor mistakes. Keeping that laser focus and having confidence in yourself to do what you know you can do in games."
On whether any teammate has been good with him in particular
"Kyle Walker. When I came in I was always playing full-back. He was always giving pointers here and there. I don't need too much, but it was just little things. He's one of the best full-backs to ever play in the Premier League. He's always been a captain with or without the captain. He's taken more on his shoulders this year. He's got so much passion, he fits the role. It's a no-brainer he was going to be captain – him or Kevin (De Bruyne). But I think most players in the team have that leadership anyone could captain."
On his rise in the Manchester City first-team
"It was definitely a shock. You first come up you have to get used to the tactics. I think that's very special, players come up and can see the level players are doing. Spiraling from that, I've had so many opportunities to train with them. It's been amazing to see how it all falls out. It's more just a natural thing (becoming a part of the first-team), from the pre-season tour onwards, it was more focusing on myself and doing my best to stay there every week."
On his England national team hopes
"It's a dream every player will want to play at a big tournament for their country and a big tournament. If it comes, it comes, if it doesn't, it doesn't. I'm just trying to focus on myself. There's so many things I can get better. When they come back from the international break (the Manchester City and England player)), I always ask what it's like. Any information I can get, I will do. But I just need to concentrate on what I can do – it doesn't really matter, I just need to get better."
On whether he has had time to reflect on his Manchester City journey so far
"Not as much as I'd expect to. But that's football – every season there are more trophies to win so you don't get time to stop and think. I felt like the Champions League final was yesterday but we're already ten games into the season, football moves so quickly if you stop you'll get left behind. The main thing for me is to focus on what I can do better in all the seasons to come."
On when he realised he was a famous Manchester City player
"I don't know, going to the Co-op or Tesco or something, I'm taking a picture with someone. I don't mind (the fame) because that's just what comes with it."