Responding to Roy Keane, Erling Haaland fitness update, body language – Embargoed section: Pep Guardiola's pre-Bournemouth press conference part two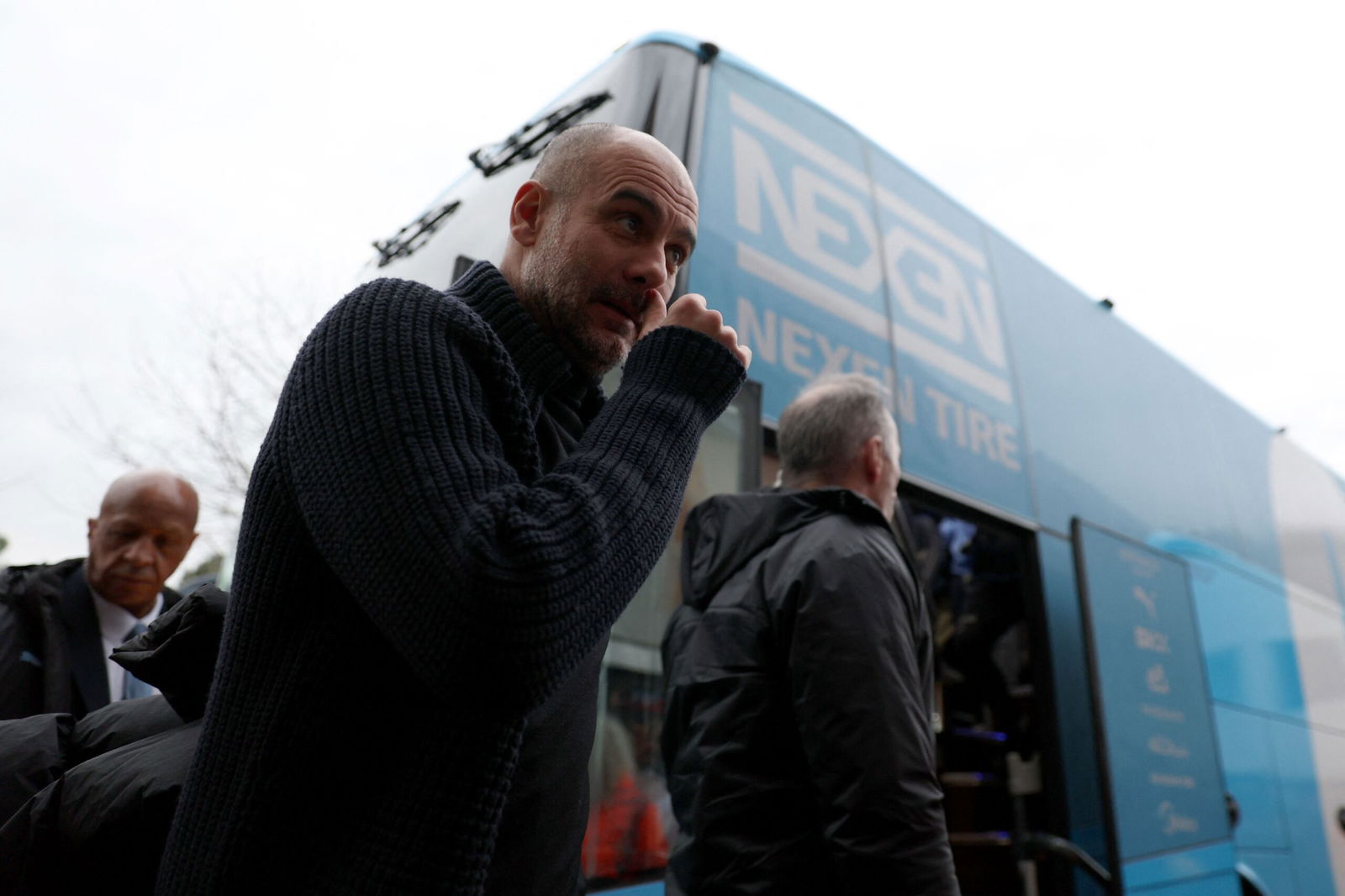 It's time for part two of Pep Guardiola's pre-Bournemouth press conference from Friday afternoon, ahead of this weekend's Premier League meeting at the Etihad Stadium.
Manchester City have the opportunity to move to the top of the Premier League table on Saturday afternoon, welcoming a struggling Bournemouth side to the Etihad Stadium this weekend.
Erling Haaland and Phil Foden helped Manchester City to an emphatic 3-0 win over rivals Manchester United last weekend, with the pair having both also netted during a 4-1 win over Saturday's opponents in February.
Manchester City beat AFC Bournemouth by an aggregate score of 8-1 during last season's Premier League title-winning campaign, and have never lost to the Cherries, winning 17 of the previous 19 matches between the two sides.
The Blues have won their past 13 meetings with Bournemouth, with Andoni Iraola's side having won just one Premier League match all season – a controversial 2-1 win over Burnley last weekend.
Bournemouth also suffered a 2-1 defeat to Liverpool in the Carabao Cup in midweek, meanwhile Manchester City haven't played since Sunday's derby day victory, after suffering defeat to Newcastle in the third round of the competition in September.
Ahead of Saturday's Premier League clash, Pep Guardiola addressed the media at the City Football Academy on Friday, with part two of the Catalan's pre-Bournemouth press conference seeing the manager discuss a number of topics.
Here is every word from the boss ahead of Saturday's clash at the Etihad Stadium.
On whether something has clicked at home over the last 12 months
"I don't think about these milestones. If it happens, it happens. Try to do what we have to do to win the games. I didn't know it, and I'm not going to tell to the players. Normally when you say it to the players, and after we forget the focus, and the focus is Bournemouth, what we have to do to beat them."
On a run of home games and confidence as a result of home form
"We feel comfortable for a long time at home, you're right. With our people, we have our momentum, and I saw the team today really, really sharp in training. Sharp is the right word to use.
"We're going to, since Brighton we have won all the games, three games before the international break and we have an important week ahead of us and it starts tomorrow."
On why he has long chats with players after games on the pitch
"I respect a lot Roy Keane. Sometimes I finish the game and I go inside, sometimes I stay there, sometimes I talk. When I find a player, we make a chat about the game, we talk.
"I know the cameras are everywhere when you are there. I could tell him inside, but at the moment I was outside, and I wanted to see with our fans, especially away. For the fans, (Manchester) United is an important game.
"We contact, the second goal he scored, the miss in the last minute (of the first-half) was an (Andre) Onana action or he could do better, and still to be stronger, header to be strong, put the ball in the net with more pause. It was the comment. It happened with Erling in Burnley.
"Yeah, I can avoid it honestly. Maybe Roy is right, but it happens when it happens. I don't need at my age already to do something for the people. Sometimes I go inside, sometimes I go and say hi, sometimes I say hi to the referee, sometimes I don't – it is what it is. I feel in the moment. It's not that I'm thinking, 'Oh after the game I'm going to go to the players to do some spectacles for the people'. I'm old enough already."
On whether Erling Haaland is a player that likes to talk about things straight away:
"In the beginning he struggled because of just three weeks off, disconnecting and connecting, for the first time he played a lot of minutes and won a lot of titles. But I see him, scored already a lot of goals so far and in every game he has a lot of chances to score more. He's so incredible and special and a lovely player for us, so that's why we use him a lot."
On Erling Haaland's form
"In the beginning he struggled because of just three weeks off, disconnecting and connecting, for the first time he played a lot of minutes and won a lot of titles. But I see him, scored already a lot of goals so far and in every game he has a lot of chances to score more. He's so incredible and special and a lovely player for us, so that's why we use him a lot."
On coming up against coaches who have learned from Marcelo Bielsa, like Andoni Iraola
"Maybe some patterns they have sometimes. There are games that it looks like he changes sometimes, I'm pretty sure. So, when you are a football player and you are involved with important managers like Marcelo Bielsa, the influence is there. It's impossible to not be there.
"The greatest managers, and Marcelo is one of the greatest ever, the influence is with the players – that's for sure! Ah it's a copy paste, I'm pretty sure it's not. At the end Andoni Iraola has his own ideas, but little details I'm pretty sure."
On whether it is interesting to see where Andoni Iraola takes his own ideas
"With intensity, they make an incredible high-pressing, sometimes a little bit more zonal, sometimes they follow more man-marking – of course, they have some ideas, it's there."
On what he makes of people analyzing his body language and what he does
"Not just me. I think today the cameras are there and you have to make programmes, but I think they analyse everyone not just because it's me. I don't take it personally honestly, I respect a lot all the pundits and what they say. What I would say is that I didn't overreact and didn't do something for the people.
"We were happy, we have to admit it, I was, really, especially for the way we played! That made me confident, the results help to give confidence, especially the way we play. But if you look at it, we are in a good way, on a good path – that I like it.
"After, we reviewed the game, we analysed to the players what we have done good and the reason why we are able to play good for that reason, and that reason, and that reason. And I was really happy in that moment, I found Erling (Haaland), I made a comment on that and he didn't make a feedback about that comment, I make another comment, and made another comment, and we were walking, and that's all. I could've meet him inside, of course, I've done it many times.
"When we say hi in the locker room, 'Oh look at today's match, look at that action!' Because I think it's fresh, the players have that image in the moment, and sometimes when you make that input – it remains here (in the head), or here (in the heart), strongly than maybe… we had two days off afterwards and in three days, 'You remember?', 'Oh yeah, yeah, yeah'. It's forgotten. Sometimes it happens when I'm there, but sometimes it doesn't happen because I go inside."
On whether he expected Sunday's performance vs Manchester United, and whether the performances this season have been quite level
"From my point of view, not now but in the first five or six games of the league, our level was higher than last season. In that period, from my point of view. I'm not talking about points. In general, with Mateo (Kovacic) inside, Matheus (Nunes) inside, and Jeremy (Doku) understanding what happens. Because when it was (Ilkay) Gundo(gan), Riyad (Mahrez), they know everything already, you don't have to say not much. They know some movements perfectly. So I was really pleased.
"Yeah, Wolves was a game, 'Ah it's a pity, they made two shots on target, one was a deflection, and it's a pity'. And Arsenal we didn't play quite well, credit for Arsenal because it's an exceptional team. But in general, Champions League for example, half-time against Red Star was 0-1 down but we played really good. And I said to them, against West Ham we were losing and I said we are playing really good. And the results, in the Champions League we are one game away from qualifying, on Tuesday we are able to do it.
"In the Premier League, we are there. We could be there, 10 points ahead of second, that is a fantasy culture, it is not a reality. In general, I'm satisfied, especially when I see them every day how they compete, how they play, they want to get better. Okay, still we are not in 'hangover period' from what happened last season. It's completely the opposite, still we are focussed. That means we are going to win tomorrow? I don't know, but when that happens, we have to be proud because the opponents all play.
"And if Tottenham is on top, it's because they deserve it. But at the end, what I said, 28 games to play, a lot of things is going to happen. Game by game, try to win, and we will see what happens!"
On whether there is any surprise on the level of performances and application in training
"I was curious. That was expected. But it would be unfair to have not expected what they have done for six years. Maybe it's because my mind, I should be, that is a reality. But in the moment they have to be, they are! So the moment they are in the Champions League, or at Old Trafford, or Newcastle after playing in Athens, and less recovery, still we are not in the best moment to play in the way we played against Newcastle – I think the mentality of the team, still I like it!"
On whether writing and headlines get into Erling Haaland's head more than we think
"Honestly, I didn't get your question. You have to repeat. About highlights? What the people say about Erling? (*Tries again*) He's fine, honestly. Sometimes you need this. All the time he has two central defenders fighting for him, and he has to defend himself, because to not get sent off but it's normal.
"You have to feel that contact, connections, and he has it. (He's) Really fine. Erling is… he feels good, and his mood, yeah it's fine."
On Oscar Bobb's situation
"I see him every day in training sessions and we are really pleased. Of course the competition is high here because every player is at a high level. But it's the first time he's in the first-team training every day with us, and try to continue like that learning and being positive. No doubts.
"At the end, the minutes I will give to him, and his performance will dictate his own future. But in my perspective as a manager, I'm really, really, really pleased about since day one what he has done with us."