Match Report and Player Ratings: Manchester United 0-3 Manchester City (Premier League)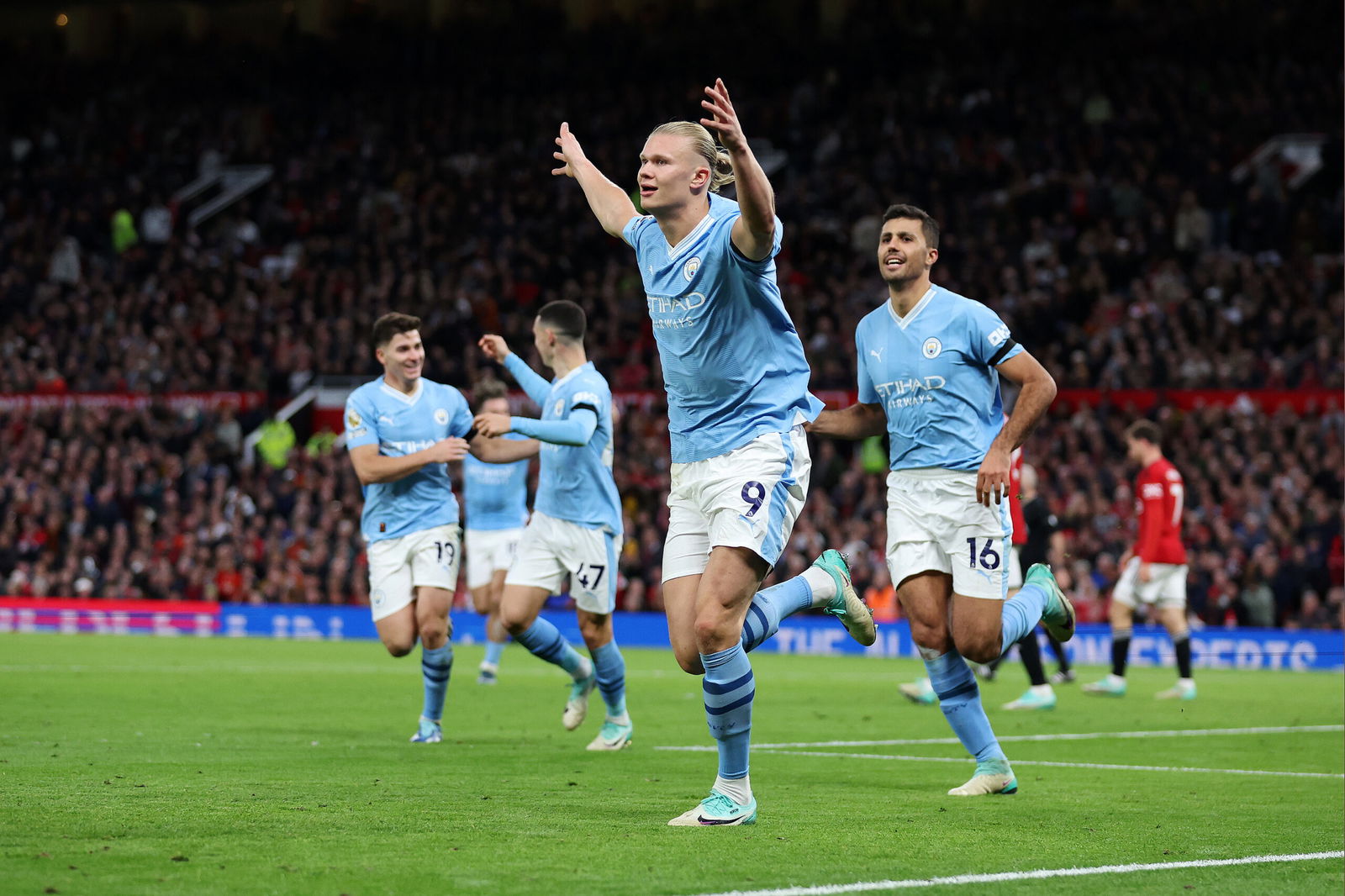 Manchester City once again outclassed Manchester United in the derby to take a much needed three points away from Old Trafford.
An Erling Haaland brace and late tap-in from Phil Foden capped off a dominating performance from the three-time defending champions.
Manchester United had the first few chances of the game, due to a series of errors by Josko Gvardiol, leading to a nervy first five minutes. However, it became apparent that United's only method of attack would be from Manchester City's own mistakes. 
Manchester City nearly grabbed the lead within the opening eight minutes when Haaland had an opportunity to score an easy tap-in after Onana was unable to control Foden's shot on goal. However, the former Inter Milan goalkeeper was able to slap the ball away just before Haaland was able to make contact. The play was set-up by a trademark Rodri ball over the top of the defence. 
It was Manchester City's only clear cut chance for much of the first half, as sloppy play and errant touches prevented City from taking full control. Midway through the first-half, Manchester City were awarded a penalty. It came after a VAR check, when Rasmus Hojlund took down Rodri in the box during a set piece.
After a few minutes of play following the potential foul, Paul Tierney stopped play to review the footage, eventually awarding a penalty after visiting the pitchside monitor. Haaland sent Onana the wrong way and fired in a low effort to his right to give Manchester City the lead in the 26th minute.  
United's best chance to equalise came at the end of the half, as Holjund found himself running through on goal and took his chance on the half-volley, his effort was well struck and forced Ederson to make a jumping save.
Haaland had a perfect opportunity to grab his brace in the closing seconds of the first-half, but his headed attempt was denied by an excellent diving save from Onana to prevent Manchester City from doubling their lead.
Manchester City ended the first-half with the deserved lead. It was an interesting performance, City were far and away the better side but had awarded United several chances through misplaced passes and turnovers.
Ten Hag made one substitution at half-time, taking off Sofyan Amrabat for Mason Mount, in an attempt to take more control of the game. However, it did not work as intended. Less than four minutes into the half, Manchester City finally doubled their lead.
After a lovely bit of team play, Grealish found Bernardo with yards of space in the box, who once again dinked the ball over the top to a wide open Haaland. Unlike his attempt in the first-half, Haaland was easily able to convert his chance and secure the 2-0 lead.
Mount's arrival did little to give Ten Hag's side more control, and the loss of Amrabat only weakened Manchester United's defensive structure. In the 73rd minute, Manchester United brought on Sergio Reguilon and Alejandro Garnacho for Victor Lindelof and Holjund. 
Manchester City closed the game out in the 80th minute with a simple tap-in from Foden to make it 3-0. The goal was set-up from a Rodri long-range effort which Onana pushed away directly to Haaland, who calmly crossed the ball across the six yard line for the assist. 
With the three points all but secured, Guardiola brought on Jeremy Doku and Mateo Kovacic for Jack Grealish and Julian Alvarez, as Manchester United capitulated, with Bruno Fernandes and Anthony picking up yellow cards for their frustrations.
Player Ratings
Ederson – 8
Wasn't called upon too often, but made a few nice saves when needed, and as always his distribution was excellent.
Walker – 8
Rashford and Garnacho were anonymous for the entire match, in large part due to Walker. He wasn't asked to do too much in the attack but did set up Foden in the opening minutes.
Dias – 7
Composed performance, as always. United were rarely a threat so his defensive abilities weren't tested, but was great on the ball when needed.
Gvardiol – 7
Gave the ball away twice early on, giving United some of their best chances. Grew into the game and finished strong, making a series of impressive attacking runs from left-back.
Stones – 7
Stereotypical performance from Stones in this new role. 90 minutes of mistake free football, gallivanting all over the pitch. United were so neutered in the second-half that he wasn't needed as much.
Rodri – 8
Would've loved for his long range effort late to go in. The best defensive midfielder in the world continues to stake his claim for a Ballon D'or.
Silva – 9 (MOTM)
Another big match, another elite performance. Like so many other Big-6 matchups, Bernardo was excellent. Was a constant threat on the left side, set up Haaland for a few chances. Truly fantastic player.
Alvarez – 6.5
Quiet performance. Was rarely on the ball and didn't make as much of an impact when pressing as he usually does. No cause for concern, just wasn't a great performance.
Foden – 7.5
His role seemed slightly different from his usual right wing duties. Instead of constantly cutting in to the centre-right channel, he was often times right on the touch line. His goal capped off a decent performance and hopefully gives him some confidence leading into a key stretch of games.
Haaland – 8
Could've had four. Onana made a great save early to prevent Haaland from even attempting to score, but he should've scored that header to close out the first-half. Overall, another good performance for the best striker in the world.
Grealish – 9
After a very slow start to the season, Grealish has had a few excellent performances as of late. Was involved in the goals and made a few key defensive contributions as well.
Substitutes
Doku – N/A
Kovacic – N/A