A dig at Facundo Pellistri, his ultimate rival named, and will United EVER dominate again – Embargoed section: Pep Guardiola's pre-Manchester United press conference part two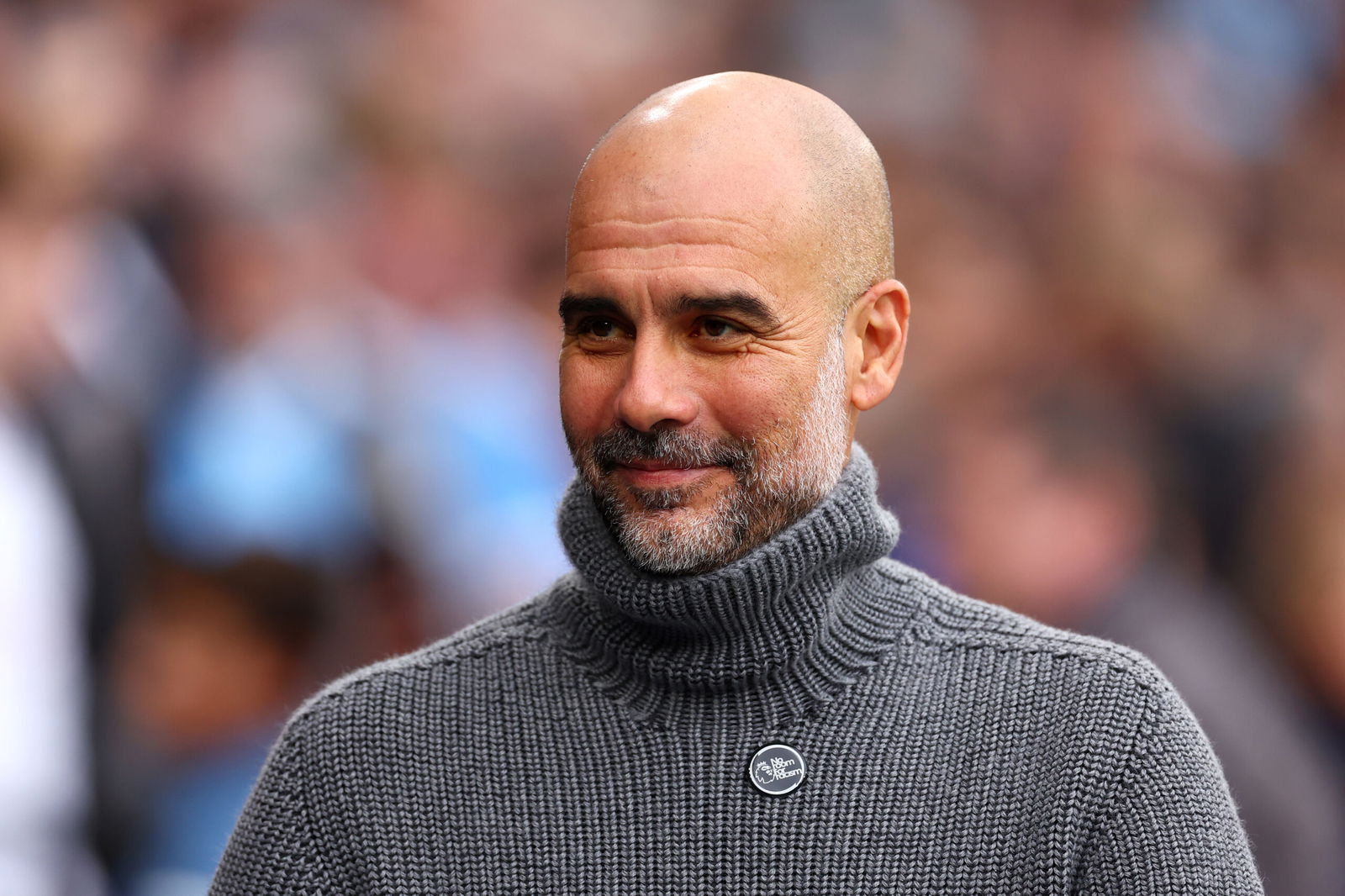 It's time for part two of Pep Guardiola's pre-Manchester United press conference from Friday afternoon, ahead of this weekend's Premier League clash at Old Trafford.
Manchester City travel to Old Trafford having won four of the past five matches between themselves and Manchester United, including the historic win at Wembley Stadium in the Emirates FA Cup Final in June.
Ilkay Gundogan, who moved to Barcelona on a free transfer during the summer transfer window, scored twice at Wembley Stadium against United, as Manchester City won the FA Cup as part of a famous treble.
Manchester City secured their third UEFA Champions League win of the campaign in midweek, meanwhile Manchester United registered just their first, beating FC Copenhagen 1-0 at Old Trafford on Tuesday.
Erling Haaland, who scored a hat-trick against Manchester United last season, netted twice during the Blues' 3-1 win over BSC Young Boys in Switzerland, as Manchester City moved within one point of knockout stage qualification.
Manuel Akanji broke the deadlock at the Wankdorf Stadium on Wednesday night with a volley from close range, but will miss Sunday's clash at Old Trafford due to suspension after being sent off via a second yellow card last weekend.
In part two of Pep Guardiola's pre-Manchester United press conference, the Manchester City boss discussed a number of topics, including whether the Old Trafford club will EVER dominate English football again, a second dig at Facundo Pellistri, and his ultimate rival during his tenure at the Etihad Stadium.
Here is every word from the boss ahead of Sunday's derby clash against Manchester United at Old Trafford.
On whether his biggest rivals are the team challenging for the title, or the team who share the city with him
"There was one year with Ole (Gunnar Solskjaer) that was close (to winning the Premier League title), but of course it has been Liverpool. When I finish my tenure here, Liverpool have been my (biggest) rival, our rival.
"They make us a challenge, higher and higher, and help make us a better team in all departments. They challenged us like no other team has done before, in my period here. Of course now Arsenal is back, and of course Newcastle arrive, and Chelsea are in the process to restructure a few things and need time, but they will do it in the next time or years will be there.
"With Chelsea, with the manager he has, with the investment they have done. And the other teams, as always, look at Spurs now, how good they are playing, one game a week, they have to be fresh all the season, they are out of the Carabao Cup.
"Spurs will be there for sure. Definitely, with the quality they have. Always they have had the quality, and now with the manager they have right now. All these teams are there. But as I said before, it's (only been) a few games still… In the past it was Liverpool."
On Sir Alex Ferguson saying Manchester City were not their rivals
"It's normal. He was right. Sir Alex was right, City were not challenging them. We were in the middle, the bottom.
"But after that, as I said many times, without the presence of Sheikh Mansour, Khaldoon (Al Mubarak), when they took over and make an investment, like United in those times were the richest one, and Arsenal were the richest one, that's why they were there. After that, in that moment, Sir Alex Ferguson could not expect, not even myself when I was in Barcelona, it happened.
"But now we are a reality, we want to stay as long as possible. Maybe it's uncomfortable because we were not in the elite and now we are in the elite. Maybe it's uncomfortable for many things. But we were there, we are there, we want to be there in the future."
On getting a lot of satisfaction from turning the tables in Manchester
"Absolutely, absolutely. The most is the fact that not one year, doing it, something good. This can happen. The most nice is how many years. Still now, you go to… That makes me the most happy, so happy as a manager, going to Switzerland against Young Boys on an artificial pitch, performing like we performed.
"Against Real Madrid, Barcelona, or Bayern Munich, or Liverpool, Arsenal, Chelsea – the teams, you know – Milan, Inter, Juve(ntus); big clubs, going there and still after the Treble performing like we performed.
"In terms of without the ball, in terms of solidarity, in terms of our positional game was really excellent, good, and on an artificial pitch is so difficult how you manage the game. 'Ah, but it's City against Young Boys', no it's no easy. I assure you that. I assure you that.
"It's not easy to do it, what we have done. And in the future, in the past there are a thousand, million examples, in the future there will be more examples of that. That is difficult."
On being the only club to emulate Manchester United's Treble of 1999
"Yeah, of course. And (to) have the four domestic titles. We won the four domestics (in one season). Except the Champions League, we won all of them. And after that, we were able to be humble enough to say, 'Okay, go again and again', and we won the chance to win the Treble.
"And we were close, because in the previous season, we were 0-1, 88 minutes, and the year before we were in the final of the Champions League against Chelsea. And now we are one game away to qualify for the last-16 again.
"They say, 'No, the draw is lucky', yeah okay. I can understand it. But you have to do it, and to do it, what we have done. We were 0-1 against Red Star (Belgrade) here. And that means, okay, let's try it again. It means we're going to win? I never assure you.
"You know, we met eachother since eight years here and I never assure that's going to happen, I don't know. But when I see the way we perform mainly all the games, and still many things that are not in the highlights still make me feel, 'Okay, let's go, let's try it again!'"
On the impact of his first footballing hero
"It was Platini, when I was a little boy. Michel Platini, and after was the President of UEFA, and I have a good relation with him. The nicest thing was that he was my hero, and he didn't disappoint me. That is the problem; once you have a hero, and after you know him, 'Oh my god, I didn't expect'. No, Michel was the same person when I was (a boy). And after, of course, other players."
On Rico Lewis coming through helped by the fact he can play multiple positions
"So important, that helps to not have a big squad, a longer squad. Because one, two, three, or four players like Bernardo (Silva), like Phil (Foden), can play in three, four different positions. That helps to use them, just in case we need it. But if Rico (Lewis) can happen it's because he's so intelligent.
"They gave him Man of the Match (against BSC Young Boys in the Champions League), I don't care about that, but it means how good they play. But in Leipzig, he deserved to win Man of the Match, too. In central positions, he's really, really, really good. In the short spaces.
"We figured out with the artificial pitch we need short passes because the bounce of the ball is so dangerous, so quick sometimes, so slow sometimes, and we needed in this type of game players that can keep the ball in short passes. That's what Rodri, with Rico (Lewis), helped us to do, to create this type of game."
On whether he expects Manchester United to dominate English football again
"Maybe not in the way that Sir Alex Ferguson controlled, because I think it was two or three teams. Now there are more, with a lot of incredible managers. And maybe not in that way but if they take good decisions, like I said many times: The hierarchy, with the sporting director, with the manager, with the players, and the same ideas – come on.
"Man United, still, when something happens is on the highlights all day. The reputation and the prestige that they had always will be, always. It's just, click, make a click for the right decisions. When that happens, it's going to happen, they will be there."
On Erik ten Hag not building on last season so far
"Nine games! Nine games… Nine games… Take time… Take time… (Manchester) United is able to win four, five, six games in a row, yeah. When they do that, they will be on top. They will be there. Take time, it's so close. Leave the manager to do their jobs, that here they allow me to do it in my first season when we didn't win.
"After we analysed what happened, we were 10, 11 players more than 30 years-old. We said, 'Okay, we have to bring energy, quality, energy, and do it, invest'. Invest like United, invest like all the teams, it's not necessary to tell it. And they supported me. It's the same; give time to the managers, and they will do it."
On the biggest factors behind the power shift in Manchester, and whether City are not the biggest team in town
"(Facundo) Pellistri didn't say that! The Manchester United player didn't say that…
"(When was the turning point, do you think?) I don't know, I don't know in terms of United because I'm not there. I know what we have done. Not just the results, the way we played, it's there, it's there. You figure out now, who starts to win the next six Premier Leagues? Five (are one team).
"Imagine from now on, the next six Premier Leagues, one team (wins) five. It will be what we have done. It's chapeau for the whole organisation, all the club, what can I say? But we want to try to do it again and again, being there, being there, being there.
"I don't want to drop because I know when you drop… you can be out of the Champions League next season, and we can disappear. What we have done is so difficult, and maintaining it is even more difficult. You can go there, into the middle of the table, in one moment. When you believe something you are not, or remembering what you are (in the past).
"When you drink a glass of wine with our people remembering what we have done is so nice, but the moment you have to do, it's the next step. And what we have done is clear. United, I don't know because I'm not there, and I don't know the decisions they have made."