Ruben Dias made promise to Jack Grealish's mum after Manchester City treble party ended in embarrassment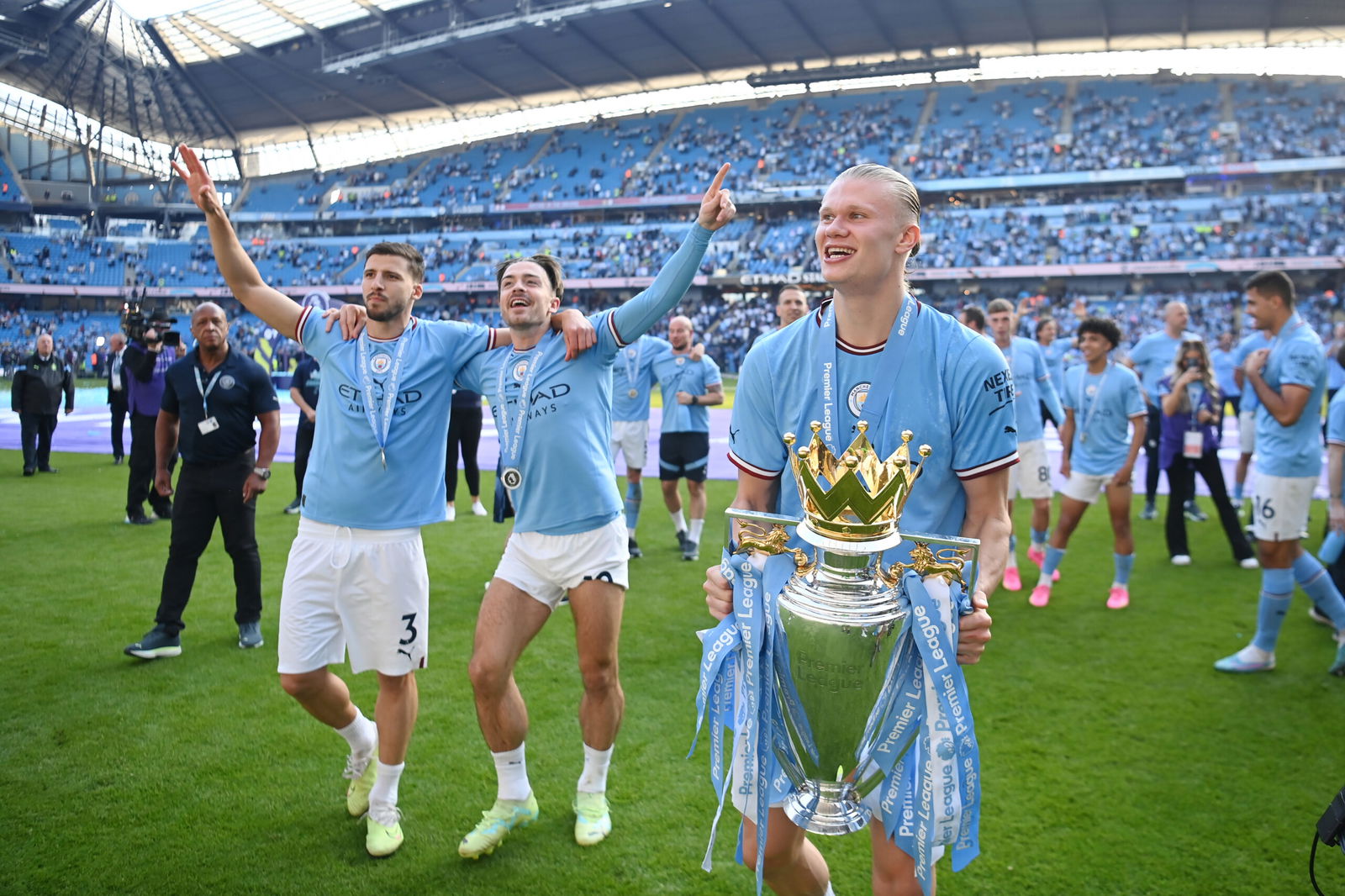 Manchester City's Ruben Dias reportedly made a promise to the mother of teammate Jack Grealish after an embarrassing incident at the club's Treble party last season.
Pep Guardiola's side made history during the 2022/23 campaign, claiming a staggering Treble topped off by their first ever triumph in the UEFA Champions League – a title that had evaded them ever since their takeover in 2008.
En route to the history-defining night in Istanbul at the end of last season, City fended off the challenge of Arsenal for the Premier League title, whilst also defeating rivals Manchester United in the FA Cup final at Wembley Stadium.
It was Rodrigo's second-half strike at the Ataturk Olympic Stadium in the final game of last season that completed a Treble only previously achieved by Manchester United, sparking wild celebrations from the first-team squad for a number of days.
However, those wild celebrations were taken to a whole new level behind the scenes, after an embarrassing incident involving Ruben Dias forced the defender to apologise to one of his teammates and their mother.
That is according to a report from The Mirror, who claim that the Manchester City and Portugal centre-back is planning to buy Jack Grealish's mum a new handbag after throwing up in her old one during the iconic treble celebrations.
It is claimed that the teetotal defender 'paid the price' for downing 'a couple of shots' in front of his team-mates, immediately feeling unwell and being sick behind a curtain, with Kyle Walker pointing out that Grealish's mother had put her bag there.
Ruben Dias is claimed to have been 'mortified' and apologised, with the central defender now having promised to replaced Mrs Grealish's handbag.
The Mirror quote a Manchester City source, who explained, "Ruben (Dias) didn't have too much to drink – because he doesn't actually drink alcohol. But he had promised the other players that he would down a couple of shots because winning the treble was such a special achievement."
The source continued, "Unfortunately even that was too much for him to take. He felt unwell anyway because of all the travelling he had done over the weekend – and after drinking the first shot he started to feel a lot worse.
"Ruben didn't feel any better when Kyle Walker pointed out that Jack's mum had put her handbag behind the curtain! Now he's back for pre-season he's going to buy her a new one."
Ruben Dias has once again been in inspired form during the start of the ongoing season, acting as the defensive rock at the centre of Manchester City's defensive line, and solidifying his place in the club's five-man leadership group at the Etihad Stadium.
Alongside Dias stands Kyle Walker and Kevin De Bruyne – who are understood to lead the section of the Manchester City squad – complimented by Bernardo Silva and defensive midfield mainstay Rodrigo.
City return from international duty this week with a Premier League clash against Brighton & Hove Albion at the Etihad Stadium being their first game back, as the reigning top-flight champions look to bounce back from three successive domestic defeats.