Revealed: Why Mateo Kovacic was not sent off against Arsenal following tackles on Martin Odegaard and Declan Rice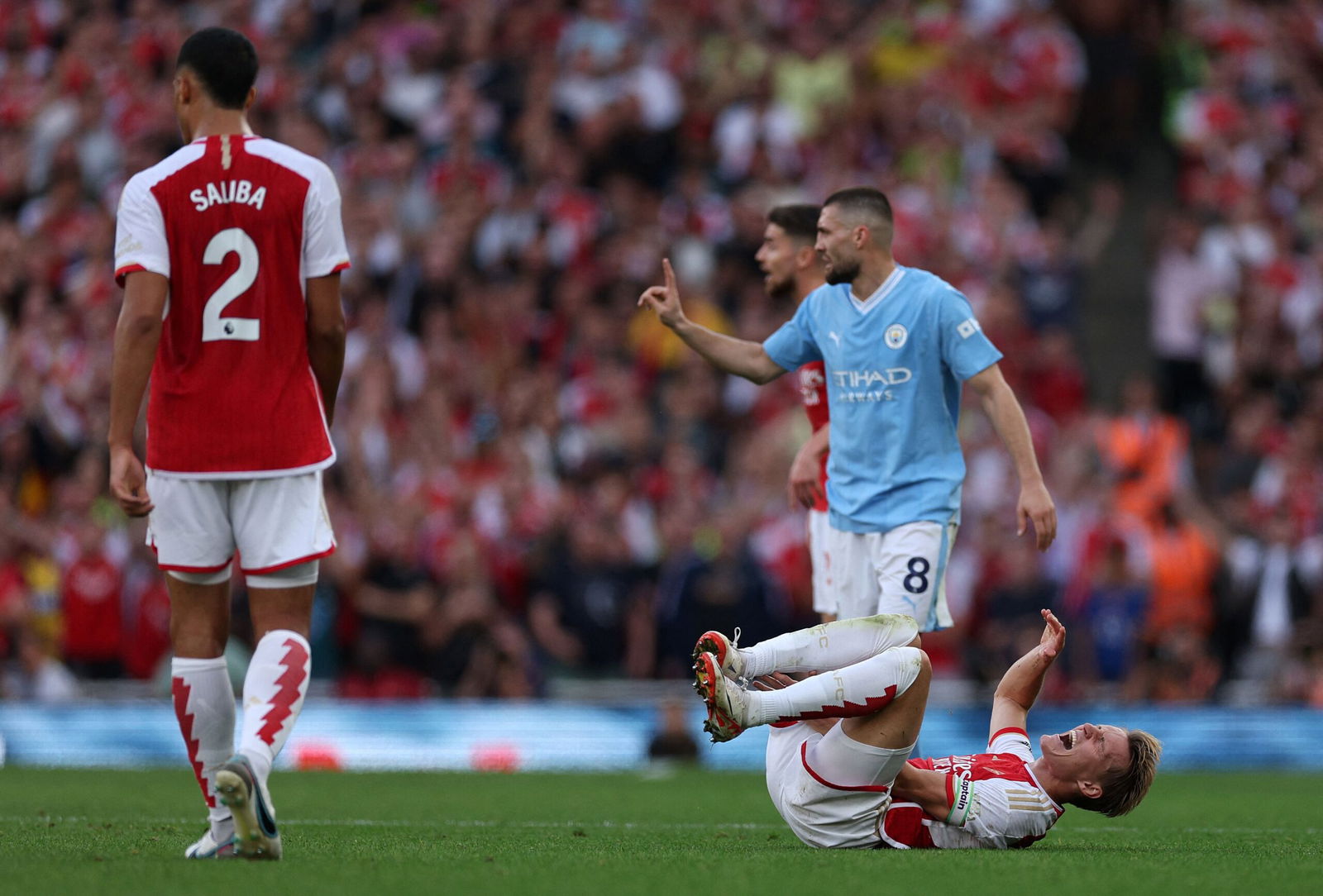 PGMOL chief Howard Webb has now revealed why Mateo Kovacic was not sent off for Manchester City against Arsenal on Sunday afternoon.
The reigning Premier League champions succumbed to their second successive English top-flight defeat at the weekend after a late strike from Arsenal forward Gabriel Martinelli, deflected off the face of Nathan Ake, left Pep Guardiola's side in third position in the table.
However, it was an incident in the first-half that largely overshadowed the conversation around and after the fixture, as Mateo Kovacic remained on the field of play despite too challenges in quick succession on Arsenal's Martin Odegaard and Declan Rice.
The first challenge on the Norwegian was reviewed by VAR, after on-field referee Michael Oliver deemed the tackle to only be worthy of a yellow card – a decision that the official's colleagues agreed with over at Stockley Park.
Now, speaking on 'Match Officials: Mic'd Up' this week, PGMOL chief Howard Webb has offered his take on both the decisions that were reached, and comparisons that were made with a tackle by Malo Gusto for Chelsea against Aston Villa, that resulted in the Frenchman being sent off.
As quoted by the Premier League, Howard Webb explained, "Of course we want to be as consistent as we can be throughout every game among our group, dealing with the same situations in the same way each week.
"But, of course, all situations vary slightly. We accept and understand this, and this is clearly a poor tackle [on Odegaard] and I'm pretty confident had a red card been given by Michael Oliver on the day, it would have been a very straightforward 'check complete.'"
Webb continued, "There's a few differences here. The player, Kovacic, comes into the tackle with the right leg, though there's some weight on the left leg. As he kind of lunges in, the right heel hits the ground and then the contact is a little bit more to the side with an upright foot as opposed to a side-on foot, that we saw with Gusto.
"A few small differences that led the VAR to feel that the on-field decision here of yellow card wasn't clearly and obviously incorrect and therefore 'check-completing' it, feeling that, if they had intervened, it would have been a re-refereeing of that decision by the referee on the field."
Moments later, and Mateo Kovacic was on the receiving end of a stern warning from referee Michael Oliver for a similar late challenge on Arsenal's Declan Rice. Instead of issuing a second yellow card, Oliver ensured that the Croatian remained on the pitch.
Howard Webb, upon being quizzed on the decision, reminded viewers that VAR is unable to intervene on decisions surrounding possible second yellow cards, but admitted that the Manchester City midfielder was lucky to stay on the pitch following the two challenges.
"I do [believe Kovacic was lucky not to be shown a second yellow]. Second yellows are something that the VAR is not able to get involved in. But he was an extremely fortunate player to stay on the field of play."
Howard Webb continued, "Of course, the referee, Michael, will no doubt review that and he doesn't want to have a negative impact on the game by overreacting to something, and sometimes players will be on a yellow card and there will be pressure to show a second one.
"Pressure will come from the players on the field, but you know that's also true that if you under-react you have a negative impact on the game.
"So when he reflects on it, he'll realise that the second [foul] should have been a yellow card as well, which would have seen Kovacic sent off for two yellow cards." 
Manchester City return to action following the international break with a home Premier League clash with Roberto De Zerbi's Brighton & Hove Albion, in what will be the club's first match back with Rodri in contention following a three-game ban.