Declan Rice transfer insight, Mikel Arteta's dress sense, Phil Foden's next position – Embargoed section: Pep Guardiola's pre-Arsenal press conference part two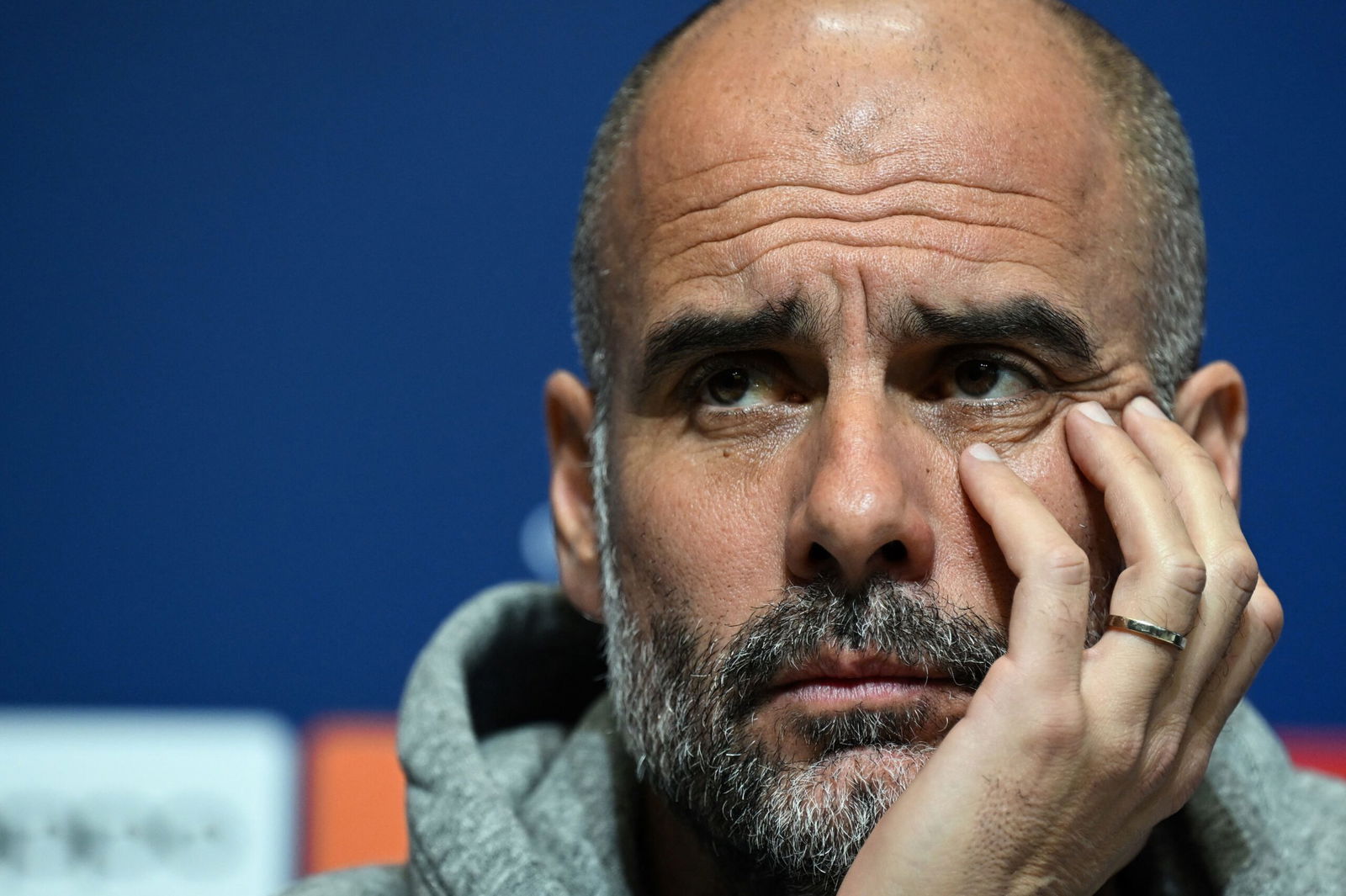 It's time for part two of Pep Guardiola's pre-Arsenal press conference from Friday afternoon, ahead of this weekend's Premier League clash in North London.
Manchester City travel to the Emirates Stadium for their final fixture before the October international break, with the Sky Blues looking to bounce back from last weekend's disappointing loss to Wolves at Molineux.
Sunday's trip to Arsenal is the first of a series of difficult upcoming fixtures for Pep Guardiola in the Premier League, with matches against Brighton, Manchester United, Chelsea, Liverpool and Tottenham all on the horizon.
Manchester City are unbeaten in the Premier League since 2015 against Arsenal, and beat the Gunners to the Premier League title last season, with two crucial victories over the North London side.
Kevin De Bruyne, who has scored eight goals against Arsenal, will miss Sunday's visit to the Emirates Stadium, although Manchester City have welcomed back Bernardo Silva and John Stones ahead of the clash.
Mikel Arteta is facing the prospect of being without Bukayo Saka, after the Englishman suffered an injury during Arsenal's loss in the Champions League on Tuesday.
Manchester City were victorious in the Champions League in midweek, beating RB Leipzig on Wednesday evening, courtesy of two late goals from substitutes Julian Alvarez and Jeremy Doku, to move clear at the top of Group G.
In part two of Pep Guardiola's pre-Arsenal press conference, the City boss discussed a number of topics, including his dress sense compared to Mikel Arteta, a new positional change for Phil Foden, and behind-the-scenes in the race to sign Declan Rice last summer.
Here is every word from the boss ahead of Sunday afternoon's mammoth Premier League clash against Arsenal at the Emirates Stadium!
On why he supported Mikel Arteta after beating him 5-0 in 2021
"Well in that game we started quite equal, and after one or two goals they had a sending off from (Granit) Xhaka I remember, and after playing our team at the Etihad when you're one or two down, Mikel (Arteta) restarted principles and it's really not easy.
"You're right, I'm not here to defend colleagues because everyone can defend himself. We respect each other, we try our best, but we are not friends, but there is an exception with Mikel because it's completely different. We were working together for two or three years with a lot of success, I learned a lot (from him), I said many times, and I was pretty convinced because I knew him here, how he communicated with the players, the ideas they have, what happened after 10, 15, 20 minutes when the situation is not going well, he visualised perfectly the reason why he had to adapt, and worked individually, collectively.
"He's a guy who is so demanding with the board to give me money, give me money to spend – he has this talent too. Sometimes it's more, 'Okay, what the club decides'. He pushes everyone, and I was convinced. It was another proof that when someone believes in something, like when the board decides the way we want to play, the sporting director decides the way we want to play, to keep this manager to play in this way, and the manager and sporting director takes these players to play in this way and give time, always it works.
"Sometimes you can see it quick, immediately, and sometimes you need more and more time. But it happens especially when the people above you believe really, really in you. Watching in the training sessions and how you are. If you just rely on the results, that is the first step when the clubs will be down, down, and down, because the results… You have to rely more on what you do than results, and results will always be a consequence.
"They trust him, and the results are here. So, at the end, they have a manager for many, many years, he knows the club, he loves the club, and better than that? It's impossible."
On whether he looks at Mikel Arteta as a 'mini me'
"No. I dress better! I'm sorry, my wife gives me the perfect outfit all the time. (Characteristics?) Zero. He has a father and mother that are completely different, he has his own personality. All the success he has belongs absolutely to Mikel (Arteta) and his people and Arsenal, not me.
"People say, 'Oh he was with Pep (Guardiola) and learned a lot!' I learned a lot from him. The people say always I have to teach my assistant coaches, I bring assistant coaches to teach me. Juanma (Lillo) is here to teach me. But I'm a figure here, in front of the microphone, I have to talk about the excellences that we do as Manchester City, but I learn. It's like the players. The people believe we teach the players.
"We learn from the players to take decisions, we learn from them many times. All the success, the good things and bad things, belong to him, his genetics, his mum and dad have given to him. Not me."
On the difficulty of keeping training sessions fresh when players hear the same voice over such a long time
"It's a good question for the players. I'm asking this question many, many times of myself. And still they have this guy here, shouting at me, or saying something again, and again, and again. That's why sometimes you have to refresh the squad, the players, or move the manager.
"It's an honour to be the second-longest serving manager (in the Premier League) right now, behind Jurgen (Klopp). That means we have done really, really well because the big clubs don't wait. But I don't know… We move a lot the assistant coaches, some little patterns. And I'll tell you something, when you have a long week, I think it will be more, and more difficult to maintain that.
"But at the end, playing every three days, you don't train. I would love to be on the pitch, on the grass, smelling the grass, and seeing the players doing whatever they do, when I like their behaviour I compliment them, and when they are flat they will be in trouble with me. But I don't feel like a manager, a trainer on the field.
"A manager looks like they're on the board, in there, in the office. But the calendar and the schedule makes you become a manager because all the time you are in the office watching games, or what you have to do, and on the pitches; 45 minutes, one hour. I don't spend much time with the players, just this 45 minutes and in the morning of the meetings or day of the game. The rest of the time I'm not with them, they are not with me.
"That's why maybe we can sustain a little bit longer this relation. (The packed fixture schedules make your job easier then!) Yeah, you're right. You're right!"
On whether Declan Rice has been a player of interest for Manchester City
"Yeah everybody knows that we wanted him. He could play not just when Rodri could not play. At the end, Arsenal pushed more and wanted him more, maybe Mikel (Arteta) was more convincing than me, or the club itself, or the offer that they (put forward) we could not, what we believed in that position, reach it because we thought on Josko (Gvardiol) in that position, and we could not afford it. We could afford it maybe less, or maybe that's why."
On the amount Arsenal have spent showing that they really are serious
"Normally when Manchester City bought for this kind of amount of money, it's crazy. When the other ones (do it), how smart they are. That quite happens. But I'm not denying that everyone can do whatever they want, I never judge other ones. We have been judged all the time, but it's fine. When we were in the middle of the table, that never happened. We were not a problem, we were not being scrutinised for the rest.
"But if Arsenal believed that they have to do that, it's more than fine. And at the end, what I said before, what the recruitment has done in the last years… I think, from the outside, the most difficult thing Arsenal has done is players leaving, important players in the team when Mikel (Arteta) took over, in that position to release the contract that they have.
"But at the moment the recruitment is really good, now they're settled, they have a young squad for many, many years. So the perspective for many years is the fact that they will be there, for many times. And of course, what I'm doing to say is Declan Rice is an exceptional (player), a holding midfielder with the national team so he's an exceptional player."
On Bernardo Silva's impact and making it easier to cope without Kevin De Bruyne
"Yeah, definitely. Bernardo is so important for us, for me personally, for the relation I have with him. Always I like to have… A tight relation with some players is possible, the other ones is not because everyone has their own character, myself first. And Bernardo is so special, and of course he's a type of player that can play in many, many positions, and he's a huge competitor, he loves to win, incredibly angry and upset, it doesn't look like it from the outside but when he loses games, and he misses a pass, simple things he is angry with himself. So competitive.
"And of course, when we for example needs a winger with more speed, I would play with Jeremy (Doku) for example or before Raheem (Sterling), Leroy (Sane). When we need a winger who has the ball and you have to, like Riyad (Mahrez) himself, give extra time to join the team and join the structure, and make an extra… he's so good.
"He's a really interesting player, and in defence as well. I said he can play in, I don't know, last season he played as a left-back against (Bukayo) Saka at the Emirates. He can play in many, many positions, because he's so intelligent. It would have been a big loss for us this season, after (Ilkay) Gundo(gan), Riyad, Ayme(ric Laporte) had gone, him and Kyle (Walker) would have been a big, big loss. Fortunately we can have him for one more year."
On whether he has seen a growing maturity from Phil Foden this season
"I think Phil (Foden) has a free instinct as a football player. He's not a player that thinks too much when he plays. He doesn't have to think, 'Oh what has the manager said to me?' He's a bird, flying wherever you want and do it. But sometimes it is the step he has to gain as a football player, playing in that position to have some duties he has to do for the team, it depends on if they do (this), I have to do (this). If they don't do (this), I have to do that. But he's so young.
"Some players, for example Rico Lewis, they have this immediately. What he moves inside, I didn't teach him anything. It comes from his nature. But he has not the talent like Phil has in other aspects. But that is normal, that is nice. Football is not a copy paste of players, everyone is different to everyone, how you discover as a manager is the biggest target, how you discover, imagine, figure out how the relation between them can suit perfect to the way we want to play.
"It's not you play in that way, it's you with him, with him, and him, how you're connected. That is what makes my job so fascinating. When Phil plays as a right-winger, like he can do it, in the beginning when he played left-winger he played good, lately not good, in the middle can play right, left, in the pockets no problem.
"What I would like at the end is he plays as a holding midfielder, the two holding midfielders that play there too. For that, he needs to understand the game as a global, in everything, not just me. But, at the same time, he has this instinct, natural, like the big talents, in the final third, I'm not going to stop him. I'm not going to step and say, 'Don't do that!' Because he's unique. But at 16-years-old he was unique, at 17, at 18.
"But as much as he grows as a football player, to add something in his game, because it will be better for him in the future. And hopefully in the time we are together, we can help him."