Coping without Rodri, a blow concerning John Stones, Manchester City's main Premier League title rivals named – Every Word: Pep Guardiola's Pre-Arsenal press conference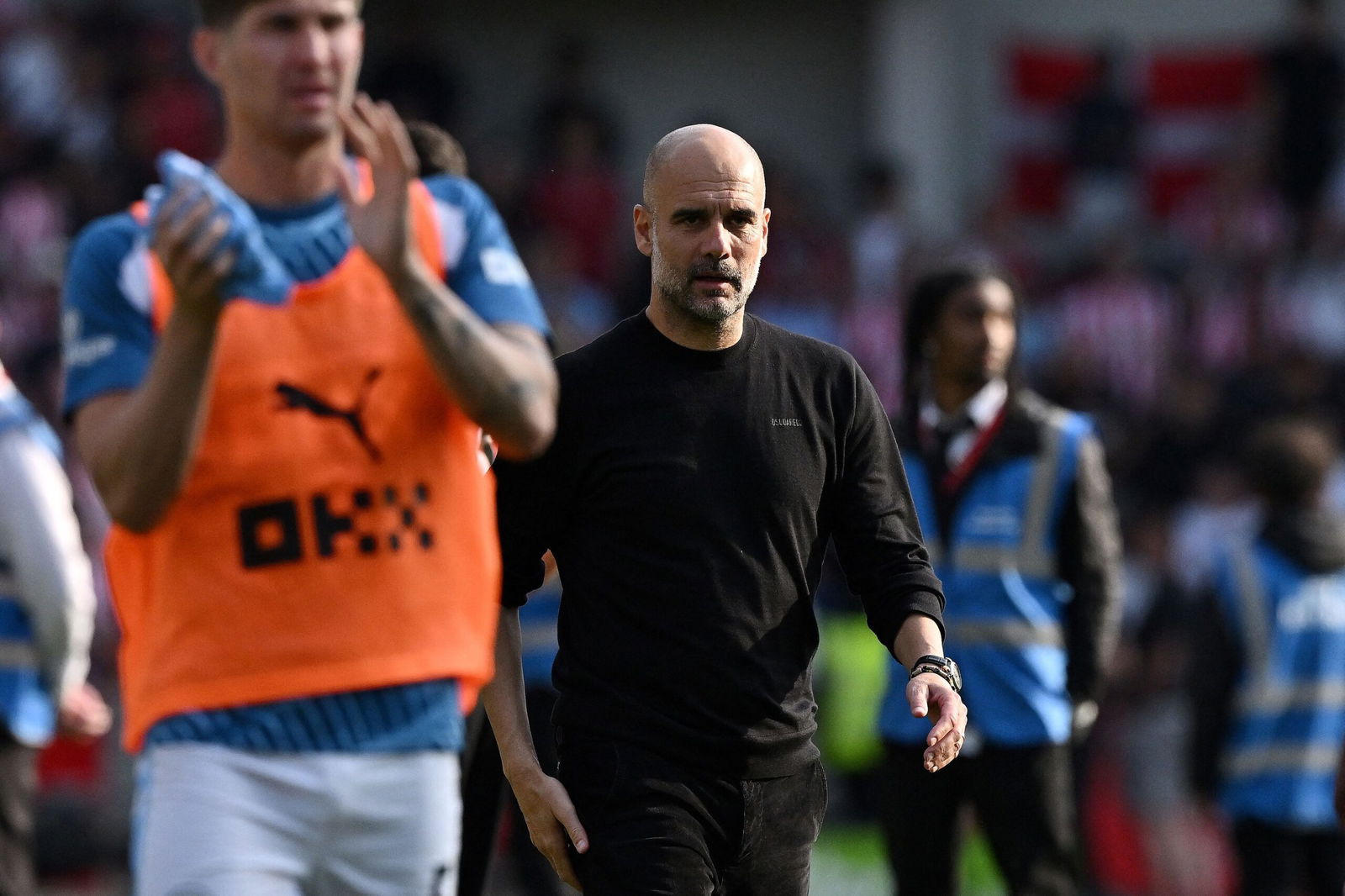 Manchester City manager Pep Guardiola has spoken to the media ahead of Sunday's Premier League clash with Arsenal at the Emirates Stadium.
The treble winners travel to North London looking to bounce back from last Saturday's surprise loss to Wolves, where Manchester City's winning start to the campaign came to an abrupt end after Hwang Hee-chan's second-half strike.
City responded with a late win over RB Leipzig in the UEFA Champions League on Wednesday night, and will enter the October international break top of the Premier League table with a victory at the Emirates Stadium this weekend.
Pep Guardiola's side are unbeaten since 2015 in the Premier League against Arsenal, and thumped the Gunners en route to a third successive title last season; with a 3-1 win at the Emirates and 4-1 win at the Etihad Stadium.
Bernardo Silva returned for Manchester City in midweek, meanwhile John Stone was named as a substitute at the Red Bull Arena, with the Englishman having not featured since the FA Community Shield loss to Arsenal in August.
Manchester City will remain without Rodri due to suspension, however Rico Lewis could be set for a second Premier League start of the season, after impressing against RB Leipzig on Wednesday evening.
Arsenal are sweating on the fitness of Bukayo Saka, who was forced off with an injury during the Gunners' UEFA Champions League loss to Lens on Tuesday evening. However, England manager Gareth Southgate has since claimed that he will be 'in contention' this weekend.
Ahead of Sunday afternoon's mouthwatering Premier League clash in North London, here is every word from Pep Guardiola's pre-match press conference at the City Football Academy on Friday.
On the fitness and availability of John Stones vs Arsenal
"No, (John) Stones is not ready to play. Maybe for (the England) national team, but not for us."
On whether Arsenal are still Premier League title rivals
"Absolutely, among Liverpool, from what we have seen. But to analyse the contenders in the first 10 games, and we haven't even played that, we have to wait. But the big clubs will be contenders."
On coping without Rodri at the Emirates Stadium
"We will see what happens. I start to talk today with my staff, we have to analyse, we train this afternoon and prepare tomorrow. Rodri is one of the two or three best holding midfielders in the world, so his influence on the team is going to be big.
"But he's not there. We've coped with absences in the past and we'll have to adapt. The team spirit and relation is much more important than any tactic. If you have a good relation, if one player makes a mistake, your team mate is going to help you.
"The relation is so important and when we have an absence as important as Rodri, we need to look deep inside us to solve it. We cannot start crying and complaining, we have to find a solution and 11 players will be trying to win in London."
On whether he is proud of Manchester City's youngsters for stepping up
"I'm delighted for everyone, young and senior. We know where we come from with the travel (from Leipzig), we could play better or worse, but the training sessions, the focus of the team, is still there.
"The last few games, we're top of the league and in the Champions League we make a big step in qualifying which is the most important thing in this month by far. Then it's focus on the Premier League until the Champions League starts again."
On VAR following the incident involving Liverpool at Tottenham
"I said before the game against Leipzig, it was a mistake, accept it. Humans make mistakes and VAR is there to reduce the mistakes humans do, we do. Hopefully it finishes here and gets better.
"The Premier League and people from VAR will try to improve it. The reason VAR was implemented was to make our game more right and hopefully it will be better in the future."
On what you want better at Arsenal from Wolves
"Different games. The Premier League is difficult and Leipzig was too. For Wolves, it's completely different to Arsenal. Wolves defend from one minute, a holding midfielder goes with Mateo (Kovacic).
"I don't think with Arsenal that's going to happen. We have to adapt. We know each other quite well and we'll see. Like I said, Rodri is not here and we'll find a solution. We'll decide today or tomorrow and how we're going to press.
"The moment a player is not there, they're out, I don't think about it. He's away now on holiday and he'll be back after the break for Brighton."
On scoring goals
"I think since we arrived (at Manchester City in 2016), we score a lot of goals. We have this ability, with different formations, build-ups and pressings we have a lot of goals and that continues."
On whether Kevin De Bruyne is still 'involved' despite being out injured
"Different timings because he comes in for treatment, but I see him every day and he's getting better, his mood is good. Hopefully sooner than expected he will be back."
On preparation for Arsenal
"Play it down. The second leg against Arsenal, when they come here (to the Etihad Stadium), it'll be different with a lot on the line. What I want is to arrive in February qualified for Champions League knock-out stages, to be close in the competition, close to top of the league, the distance short, and have the last 10 games in our competition: 'Let's go again!'"
On 2018 being the last time Manchester City lost back-to-back Premier League games
"(When) This happens, it shows how good we have done… 2018? We have done incredible. The manager is so good!"
On the struggles when facing Arsenal
"They are a good team. Secondly, they make man-marking sometimes, allow you to do some process, but after they are so aggressive. They have a clear pattern and they're a really good team.
"They fought to be (Premier League) champions (last season) and now they're here again. Arsenal are back. When I was a young boy and at Barcelona, Arsenal always were there. I saw them fighting with (Sir Alex) Fergie's teams, but now they're back.
"When you look at the calendar, going to the Emirates is one of the toughest ones.
On whether Arsenal are stronger than last season after the Premier League title race
"I don't know because I'm not in the locker room and I don't talk to them. I know Aleks (Zinchenko) and I know (Gabriel) Jesus, but the rest, I don't know but they are still there. The recruitment they have done is top, exceptional level of players. The keeper, (Kai) Havertz, (Declan) Rice. They are a good team."