The impact of Rodri, winning back-to-back Champions Leagues, the arrival of Josko Gvardiol – Every Word: Ruben Dias' Pre-RB Leipzig press conference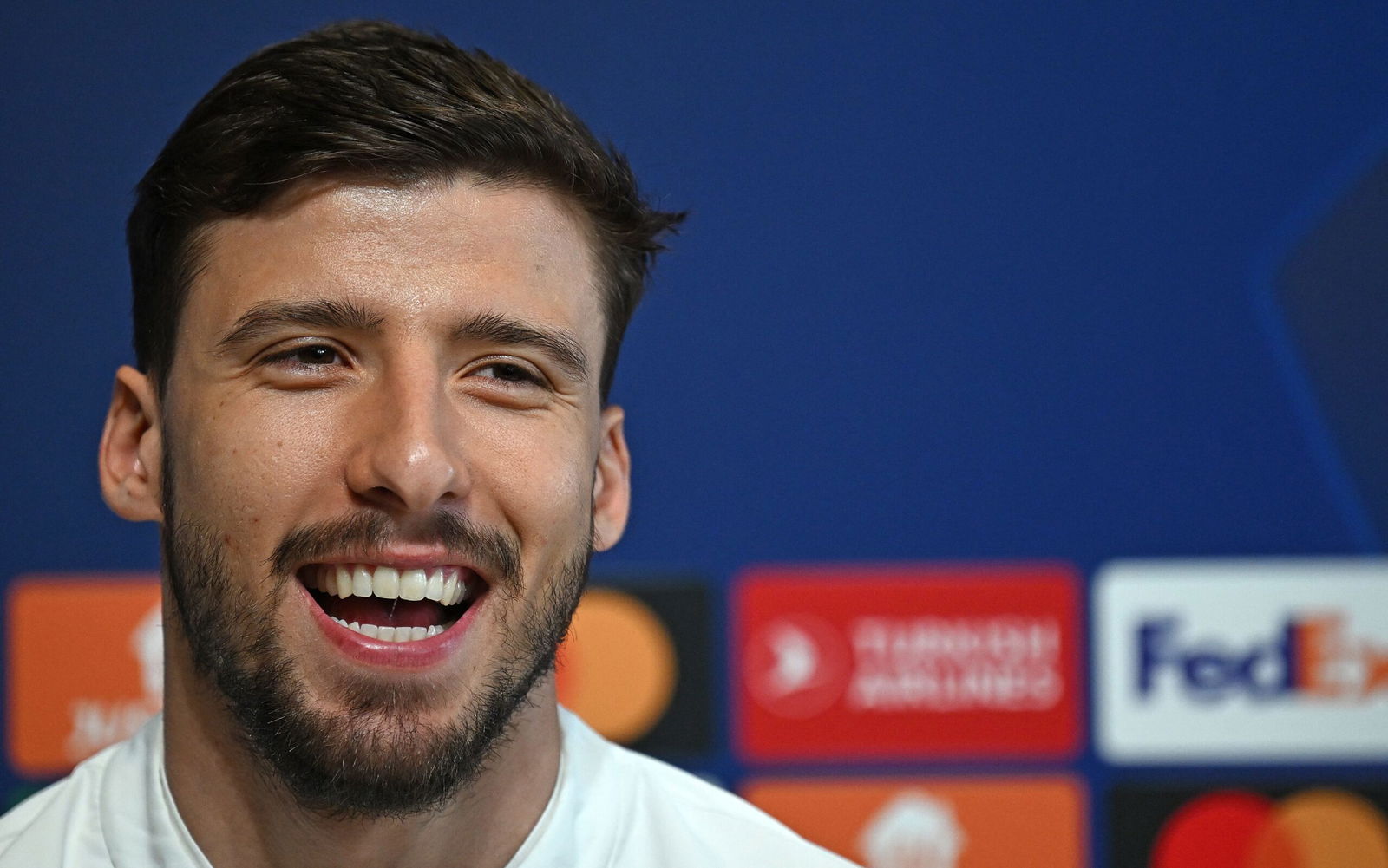 Manchester City defender Ruben Dias has looked ahead to Wednesday's UEFA Champions League clash against RB Leipzig in Germany.
Dias spoke to the media virtually ahead of Manchester City's trip to the Red Bull Arena, as bad weather impacted the Blues' travel to east Germany, forcing the club to depart from Manchester airport much later than originally expected.
Manchester City are looking to bounce back from successive defeats to Newcastle United and Wolves in the Carabao Cup and Premier League respectively with a win over RB Leipzig in the Champions League Group G clash in midweek.
The Blues have the opportunity to move three points clear at the top of their Champions League group with victory against the Bundesliga side, with the two teams meeting for the fifth time in less than three years.
Ruben Dias started Manchester City's 7-0 second-leg thrashing of RB Leipzig at the Etihad Stadium in March, as Pep Guardiola's side progressed to the quarter-finals of the European competition.
The Portugal international could feature alongside Josko Gvardiol in Germany, as the defender prepares to come up against his former club in midweek, after joining Manchester City during the summer transfer window.
Ahead of Wednesday's clash at the Red Bull Arena, here is every word from the Manchester City centre-back's pre-match press conference.
On the impact of Rodri
"Well, I will answer a bit generally. I think we all know the influence and what he can give us as a team. There's not much to debate. His presence is very important to all of us."
On what he expects from RB Leipzig
"It's becoming a habit (playing against RB Leipzig). We know how difficult they can be as a team. Always young, full of energy, very forward-thinking. We know they love to play the game. We expect nothing else but a very difficult one and if we've won it's because we've done a good job."
On the defeat to Wolves
"It's never a good day when we don't win, but that's just exactly the standards we have at the club. With ourselves and teammates. It's always an intense moment when it happens and I think that's how it should be. We don't lose our happiness or enthusiasm when we come to work but it's good that we feel it that way and it hurts us so much. But that drives us to get better.
On who talks in the Manchester City dressing room after a defeat
"It depends on the moment, the game, how things go. Sometimes it can be one or two, just one, or three, four five or sometimes absolutely no one because we all know. In the end when there's a tough situation to take in sometimes it's in words and sometimes silence. Only in the moment you'll know when to deal with it. We have a lot of winners in our team and we know how to deal with it."
On Josko Gvardiol and his return to RB Leipzig this week
"I think he's settling in very good. He's a player with a tremendous quality, that's easy to see. More than that is the fact he really wants to win. He's one more piece to join the party. He is settling in very well. Good, easy going guy, good to communicate with on and off the pitch. Individual qualities aside that's a good quality to have that good communication, especially on the pitch."
On VAR and whether he trusts it
"I think overall VAR has changed the game in a big way. Especially the more we go the further back in time the more you see the changes but trying to look at it now in how reliable it can be I think overall most certainly it has helped to keep the truth.
"There are definitely moments, and recently we have seen moments that are hard to accept because you think there should be no failure, but it is what it is. I'm not just saying when things go not our way, I'm trying to talk as an outsider, it's difficult to accept if a decision doesn't go the right way but that's a gap we have to consider on the full reliability of it."
On a target being on Manchester City's back
"I think we've had that target before, we still have it now. To come to this club is to know you'll always have that tag cause everyone wants to beat the best. We feel that the club is growing, people are joining and that's beautiful to see and be a part of. Like anything else, we need to keep growing and make sure to enjoy the ride while we're on it."
On being voted into Manchester City's leadership group
"Obviously it's a special moment for whoever is selected. It's a moment of trust from your colleagues, the staff as well who vote, it's an honour to be one of the captains of our team. As much as big as it is an honour, it's a responsibility.
"When you have that responsibility for a while it gets easier, I always try to conduct myself that way because I believe that's how players should be like."
On whether there is the same hunger in the Manchester City squad to win trophies
"Most definitely. More beautiful than doing it once is doing it twice. More beautiful than three (Premier League titles) in a row is four. More beautiful than one Champions League is two in a row and the same goes for the FA Cup. The motivation couldn't be any higher. We know we've done something very special but we're all very young and hungry to leave a mark."