Updates on John Stones and Bernardo Silva, VAR following Liverpool incident, Josko Gvardiol's return – Every Word: Pep Guardiola's Pre-RB Leipzig press conference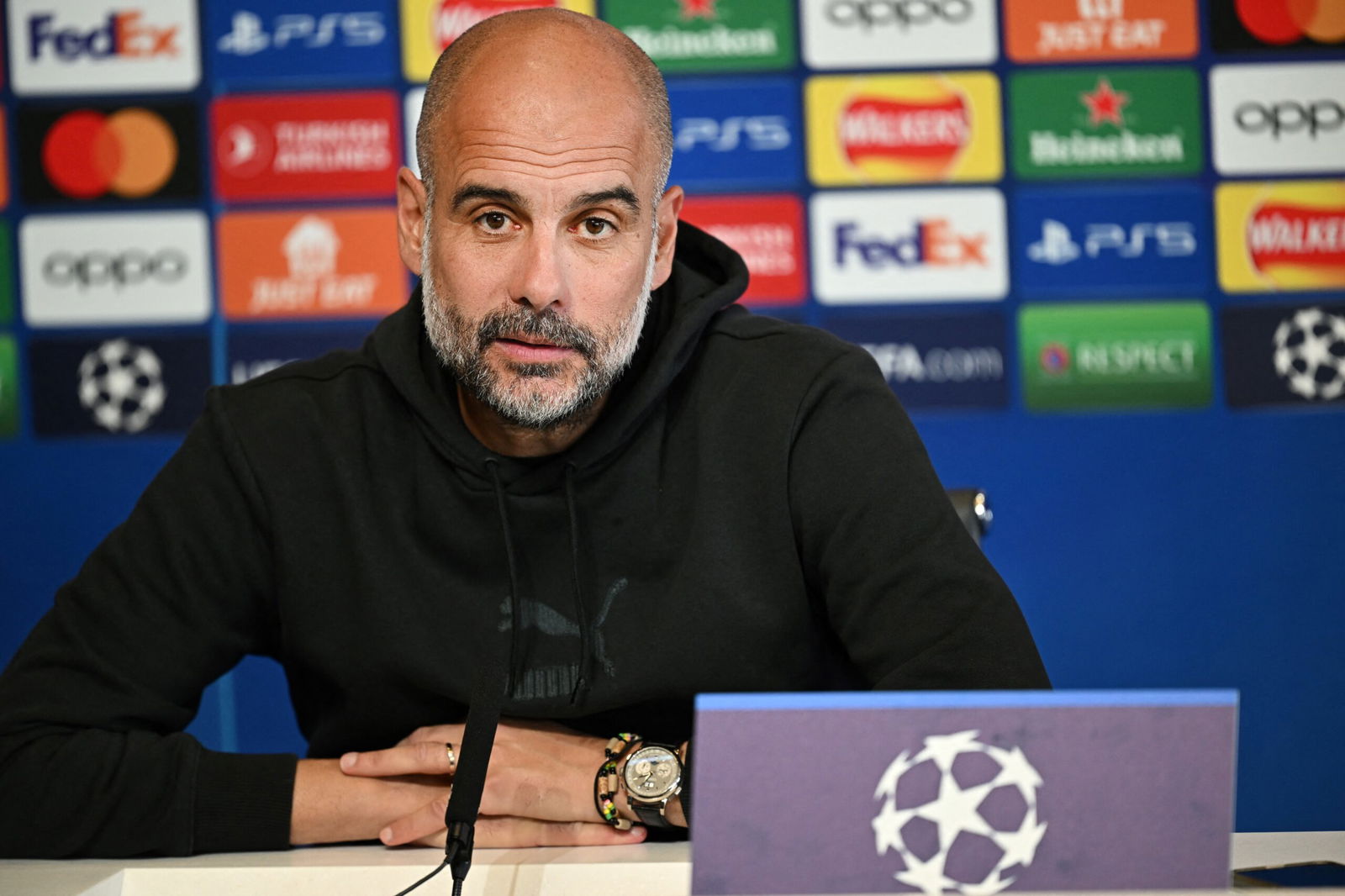 Manchester City manager Pep Guardiola has spoken to the media ahead of Wednesday's UEFA Champions League clash against RB Leipzig.
The treble-winners travel to east Germany to play Bundesliga side RB Leipzig in matchday two of the UEFA Champions League Group Stages, and face a familiar opponent in Marco Rose's side in midweek.
Manchester City thumped RB Leipzig 8-1 on aggregate in the last-16 of the competition in March, as Erling Haaland scored a record-equalling five goals during the second-leg of the tie at the Etihad Stadium.
Both Manchester City and RB Leipzig won on the opening matchday last month, with the Sky Blues coming from behind to beat Red Star Belgrade 3-1 at the Etihad Stadium thanks to goals from Julian Alvarez and Rodri.
Guardiola's side could move three points clear at the top of Group G with a victory at the Red Bull Arena, and have been boosted by John Stones and Bernardo Silva returning to first-team training ahead of the fixture.
Josko Gvardiol could feature against his former club this week following his move to England during the summer, as Manchester City look to bounce back from underwhelming back-to-back losses, against Newcastle United and Wolves.
Here is every word from the boss ahead of the Wednesday's Champions League clash against RB Leipzig.
On Francis Lee
"Part of what we are. It looks like the reality, the day by day, it looks like only exists the people who are here – but we are here for people like Franny Lee, Mike Summerbee, Colin Bell, part of the generation of that created a part of this organisation, this club. On behalf of the team, of course there was the statement of the club, but to his wife and all the family a huge hug."
On disruption to Manchester City's travel plans
"It's no problem. It's fly safe and land safe, that's the important thing. It's not at 7pm, you have to do it at 9pm and it's not a problem. The authorities said it was so risky to fly before so that's why we made the training session longer and the lunch longer. We have time to rest and now we are going to fly to Germany."
On whether last season's 7-0 win vs RB Leipzig will have any impact
"And we draw 1-1 there. It's another game, another competition. It was a really good game for us, we had an incredible run at home we had a feeling in our bones, we wanted to make the final again and we did it. Now is the group stage, it's completely different. They are doing really good things, how they attack the space, we try to go there cause it's a huge step for us if we get a result to get to the next round."
On John Stones and Bernardo Silva
"They feel better. Bernardo better than John. Both travel, we decide tomorrow. Really happy they're back. John not played one minute this season, Bernardo had injury and the birth of his beautiful baby daughter but they're back and it's good news for us."
On Erling Haaland's recent struggles
"He had a lot of chances to score the goals. It gets more difficult with five defenders, on the 18 yard box, there but not just for him for any player around the world. If you see the chances he's had and the goals he's scored, he's at the same level as last season."
On Manchester City's run of away games
"It is what it is. Many away, then many at home. The calendar dictates the draw and we adapt."
On VAR
"It changed the job of the referees because now they don't make the decisions, it goes to the VAR. I understand the feeling of Liverpool but the bosses of the referees will decide."
On whether he has any ideas as to how to improve VAR
"No. I'm not a professional in that to apply it as best as possible. I'm not involved in that and I don't care. We have to rely on the people there. Everyone knows they did a mistake and Liverpool suffered a big consequence of that cause in these games is super important."
On whether VAR is now more frustrating
"They will have to find a system where the main roles are the players and the game itself. In all the countries, not just here. The referees and the VARs are the leading roles. And the Oscar goes to… they have to make a step back. It's the players. Some games, be more humble and leave the players to do what they have to do, and they will be better. They will be better."
On the defeat to Wolves
"I don't know what's going to happen this season. What the players have done is unbelievable. We conceded two shots on target and we lost the game, that's football. We have to improve yeah, the bases of what we did last season was (John) Stones, Rodri, Bernardo (Silva, (Kevin) De Bruyne, (Ilkay) Gundogan, (Jack) Grealish and they weren't there. Sometimes you have to adjust something, it's normal.
"Mateo (Kovacic), Julian (Alvarez) have been amazing, I could not expect much more from Mateo this early, Jeremy (Doku). But there are some players who know exactly what they have to do because they've been here seven years together, I breathe and they know what to do, some don't. It will take games and games for them to.
"Now we have to move forward Leipzig, then away to Arsenal. We're not going to win the Premier League at Wolves or lose it. We've behind many times. Get back to our principles, learn from the game. I'm more than pleased at what they've done so far and you have to move on."
On whether Rodri will play against RB Leipzig
"Of course. You always have to take the positive and Rodri's going to play tomorrow and then I'll give him a rest for the Maldives for a few days before joining the national team."
On changes to the Champions League and the addition of more games
"Apparently yeah. The format of the Champions League, they're changing, but I don't know the disadvantage if you reach the quarters or the semis. There are more teams but I don't know how many more games. 15 or 17 matches. Two more or three more is like one month… we say quality and quantity. Exhausted? Go and play the Club World Cup in the States. You finish the season two weeks later. And maybe we'll have some international games! It's the same argument.
"The managers who play in Europe say it. They made the competitions. Have they spoken to the players? Captains of big clubs? Managers of big clubs? I read the newspapers and say, 'Oh, there will be more games'. You ask me and I answer. Is me answering going to change anything? No.
"In Spain, (Carlo) Ancelotti is saying the same, In Italy, (Maurizio) Sarri the same. We don't have time to analyse what we're doing. I'm a manager but I'm not a trainer. I don't do training with the team. You think we give Mateo (Kovacic) or Jeremy (Doku) time to understand what we do?
"Good food needs time to cook. Microwave is not the same. Everything is so quick. It's all more difficult because the demand is higher. The demand is from chairmans, bosses, media, fans, they want more and more – do better – and the day we were out, the question was are we disappointed not to win the Quadruple? Are you serious? Everything is too much. We'll play the competitions. It's what I said the other day: only the players can stop it."
On the success of RB Leipzig and the Red Bull group
"Normally when things happen there's two or three reasons. The board know they how they want to play, the manager plays that way and players are signed for that way. At Leipzig, Salzburg and many teams in Red Bull they know for many many years it doesn't matter after all the managers they play the style.
"They develop players and sell to become one of the richest clubs in the world. That is the reason why they're a success because they have a clear strategy and all three departments are pulling in the same direction.
"They win the Pokal, always in the Champions League, the battle with Bayern (Munich) is difficult but they're always there. I have huge admiration for that and try to do the same at (Manchester) City."
On the impact of Josko Gvardiol at Manchester City
"He's not had time to train much with us but we're really impressed. He can play at centre-back, left-back, midfield. The impact with us is massive. We're really impressed with him on and off the pitch and I'm very pleased Manchester City have done what they've done with him."