Premier League referees, sitting in the stands more often, did Man City travel by bus or plane – Embargoed Section: Pep Guardiola's post-Wolves press conference part two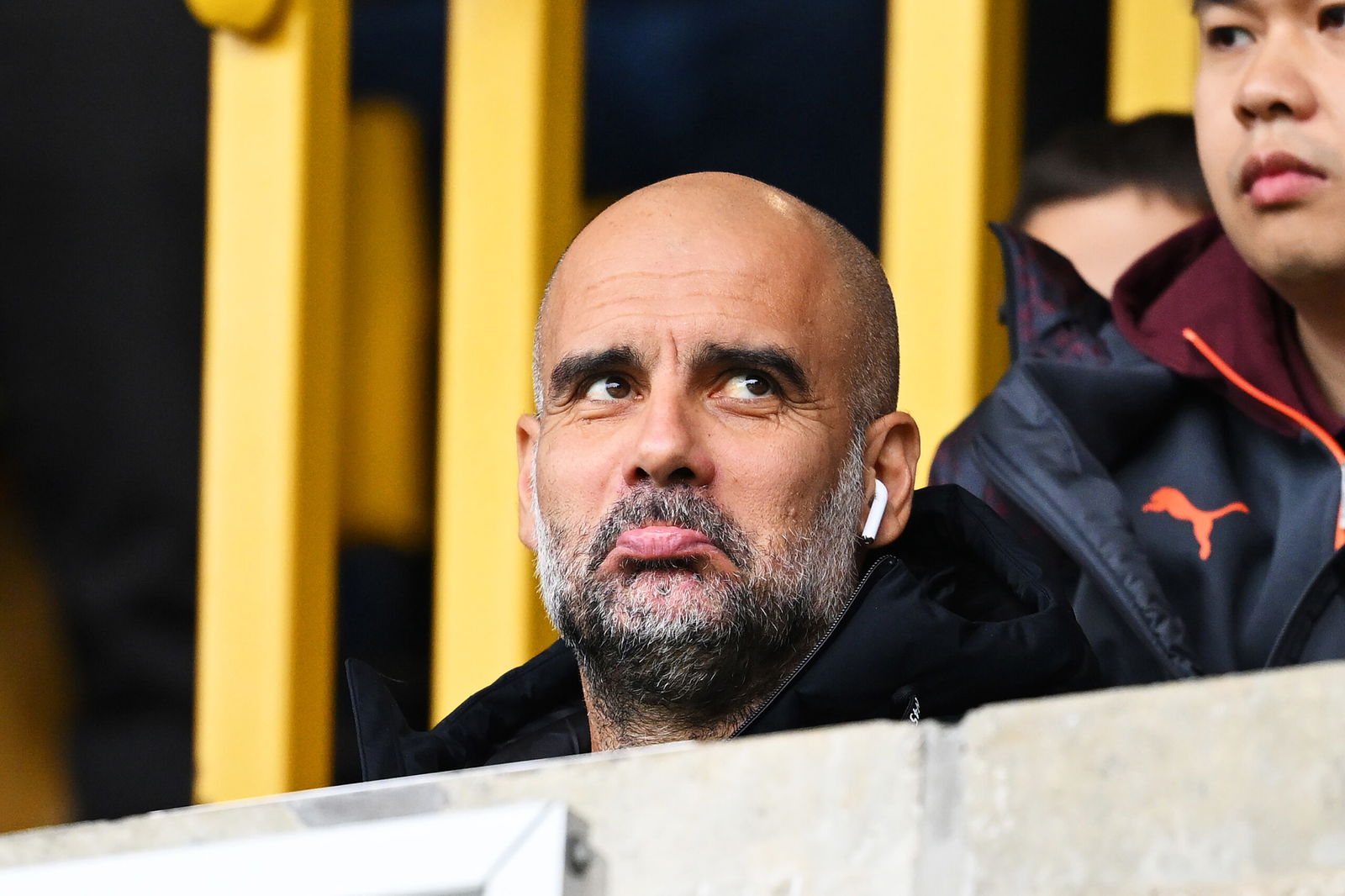 It's time for part two of Pep Guardiola's post-Wolves discussion with the media from Saturday evening.
Manchester City saw their 100 per cent winning start to the new campaign and unbeaten run this season collapse at the hands of Gary O'Neil's side at Molineux on Saturday, courtesy of a 2-1 win for the hosts.
Wolves took the lead inside 15 minutes after Ruben Dias unfortunately turned the ball into his own net as he attempted to stop a cross for reaching an onrushing attacker, as the hosts looks to hurt Manchester City on the break while defending resolutely at the back.
Hee-Chan Hwang and Mario Lemina both received bookings inside the first-half, and as the game wore on, it would later develop that there were strong cases for both players to have been dismissed for subsequent fouls. Those dismissals did not arrive from referee Craig Pawson.
Oscar Bobb came on from the bench at half-time replacing Matheus Nunes in Manchester City's attacking midfield, as Pep Guardiola looked to add more dynamism to his midfield trio in search of an equaliser.
The Norwegian youth international offered a strong display at Molineux, and as the contest approached the hour mark, Julian Alvarez would equalise from a stunning direct free-kick just outside the Wolves penalty area.
A further change would see Kalvin Phillips replace Mateo Kovacic at the base of City's midfield three. Hee-Chan Hwang then put Wolves back in front after yet more calamitous defensive work from Manchester City's back-line.
While Manchester City pushed for an equaliser, no such goal would come and only results elsewhere would mean that the reigning Champions would retain their position as the division's leaders by a single point.
In part two of Pep Guardiola's post-Wolves press conference, the City boss discussed the Premier League's referees, a crucial week ahead for the club, and his one-match ban for an accumulation of yellow cards.
Here is every word from the embargoed section of Pep Guardiola's post-Wolves press conference at Molineux from Saturday evening!
On the week to come
"Now we come back home by bus. Don't worry, we will not take a plane. By bus. We will rest, and tomorrow (we'll have) recovery, day off, prepare the game, we're going to travel to Germany and play another competition, and come back (for) Arsenal, after it's the international break, and go on!
"During the year, every year, we lose a lot of games. Few, I would say, but we lose games. So now, we're going to recover from the moment, analyse, and a few players are coming back, and next one."
On whether managers are going to have to change the way they behave on the touchline
"For sure! But we don't play, at the end. It's worse if the players don't play than me. This is not a big issue. For sure, that's why they make rules. It's not a problem.
"Listen, when I was a football player in Barcelona, I was the less physical players ever and maybe I was one of the most booked players in Barcelona. Always it was because I talk, I talk, I talk, I talk. Now, as a manager, it's the same; when I say something I believe is an injustice, or something I don't like, I say it.
"I have to control. Here, in the stands, I was so relaxed, I see it there, I try to analyse when happened. But there (on the touchline) when you see a few things that you don't like, I will tell you. Three cards, so I would love to not get yellow cards, I would like to control, I will try to do it. But I cannot assure you 100% that I will control me."
On whether he thinks it's fair
"It's the new rules. They explained this to us because sometimes we are not correct to them, and they are the bosses, they make the rules and they apply the rules. We have to accept it. Everything is like that. We're not going to change.
"We're going to change that, the rule, because I am booked? No. I have to adapt to them. But, what I said after the game against Nottingham Forest, we know each other quite well. They know me, but I know them, that's for sure. Because I noticed when the first season I arrived, what happened here. All the referees we know each other, I know them quite well. And I know."
On whether he'd prefer being in the stands
"No. I like my profession to be with the players, the look, the smell of the grass. Txiki (Begiristain), Manel (Estiarte), were so nice but I prefer to be in the… That's why I have to control, to don't do it again. Next time it's ban for two games. I was the first to be banned so, a new record. It was nice."