Pep Guardiola reveals whether he wants to appeal Rodri's red card following Newcastle, Wolves, Arsenal ban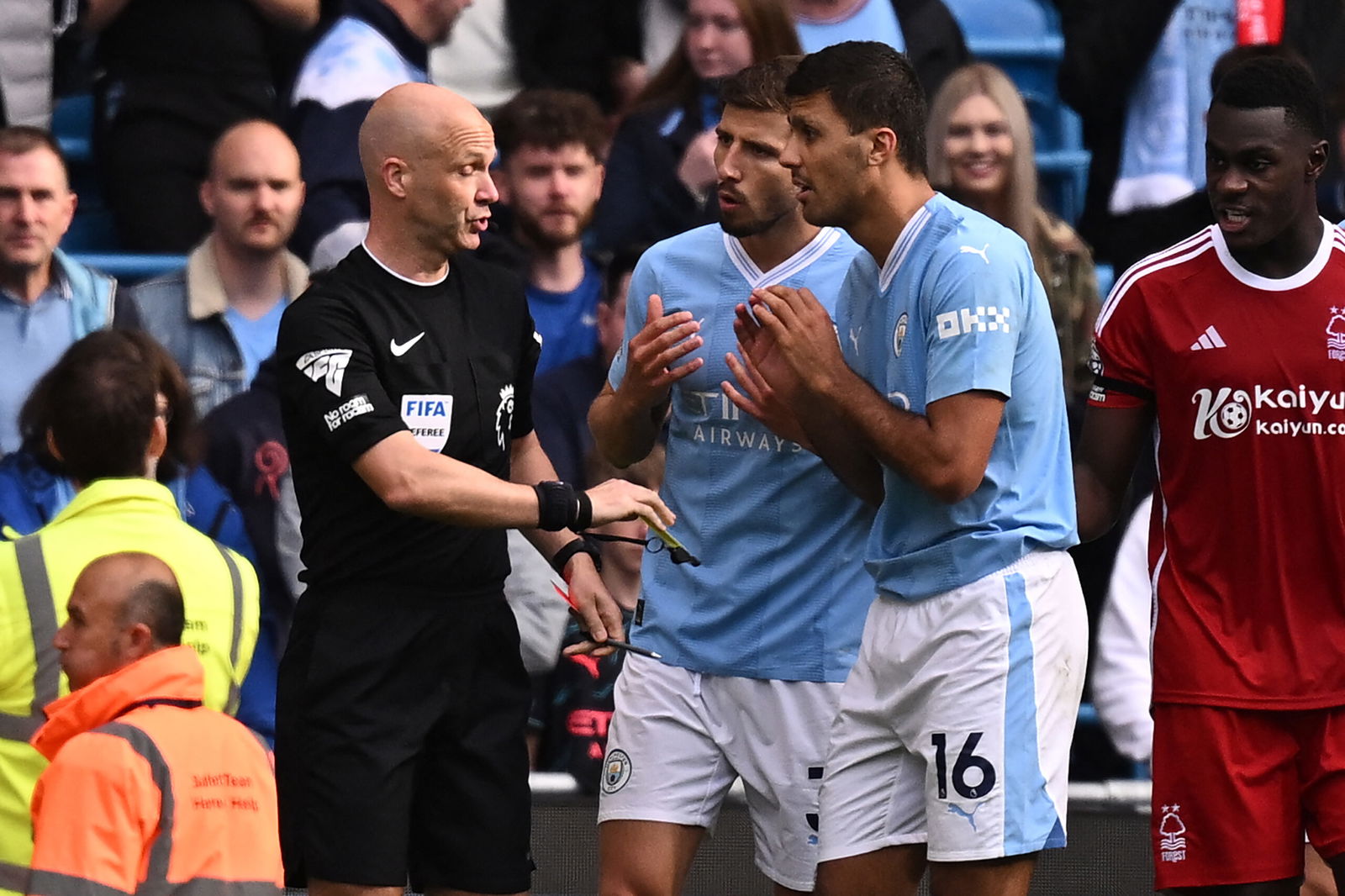 Manchester City manager Pep Guardiola has revealed whether he would personally like to appeal Rodri's red card received for violent conduct on Saturday afternoon.
The Spanish defensive midfielder was dismissed from action between Manchester City against Nottingham Forest less than 60 seconds into the second-half at the Etihad Stadium, following an altercation with Morgan Gibbs-White.
The pair clashed by the corner flag within the first minute of action in the second-half, before Rodri was adjudged to have raised his hands to the throat of the Nottingham Forest attacking midfielder, receiving a straight red card from referee Anthony Taylor.
Video Assistant Referee review confirmed the decision from the on-field match official, meaning Manchester City's mainstay in defensive midfield will miss the club's next three matches for 'violent conduct' – a Carabao Cup trip to face Newcastle United, an away clash against Wolves at Molineux, and a visit to title challengers Arsenal in October.
Speaking after 2-0 win over Nottingham Forest at the Etihad Stadium on Saturday afternoon, manager Pep Guardiola was asked whether he believes the club will appeal the decision to issue a red card to Rodrigo.
"I have to talk with the club," Guardiola began. "For me personally, I would not do it. For me, it's not three games, that is another point, but the rules are the rules. I'm not here to change it… But a part of that, he has to learn. He has to learn, and hopefully it doesn't happen again."
Pep Guardiola was originally unaware of Premier League rules stating that Rodri would automatically receive a three-game ban, showing his surprise when the matter was raised to him after the game.
"Oh, you know the sentence already?! Three games, this? (I think violent conduct is three…) Oh yeah?! It's not done. (Presuming you don't appeal…) Automatic three games? Ah, he will be ready after Arsenal, don't worry."
Guardiola did reiterate that City will play with 11 players as normal against Arsenal next month, in a calming reassurance to those concerned by Rodri's absence, "We'll play with 11 at the Emirates Stadium, that's for sure."
Manchester City return to action on Wednesday night when they take on Newcastle United at St James' Park, in a Carabao Cup third round clash that will test Guardiola's first-team options significantly given the ongoing injury concerns in the squad.
John Stones is likely to remain absent as he continues to recover from an injury problem, as well as Bernardo Silva, while Kevin De Bruyne is unlikely to return to match action until early 2024 following surgery on a hamstring injury in August.