Will City appeal Rodri's red card, will Kalvin Phillips play more, behind-the-scenes signing Matheus Nunes – Embargoed Section: Pep Guardiola's post-Nottingham Forest press conference part two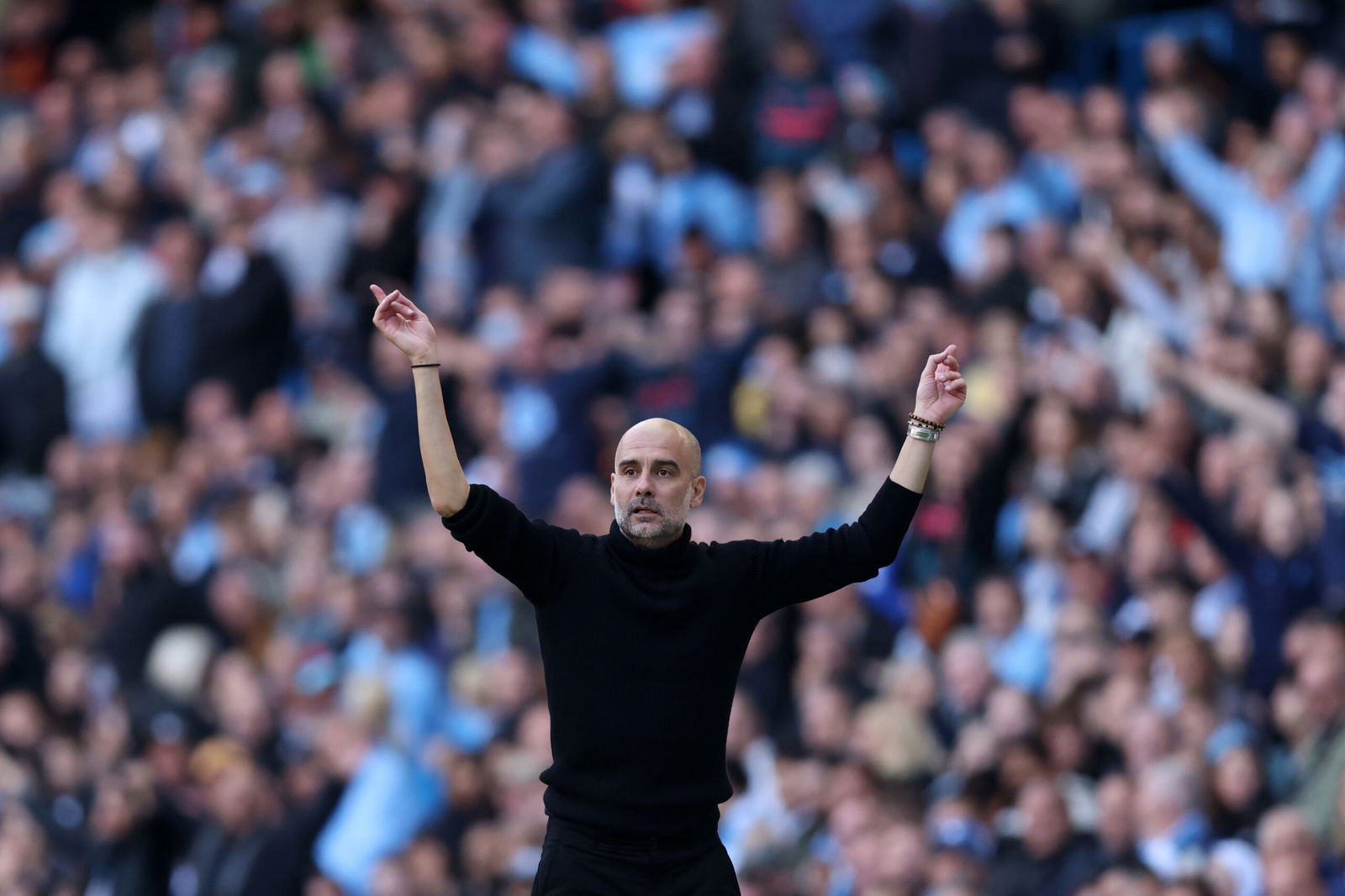 It's time for part two of Pep Guardiola's post-Nottingham Forest discussion with the media from Saturday evening.
Manchester City maintained their 100 per cent start to the ongoing campaign at the Etihad Stadium this weekend, riding a second-half storm to come out on top 2-0 victors over Steve Cooper's side.
Phil Foden put Manchester City ahead after just seven minutes, firing home on the half-volley following some outstanding build-up play that saw Rodri deliver a pinpoint ball over the top of the Forest defence to find the attacking Kyle Walker who provided the assist for the goal.
Erling Haaland would find the back of the net once again to double Manchester City's advantage seven minutes later, heading home from close range following delightful work from Matheus Nunes in the build-up, who also grabbed his first assist for the club.
The second-half for turn for the worst however, after Rodri received a straight red card before the 46th minute, after VAR adjudged the Manchester City vice-captain to have placed his hands around the throat of Morgan Gibbs-White during an altercation by the corner flag.
City would hold out with some formidable defensive work from their back-five, despite Steve Cooper's attempts to bring the game back level with the introduction of Anthony Elanga, Callum Hudson-Odoi, Chris Wood, and Divock Origi from the substitutes bench.
In part two of Pep Guardiola's post-Nottingham Forest press conference, the City boss discussed Rodri's red card incident, the performance of Kalvin Phillips from the bench, and the signing of Matheus Nunes.
Here is every word from the embargoed section of Pep Guardiola's post-Nottingham Forest press conference at the Etihad Stadium from Saturday evening!
On playing without Rodri for three games
"Oh, you know the sentence already?! Three games, this? (I think violent conduct is three…) Oh yeah?! It's not done… (Presuming you don't appeal…) Automatic three games? Ah, he will be ready after Arsenal, don't worry."
"We'll play with 11 (players) at the Emirates Stadium, that's for sure."
On who he uses without Rodri
"I don't know now. (Kalvin Phillips?) He played really good today. For the type of game, what we needed, defensively and keeping the ball and run, he was amazing. I'm so pleased for him because he's an incredible guy, never one bad face when he didn't play the minutes. I know he's a player for the national team of England, and with me, with us he doesn't play much. But he played really good and helped us a lot."
On Mateo Kovacic's return from injury
"Soon. Tomorrow (Sunday), I think he's going to train with the team already. Today (Saturday) he made a partial (training), but we didn't take the risk with the injury he had in the front of his leg – it's riskier than other places. But tomorrow he'll start to train."
On whether Kalvin Phillips is most likely to do Rodri's job
"I don't know. Still I didn't think about that. Now I'll go home, tomorrow training and day off afterwards, and prepare the game in Newcastle. We'll see how many players we'll have available. It will be good for Jack (Grealish) to take minutes, and of course some players have a lot of minutes, they are not going to play against Newcastle. That's for sure.
"Carabao Cup is perfect when you are in the beginning of the season because the games at the beginning of the season you have all the squad, deep squad, and the guys that don't play regularly, they have to play the minutes. That's perfect.
"But when you have a lot of injuries, I'm not going to waste percent of energy for Carabao Cup, like Kyle Walker for example, like Ruben (Dias), who have played 90 minutes for the national team, 90 minutes, because they are exhausted already. And we cannot lose it.
"That's why we're going to play with the guys who need it, maybe from the Academy, maybe if my back is getting better, (I can play) maybe a few minutes. We'll see."
On whether Manchester City will appeal Rodri's red card
"I have to talk with the club. For me personally, I would not do it. For me, it's not three games, that is another point, but the rules are the rules. I'm not here to change it… But a part of that, he has to learn. He has to learn, and hopefully it doesn't happen again."
On how much he admires Kalvin Phillips' training standards despite not playing
"We knew it when he was in Leeds, we asked a lot with his mates, he was an exceptional guy. I know sometimes he struggles for some things that we need, in small spaces to be quicker, and other ones has another type of quality.
"But in the game today, what we needed, to be there, to win the second-balls, to keep the balls, to make actions to the by-line, the personality in long balls, in the corners, because we knew it with a lot of crosses in the way they play – he gave us a lot.
"When you have this spirit with the team, and everyone this season, it's amazing. What we have in all the guys, everyone makes his contribution, and that's why right now we are still where we are."
On Matheus Nunes
"Really good. Sometimes he has to stay more calm in the position, but he has the dynamic. In the game today, give the ball, dribble, and drop the opponents down. He looks like he's never tired, because his actions over 15, 20 metres – but we knew it from Sporting Lisboa where he has done it, as well at Wolves.
"We asked (Julien) Lopetegui, who is a friend of us, how is him, and all the opinions were really good. He has runners, good finishing, defensively, can play in two or three positions. The last two games he played against Red Star and today, he was a key point, really, really important."
On Matheus Nunes 'being one of the best players in the world'
"Maybe I over-exaggerated a little bit. He's not. He's a really good player, but sometimes… Maybe I said this comment after 0-5 (win against Sporting Lisbon in February 2022). It was a little bit that. But he's an exceptional player, exceptional."