"You need to apologise" – Pep Guardiola unfazed by concerning Erling Haaland stat in strong rebuttal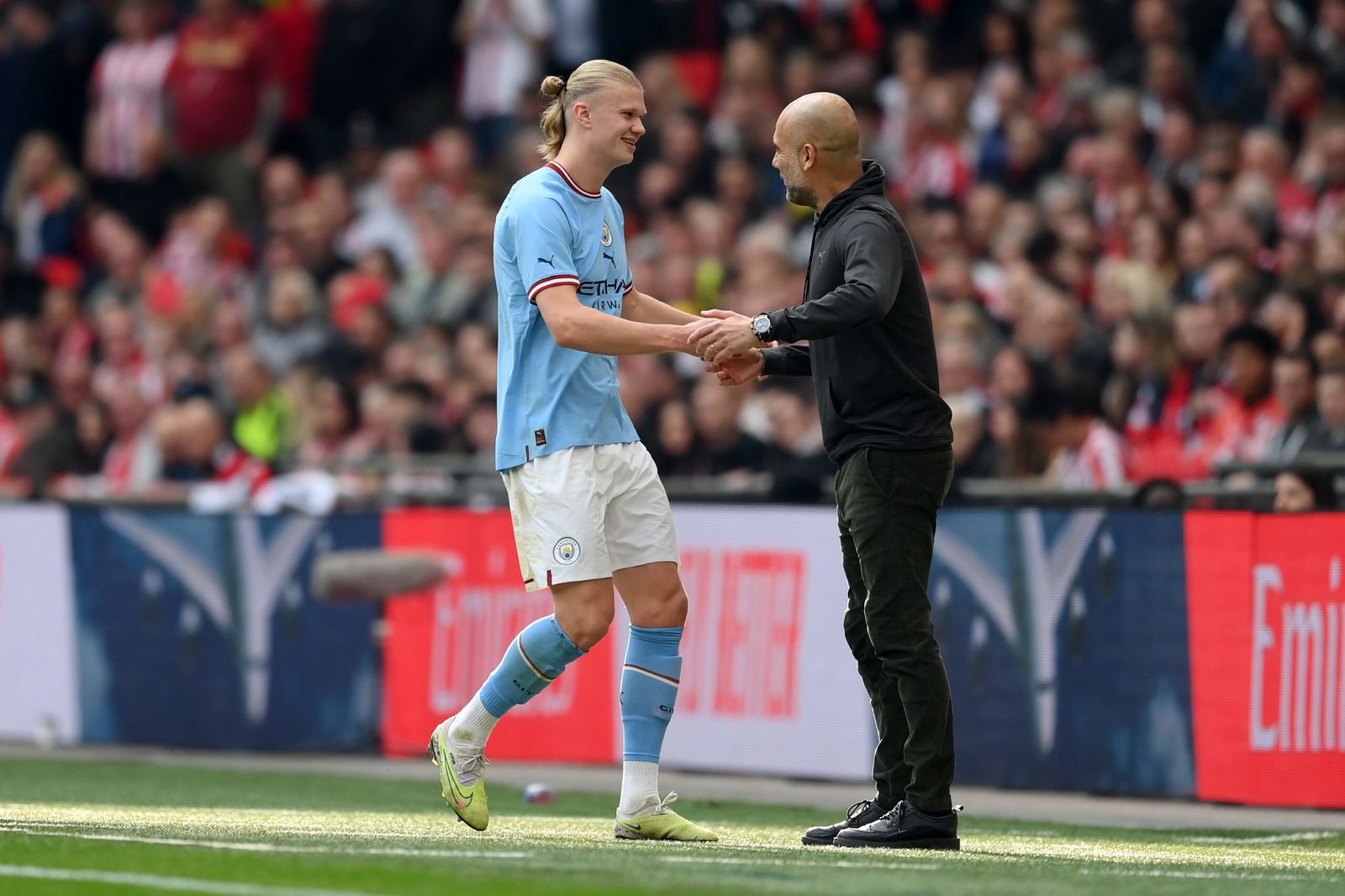 Manchester City manager Pep Guardiola is unconcerned by Erling Haaland's recent wastefulness in front of goal.
The 23-year-old, who is nominated for the Ballon d'Or, has scored seven goals in eight matches for Manchester City so far this season, including an emphatic second-half hat-trick against Fulham at the Etihad Stadium prior to the international break.
Erling Haaland scored against West Ham at the London Stadium last weekend, but missed a series of earlier chances against the Hammers, as well as failing to score against Red Star Belgrade in midweek.
Manchester City came from behind at half-time to beat both West Ham and Red Star Belgrade by a 3-1 scoreline, but created a staggering 66 chances across the two matches in the Premier League and UEFA Champions League.
The Norwegian has missed eight big chances in the Premier League so far this season, the most of any player in the division.
Haaland's overall conversion rate is also significantly lower compared to last season, when the 23-year-old smashed the Premier League goalscoring record and netted 52 goals in 53 appearances.
Manchester City have won their opening five Premier League matches, and with Julian Alvarez amongst the goals in midweek, Pep Guardiola is unfazed by Erling Haaland's lower output, despite missing a handful of chances against Sheffield United, West Ham and Red Star Belgrade.
"Oh, that's good. Yeah, a lot [worried]. I didn't sleep tonight. Come on. He had incredible chances, could've scored 14 or 15 goals now and there would be the same debate," responded the Catalan coach.
"What is important, like always he said, always he has the chance. What is important is this. The problem is when he doesn't have chances, he doesn't get balls, all the time in the wrong position, that doesn't happen.
"My advice, to the striker, and Erling [Haaland], is not to criticise him much. Criticise the full-backs, the central defenders, the manager, but never ever the striker who is scoring all the goals. Because he will you know. And you will be in the position where you feel you need to apologise."
"It's football. When you ask for the reason why, I will tell you it's football. Maybe one day we will create less chances, and three shots on target, three goals.
"I prefer that, like West Ham we did. And I said the same at half-time [against Red Star Belgrade] like I did in the West Ham game. Because of the result you are disappointed, but the way we are playing, you should not be.
"It's just about being more aggressive in front of goal, have the mentality to score, to feel like I want to win the game for myself, but they have the quality.
"Phil [Foden] has the quality to score the goals, Julian [Alvarez] has this quality, Erling [Haaland] of course, and Mateo [Kovacic] always has the chance to arrive there in that position."
Manchester City return to Premier League action against Nottingham Forest on Saturday, an opponent Haaland scored a quick-fire hat-trick against at the Etihad Stadium last August, in a huge 6-0 thrashing.