Pep Guardiola forced to defend Manchester City midfielder's inclusion within new captaincy group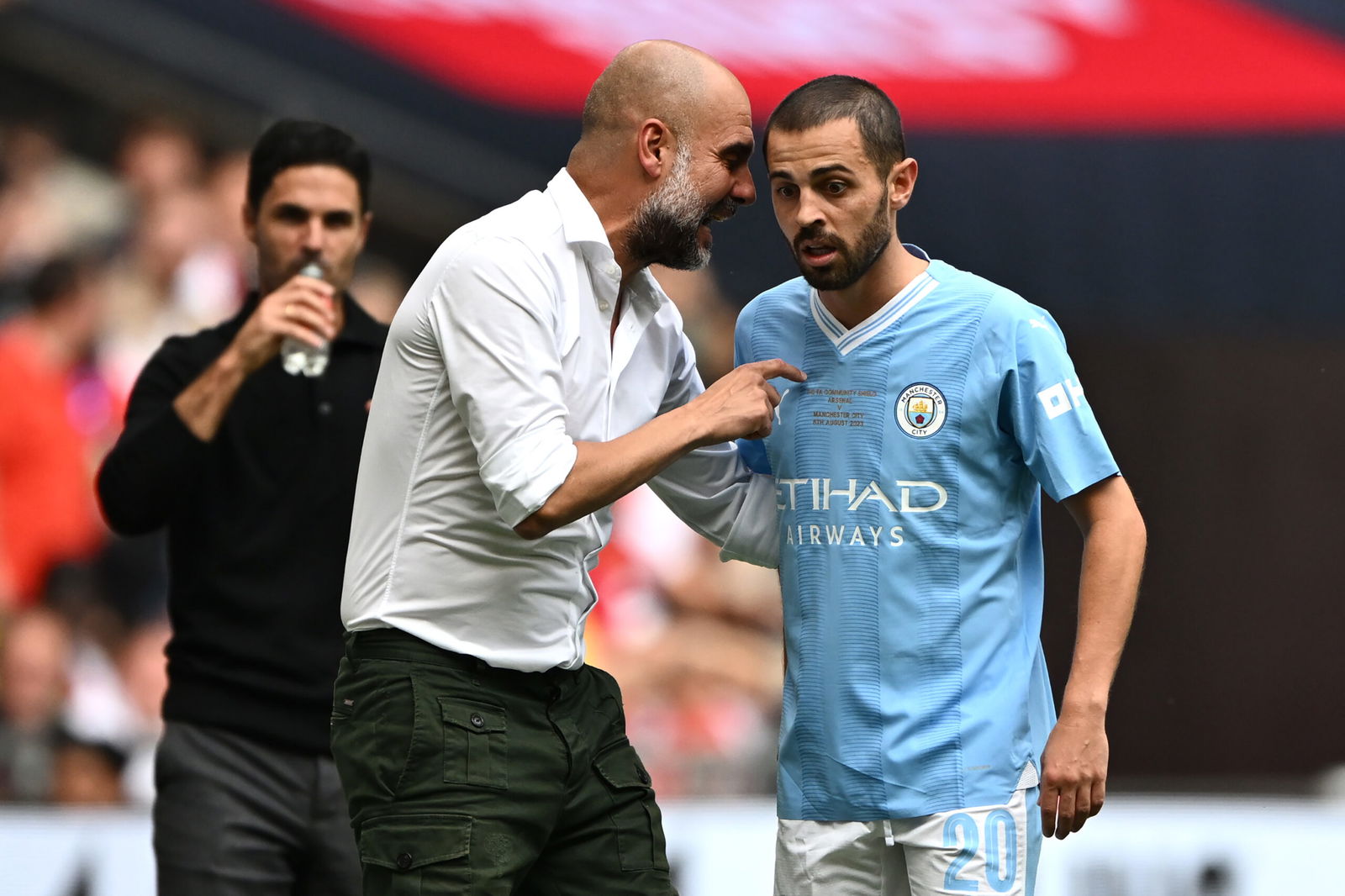 Pep Guardiola has defended Bernardo Silva's addition to the Manchester City leadership team after a recent players vote.
After the departure of club captain Ilkay Gundogan in the summer, the Etihad outfit found themselves without a leader once again.
Legendary club figures such as Vincent Kompany, Fernandinho, David Silva, and Sergio Aguero have all departed the club during the Pep Guardiola era, giving up the armband in the process.
Yet Guardiola's policy regarding the selection of the new club captain remains the same – the players will vote for who will lead them, and replacing the departing Gundogan for the 2023/24 season in the leadership group was none other than Bernardo Silva.
The 29-year-olds selection did not come without question marks, as the Portuguese playmaker had been very vocal about wanting to make a move out of east Manchester in recent seasons, citing his desire to settle down closer to his home nation as the reason for leaving.
Many people surrounding the club pondered the omission of players like Nathan Ake, and others who showed superb leadership qualities in Manchester City's impressive run to winning the treble last season.
However, Pep Guardiola has come to the defence of Silva, delivering his verdict on wether or not he's the right man for the job.
"If the team decides it, yeah," Guardiola said.
"This is an absolute democracy. They vote, all of them, and they decide who represents on the big issues to the team.
"Yeah, of course. He's an important figure around the pitch, he's such a nice guy, and of course, every year he makes a step forward."
While Silva has been in and out of the team in recent years as he angled for a move away, the 29-year-old put pen to paper on a contract extension earlier this summer, dispelling any reports of his departure for the time being.
As a result, Silva swiftly returned as one of the first names on the team sheet for Guardiola, starting all but two of the club's opening five games in the Premier League.
However, the midfielder is set to miss Saturday's clash against Nottingham Forest, and could also miss matches against Newcastle United, Wolves and Arsenal after suffering an injury against Red Star Belgrade in midweek.
Manchester City host Steve Cooper's side at the Etihad Stadium this weekend, as the Blues seek to extend their winning start to the new Premier League campaign.
Silva was one of five captain's selected for the new season, joining Kyle Walker, Kevin De Bruyne, Rodri and Ruben Dias within the group.