Kevin De Bruyne update, Bernardo Silva captaincy, Erling Haaland's missed chances – Embargoed Section: Pep Guardiola's pre-Nottingham Forest press conference part two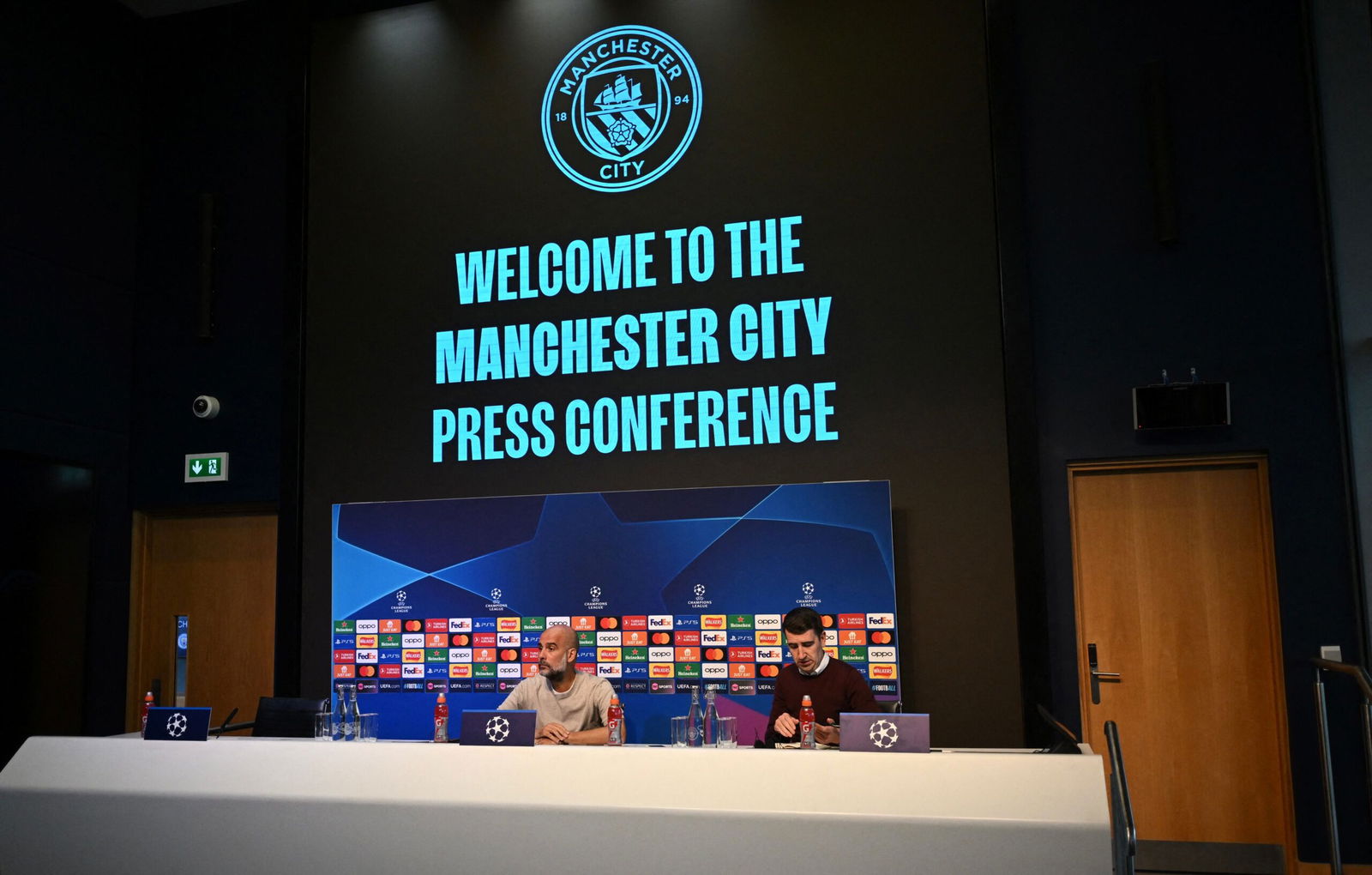 It's time for part two of Pep Guardiola's pre-Nottingham Forest discussion with the media from Friday afternoon.
Manchester City are looking to make it six wins from six in the Premier League so far this season, and build off the good form that was maintained in their most recent outing on Tuesday night.
The reigning champions of Europe kicked off their adventure in the latest edition of the UEFA Champions League with a 3-1 comeback victory over Serbian side Crvena zvezda at the Etihad Stadium, largely inspired by Julian Alvarez's brace under the lights.
A meeting with Steve Cooper's Nottingham Forest comes next for the Premier League title holders, with the visitors coming into the contest at the Etihad in inspired form and finding themselves in eighth position in the top-flight table.
In part two of Pep Guardiola's pre-Nottingham Forest press conference, the City boss discussed the latest on Kevin De Bruyne's recovery from a hamstring injury and surgery, the captaincy qualities of Bernardo Silva, and the recent missed chances from Erling Haaland.
Here is every word from the embargoed section of Pep Guardiola's pre-Nottingham Forest press conference at the City Football Academy from Friday afternoon!
On whether Bernardo Silva deserves a place in the leadership group
"If the team decides it, yeah. This is an absolute democracy. They vote, all of them, and they decide who represents on the big issues to the team."
On whether he sees Bernardo Silva as someone with leadership qualities
"Yeah, of course. He's an important figure around the pitch, he's such a nice guy, and of course, every year he makes a step forward."
On whether Kevin De Bruyne will be captain when he's fit, or whether Kyle Walker will retain the armband
"For me, it doesn't matter. Sometimes you are captain in the first (ranking) and then give the armband for the second one. Kevin is so important, he's like a captain for me, it doesn't matter if he's (ranked) first or second. All together they have to do it."
On Kevin De Bruyne's recovery
"Well, it's a long injury after surgery, and still a few more months. But his mood is getting better, step by step."
On whether he has ever considered substituting a goalkeeper for tactical reasons
"During the game? Well, I never thought about that. (Talked about that with Mikel Arteta when he was at City?) We spoke a lot, but not about this issue. Not even now. If Mikel said that, then he has a reason for that. I don't know because I didn't speak (with him) about that.
"But normally… yeah, he (the goalkeeper) is a player like the other 10 and of course, you can do it like you can do it to a winger or the other positions. But it's not usual, I never thought about that."
On whether Erling Haaland is as sharp as he was this time last year
"Every week is much better than the first week with his important tall figure. To get the rhythm is always more difficult with that pre-season because we went to Japan and South Korea, not much time to train, but every week he's better and everything is there.
"He's an incredible threat, has a lot of chances and that means we're playing good. When you have all the sense that the team is playing quite good is how many chances does Erling (Haaland) have. When he's not involved, no chances, something wrong is happening in our process, in our dynamic.
"But we've created a lot of chances, and the ball is there, and that is because we are doing really good things and we have to continue. Always he's there, and scoring a lot of goals in the past, in the present, and it will happen in the future."
On whether Erling Haaland was fully-fit in pre-season
"No, it's quite similar (to last season). But in the pre-season, I cannot expect (the players) to be fully-fit. That's why it's pre-season, to get as much number of training sessions. Normally the new players, they come, they are fully-fit earlier when you don't play the last season, you start the pre-season earlier, become fit earlier.
"When you won the Treble, maybe you wait a little bit longer to be completely fit. But it's a question of time. It's not because of how much higher, or the more intense you train in the first week, second week, and in the third week you will be better.
"The most important in that period is not to get injured, that unfortunately we could not avoid in a few of them because as much as you have training sessions and games, training sessions and games, you will be ready. So it's a question of time."
On what he puts it down to in regards to Erling Haaland's missed chances against West Ham and Crvena zvezda
"It's football. When you ask for the reason why, I will tell you it's football. Maybe one day we will create less chances, and three shots on target, three goals. I prefer that, like West Ham we did. And I said the same at half-time (against Crvena zvezda) like I did in the West Ham game. Because of the result you are disappointed, but the way we are playing, you should not be.
"It's just about being more aggressive in front of goal, have the mentality to score, to feel like I want to win the game for myself, but they have the quality. Phil (Foden) has the quality to score the goals, Julian (Alvarez) has this quality, Erling (Haaland) of course, and Mateo (Kovacic) always has the chance to arrive there in that position.
"So just continue to do this and don't become crazy because after 1-1 we lost stupid balls. It doesn't mean to be calm, to do the process is not to be lazy, or be slower – I'm not talking about that. But at the same time, okay, do the process and let's go, let's go. And at the end, always we know that we have the feeling that in a short time, with our momentum, we can score one goal, more than that.
"And that is the feeling that we had from two years ago when we won against Aston Villa (on the final day), last season always we had the chance, the feeling. It's just to be stable and be positive. What is important is to create the chances, being there as much as possible. I don't know how many shots, 29 or 30 against West Ham, 29 or 30 against Red Star, with a lot on target. This is what we have to do. As much as we do it, we're going to win a lot of games."
On whether Erling Haaland would've made the assist for Julian Alvarez against Crvena zvezda last year
"No, last season he made a lot of assists quite similar to this. He's not shy to shoot. Erling, when he has the chance, will do it. They took a perfect decision. Erling is not selfish that is thinking just, in that position, me. He has ability. When he's facing the keeper, of course his main target is, his threat is always that he's going to shoot, he's going to score. But he has the ability to, at the last moment, make a pass."
On Erling Haaland's conversion rate of big chances being much lower now compared to the first eight games of last season
"Oh, that's good. Yeah, a lot (worried). I didn't sleep tonight. Come on… He had incredible chances, could've scored 14 or 15 goals now and there would be the same debate. What is important, like always he said, always he has the chance. What is important is this.
"The problem is when he doesn't have chances, he doesn't get balls, all the time in the wrong position – that doesn't happen. My advice, to the striker, and Erling (Haaland), is not to criticise him much. Criticise the full-backs, the central defenders, the manager, but never ever the striker who is scoring all the goals. Because he… will… you know. And you will be in the position where you feel you need to apologise."
On Gary Neville's comments about Pep Guardiola picking one player from Arsenal, and it being Martin Odegaard
"He's an exceptional player, exceptional. He's settled really good, and he became a captain because he's also, on and off the pitch, really well, consistency playing a lot of games. He suits perfectly for the idea of Mikel (Arteta) at Arsenal. He's a really good player."
On Jeremy Doku's adaptation
"He's adjusted really, really well his physicality. He's not used to playing three games in a week at Rennes. And in the past, you have to be careful, we have to see how he recovers from games being there for 90 minutes, and if in basically three days later he is able to play again. We have to know eachother, he has to know his body.
"But he adapted really well, in the dressing room he's a lovely, lovely guy. As a winger in the final third, he has a special quality that we try to use him for that. All the games we have to do the process that we want to do, and after we finish with them, okay I have my full-back to go against you as much as possible. This is what we're going to try to do, and he's going to try to help us in this department."
On him being different to recent Manchester City wingers
"I would say that the wingers we had in the past is another type of winger; incredible skills, incredible quality. But not with pace. With this pace that we had with Leroy (Sane) and Raheem (Sterling), we didn't have it in the past. Cole (Palmer) – who has now gone to Chelsea, Riyad (Mahrez), Bernardo (Silva), even Phil (Foden), Jack (Grealish) – of course they have speed, but they're more the quality, the intelligent players with assists, one-against-one. But this explosive (speed) in five, six metres like Jeremy (Doku) has is quite similar to Leroy and Raheem before."
On Manchester City's summer signings all being able to carry the ball
"Yeah (we wanted to add that to the team). I love the players in the middle are able to dribble and drive 10, 15 metres. I like it, I love it. (Why is that so important to this team in particular?) When you dribble in the middle, you are attacking the next line, and after when you attack the next line, Erling (Haaland), Julian (Alvarez), Phil (Foden), our strikers will be alone.
"Everyone here has their own player, and when someone comes with the ball, you have to make some movement; you have to decide whether you go to the ball or you continue with your man. And normally it happens with the wingers; the wingers have the ability to do that. But when you have in the middle, players who have the ability to pass, but ability to dribble and attack the next line, wow it's so dangerous for the opponent."
On whether that is the reason behind more balance in the middle
"Yeah, I like that but when you lose the ball and concede a counter-attack, always you're thinking of the extra pass, extra pass. So to find the balance in how you have to attack or how you have to be more aggressive or how you have to be a little bit more controlled, always it's difficult to find.
"I remember for example against Sheffield United, I was at home watching it after my surgery, at 0-1 we played the ball without the intention to score a second, and at the end we conceded a goal. In the moment we conceded a goal, in the first two, three minutes we created two chances, and after we scored a goal. Sometimes you need to make another gear, a little bit quicker. But also it depends on the quality.
"You had David Silva in the past, or maybe Ilkay (Gundogan), or maybe Rico (Lewis) in the middle, or Riyad (Mahrez) in the sides, or Jack (Grealish) in the sides; more passes, good passes. When you have Phil (Foden), and especially Julian (Alvarez), or Kevin (De Bruyne) when he's there, the actions are quicker. But how? It's the quality of the players.
"The quality of the players dictate sometimes what we have to do. Of course, I decide most of the times with Phil right now in the absence of Kevin, and Julian – they're guys who like to live close to Erling. We need players in the box, in the final third with defenders, and without Ilkay who was a player that could do better runs to score goals.
"If we wanted more control, we put more midfield players like (Mateo) Kovacic as an attacking midfielder, or other players with more control, Rico, in that position. Maybe we will have more control, but less runners in the final third. It depends on the quality."
On whether he's seen the mentality to defend the Premier League title
"So far, yeah. But the season is so long, a lot of games, a lot of players with a lot of minutes already and that is not good. But when we have to travel, always I thought, 'How will the people be who come?' In terms of how good we are, how nice we are.
"We're going to do the principles and work with each other. That's why it's important sometimes to bring in new players because they don't have nothing to defend, they have to do everything to win, and it's different when you've won. But so far, even in the pre-season when we saw Bayern Munich, or the games we played there, even Arsenal that we lost in the last minutes, the games were really good.
"We started really good against West Ham, we started really good against Red Star, we started really good against Sheffield, not good against Fulham. In general we are there, we are stable, we create more chances than the opponent, our expected goals are always higher, much higher than the opponents – that is good terms. It's good, but we are in October, the season is so long but it's important to start really well after winning what we won."