Kevin De Bruyne and Manchester City make decision on hamstring surgery with recovery timescale revealed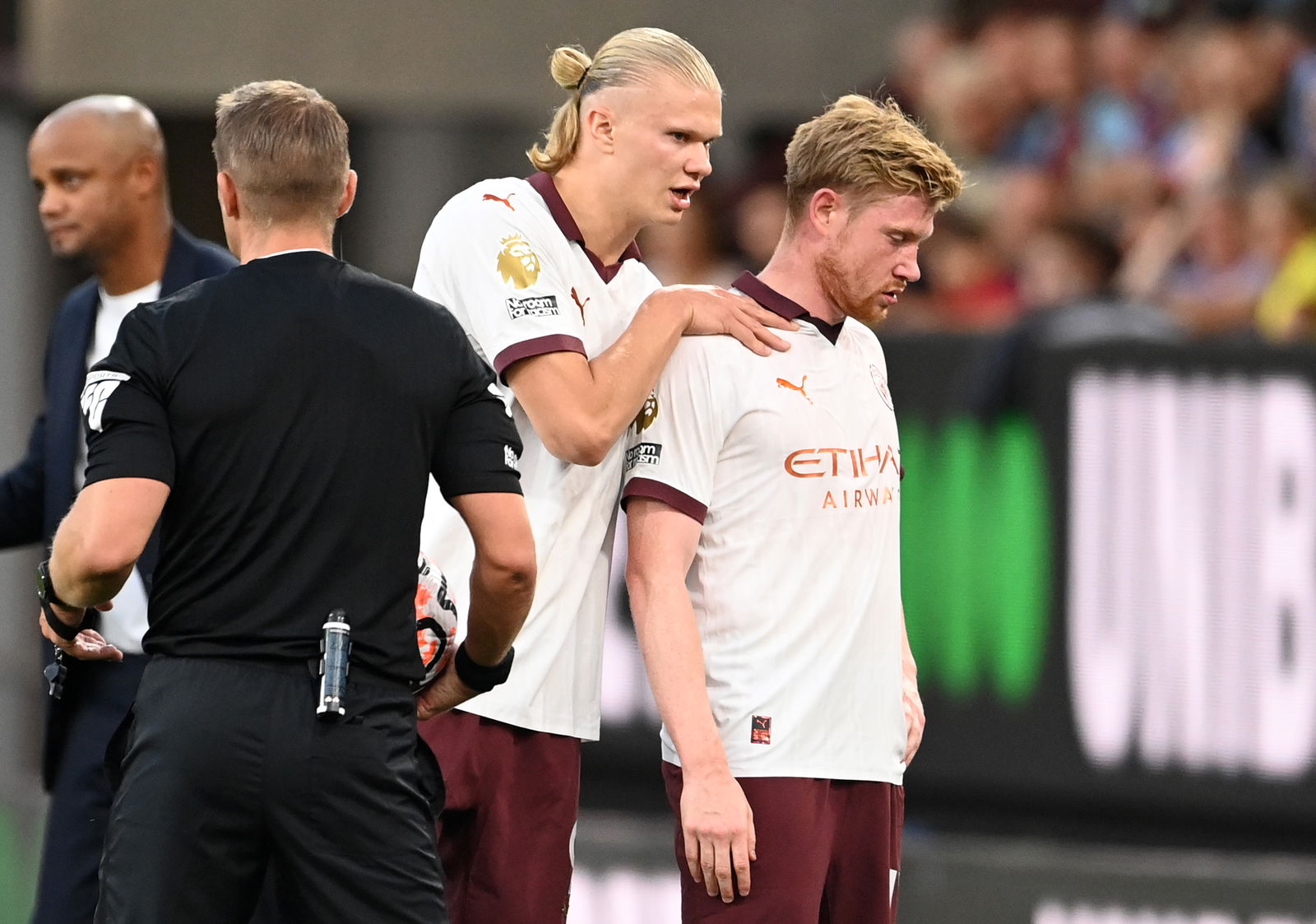 Manchester City and their medical staff have made a decision on whether Kevin De Bruyne should undergo surgery on his aggravated hamstring problem this week.
The Belgium midfielder first suffered a problem during the 2023 Champions League final, when he was replaced in the first-half of the 1-0 win over Inter in Istanbul through an issue concerning the same hamstring that was injured last week.
De Bruyne had seemingly recovered in remarkable time, playing a role in training and some match minutes during the pre-season tour of Far-East Asia, as well as the FA Community Shield against Arsenal prior to the start of the new Premier League season.
However, after starting his first match since the European final against Burnley on the opening weekend of the new Premier League season, the 32-year-old was once again forced off early after seemingly aggravating the same hamstring problem at Turf Moor.
This week, Manchester City have been forced into making a decision as to whether their star midfielder should undergo surgery to prevent a reoccurrence of the same problem further down the line – a decision that has now been made, according to reports in Belgium.
As per the information of HLN's Kristof Terreur, Kevin De Bruyne will now undergo an operation on his hamstring which will take place in Antwerp – a process that is expected to keep him sidelined for around three to four months.
Manchester City's vice-captain is now expected to miss the entirety of the club's UEFA Champions League group stage campaign, the FIFA Club World Cup, as well as the opening rounds of the Carabao Cup and FA Cup alongside a long list of Premier League contests.
In total, it is believed that De Bruyne could miss around 33 games, including the most recent UEFA Super Cup victory against Sevilla in Athens on Wednesday night.
Speaking this week on whether Manchester City will seek a replacement for De Bruyne in the transfer market, Pep Guardiola said, "We will see. We'll talk with Txiki (Begiristain) and the chances and possibilities."
On the injury itself, the City boss exclaimed, "It's a blow, a big loss. He has specific qualities. For a long time is really tough for us. We have to look forward. We have alternatives. Kevin is irreplaceable, but we have talented players. They will take it."
Manchester City are expected to intensify interest in West Ham's Lucas Paqueta in the coming days, as the London club hold out for their valuation which is understood to stand at around £85 million.