A surreal 12 months, the impact of maths on his game, and competition with Josko Gvardiol – Every Word: Manuel Akanji's pre-Sevilla press conference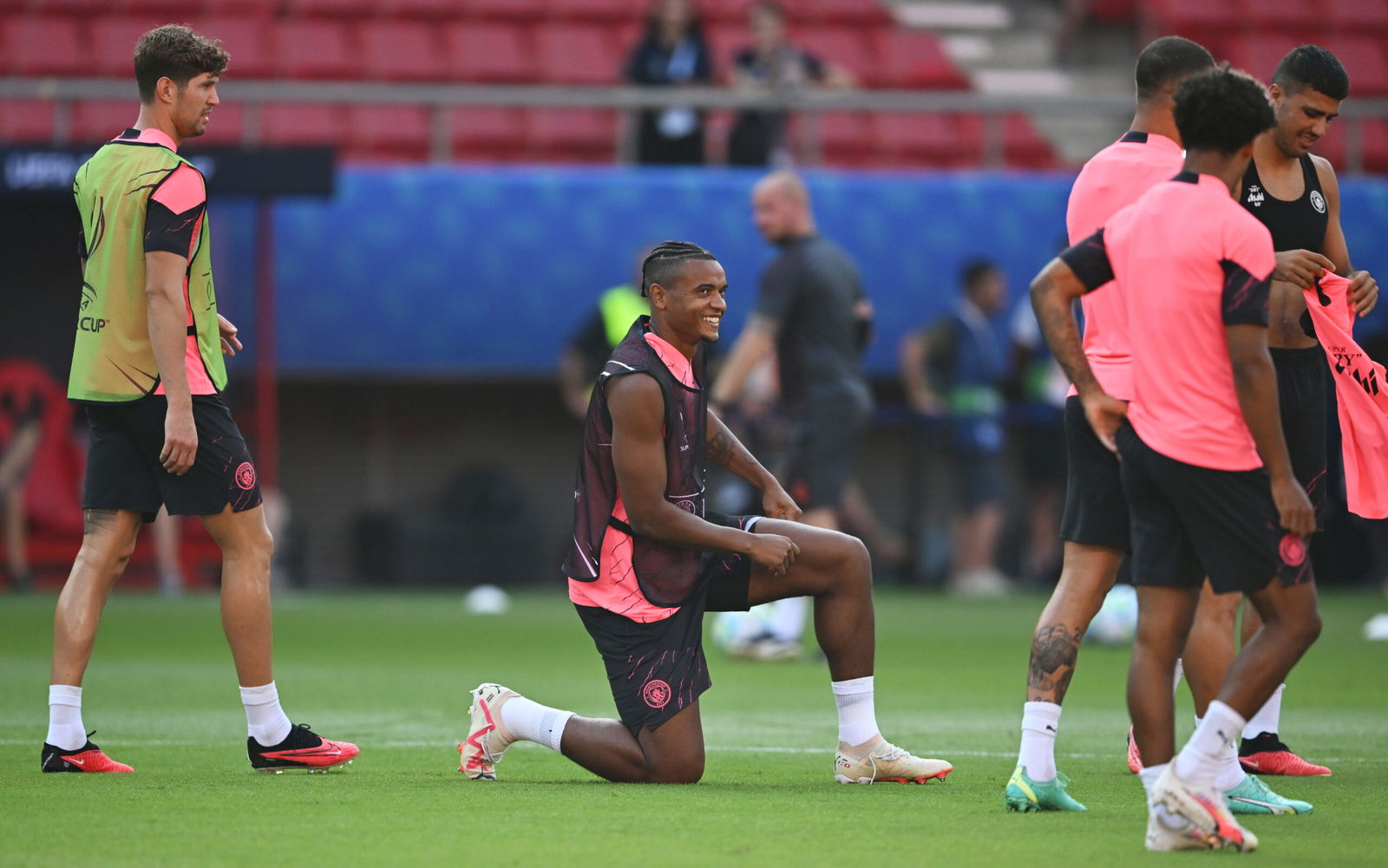 Manchester City defender Manuel Akanji has looked ahead to the 2023 UEFA Super Cup final as well as a surreal 12 months, as part of his pre-match press conference.
The Switzerland international has played a crucial role in Manchester City's historic successes of the past calendar year, operating in a multitude of roles across the defensive line, but most predominantly at left-back during the closing stages of the last campaign.
Manuel Akanji is expected to play a similarly big role in Pep Guardiola's systems this season, so much so that club officials are expecting Aymeric Laporte to be moved on from the club despite his exceptional abilities in defence.
This summer has seen Manchester City secure the signing of RB Leipzig's ever-impressive central defender Josko Gvardiol, and while the Croatian himself is expected to play a big role in the Etihad's future successes, Akanji is confident in retaining his spot in the side.
Speaking ahead of the next opportunity to win silverware, in the UEFA Super Cup hosted in Athens this Wednesday night, Manuel Akanji spoke of the threat posed by Josko Gvardiol among several topics presented by the media.
Here is every word from Manchester City's Swiss defender at the Karaiskakis Stadium on Tuesday afternoon!
On how big the Super Cup is of a game to the Manchester City players
"It's another final, it's a possibility to win another trophy. We're excited and will do everything to win it. I don't care – it's another game for us. If we can win another trophy with one game we'll do everything we can. We want to win everything."
On the threat of Djibril Sow and facing his international teammate
"We see each other a lot for the national team. He's good with the ball, he will give everything for your team. I hope we can play against each other but I don't hope for him to win."
On the successes of the last 12 months
"Just being around these good players and coaches helped me to improve every day. It's my goal when I come to training to get better every day. It's been a great year, I didn't expect it but as soon as I came here the mentality is to win everything. I hope we can win another four trophies."
On whether he has had enough time to savour the Treble
"The summer break was pretty short but I wouldn't change it because we played in the Champions League and FA Cup finals. It's not easy with the national team and then holidays, to think about everything. I tried to enjoy it but at some point you need to prepare for the next season. I was with friends and family then got ready for the next season."
On how his maths ability affects his game
"I don't think it helps, I wish it would. I can't predict what they guy is going to do! I try to read him as a player."
On the arrival of Josko Gvardiol
"I saw him play, I played against him. A really good defender for his age. This club with so many good players and the staff, he can learn a lot. He's settled really well, it's not easy to join a team who won the treble. As soon as he gets minutes he'll show what he can do."
On the competition for places at Manchester City
"It helps me, when I signed we had so many good defenders. I changed my position a lot. It helps me, I have to prove every day to get to the best level. It pushes me. Everybody wants to play, there's only 11 spots."
On his favourite position
"I don't mind playing left-back. It's hard to say my favourite, it depends on the opponent. Sometimes in the centre I have more touches than full-back. But at full-back I can be more offensive. Sometimes they close the middle so I can go in front but then I have less touches."