Reaction to Kevin De Bruyne's injury, Phil Foden praise, and La Liga comparisons – Every Word: Rodri's pre-Sevilla press conference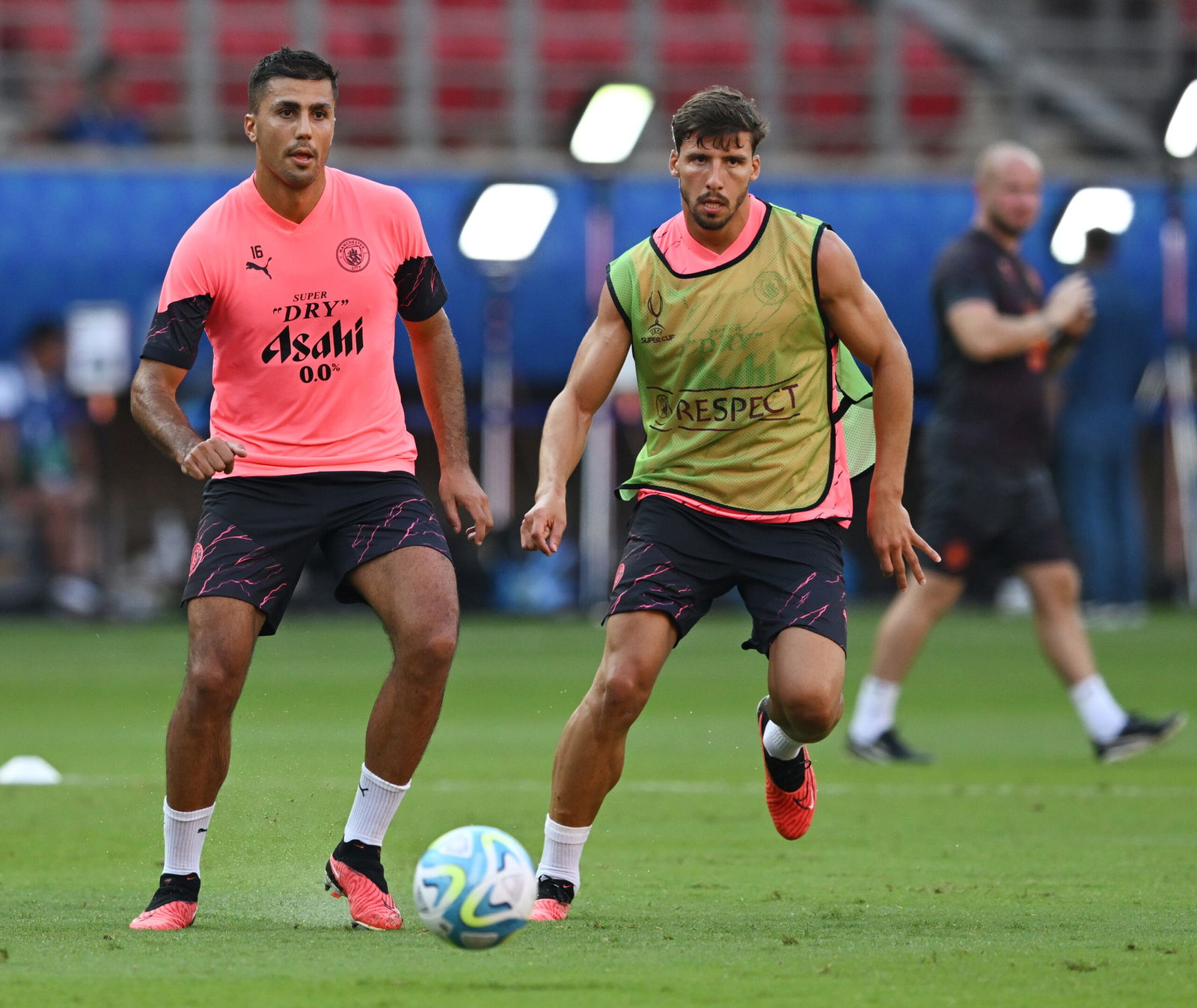 Manchester City midfielder Rodri has looked ahead to the 2023 UEFA Super Cup clash with Sevilla on Wednesday night, covering a wide range of subjects in his media duties.
The Spain international was responsible for the single goal that won Manchester City their first ever UEFA Champions League back in June, striking from distance in the 1-0 win over Inter in Istanbul.
Following one of his finest individuals seasons to date, Rodri is now aiming to win yet another European crown, as he is expected to be part of the starting line-up that will battle with UEFA Europa League holders Sevilla for the Super Cup on Wednesday night.
Rodri was on the scoresheet on Friday night in Manchester City's opening Premier League game of the new season, accompanying a brace from striking sensation Erling Haaland in a 0-3 away win for the club at newly-promoted Burnley.
Looking ahead to Wednesday night's clash in Athens, Rodri has faced the media alongside Pep Guardiola and Manuel Akanji, discussing topics such as Kevin De Bruyne's injury, the potential for Phil Foden to play in midfield, and comparisons between the Premier League and La Liga.
Here is every word from Manchester City's defensive midfield mainstay at the Karaiskakis Stadium on Tuesday afternoon!
On Kevin De Bruyne's injury
"I didn't know it was that much [time ruled out]. He's one of the most important players of the club, we will miss him a lot. We will try to support him in the bad moments. I saw him the other day and he was positive, wants to come back.
"He's experienced, knows he doesn't need to be too fast. We'll miss him but we have a pretty complete squad to play these two months without him and hopefully we can have him back."
On Sevilla and the reasons behind their success
"They show that they are very competitive. They are always competitive. In Europe they have been sensational. We know the team we face, how tough it will be. I know the character they have. It won't be easy, we have to be aware because we have to show our best levels to beat them. Today and tomorrow we see where we can punish them. I know they're very good."
"They're very competitive, they know how to play games correctly. They can live through the bad moments. There are moments they're always dead and turn the game around. Says a lot about the winning character. We need to think of our own game and what we need to do."
On how he pictures the 2023 UEFA Super Cup final
"It's hard to assess at the beginning of the season. We haven't had a long time to prepare. Our team has started at a high level. It's a pity we couldn't lift the Community Shield but we played at a high level. Finals are always complicated. It will be an even final, they have their own weapons. We shouldn't focus on what they do but on our own game and how we can cause them trouble."
On Phil Foden playing centrally
"With Phil, he's played both sides and in between the lines, he can play everywhere. Let's see, he's the best player we have in between the lines turning and facing the goal. When he plays there I like him, but also on the wing he's decisive. It depends on the coach. He's talented."
On whether he will score another goal on Wednesday night
"I hope, it's something I try to improve as a player. No one demands I score but it's something I do. We have a strong team from set pieces and shooting from outside of the box. It's something I like to prove, we don't have the responsibility but if they see I can do it I can grow. I try to improve this aspect of my game."
On comparisons between the Premier League and La Liga
"It's difficult to compare, the culture of football is different. Players change when they join different leagues. I played in the two best leagues in the world. I've enjoyed both a lot, in England is incredible. The level of the Premier League is incredible but I cannot choose. Sevilla beat [Manchester] United to win the Europa League. Whoever wins is the best and today City and Sevilla are the best."
On whether it is important to win the Super Cup and Club World Cup
"We always are hungry to win every trophy. When we lost to Arsenal we didn't want to lose. The way we came back against Burnley shows the hunger. Tomorrow I will ask my team to do the same as the last finals. The same level and desire and hunger. It's a final, an opportunity. You cannot leave finals to chance. The same desire to have the best chance."
On whether it is extra motivation that Manchester United failed to win the Super Cup after winning the Treble in 1999
"I don't know if it's motivation. This year we can break some records. It's not so important, winning four Premier League's in a row or five or six titles in a season would be massive. Every title is important. This Super Cup was my first trophy as a player, I know how tough it is to win it. We have another chance to put City on the European map again."