Manager lifts lid on Manchester City transfer interest as bumper six-year contract agreed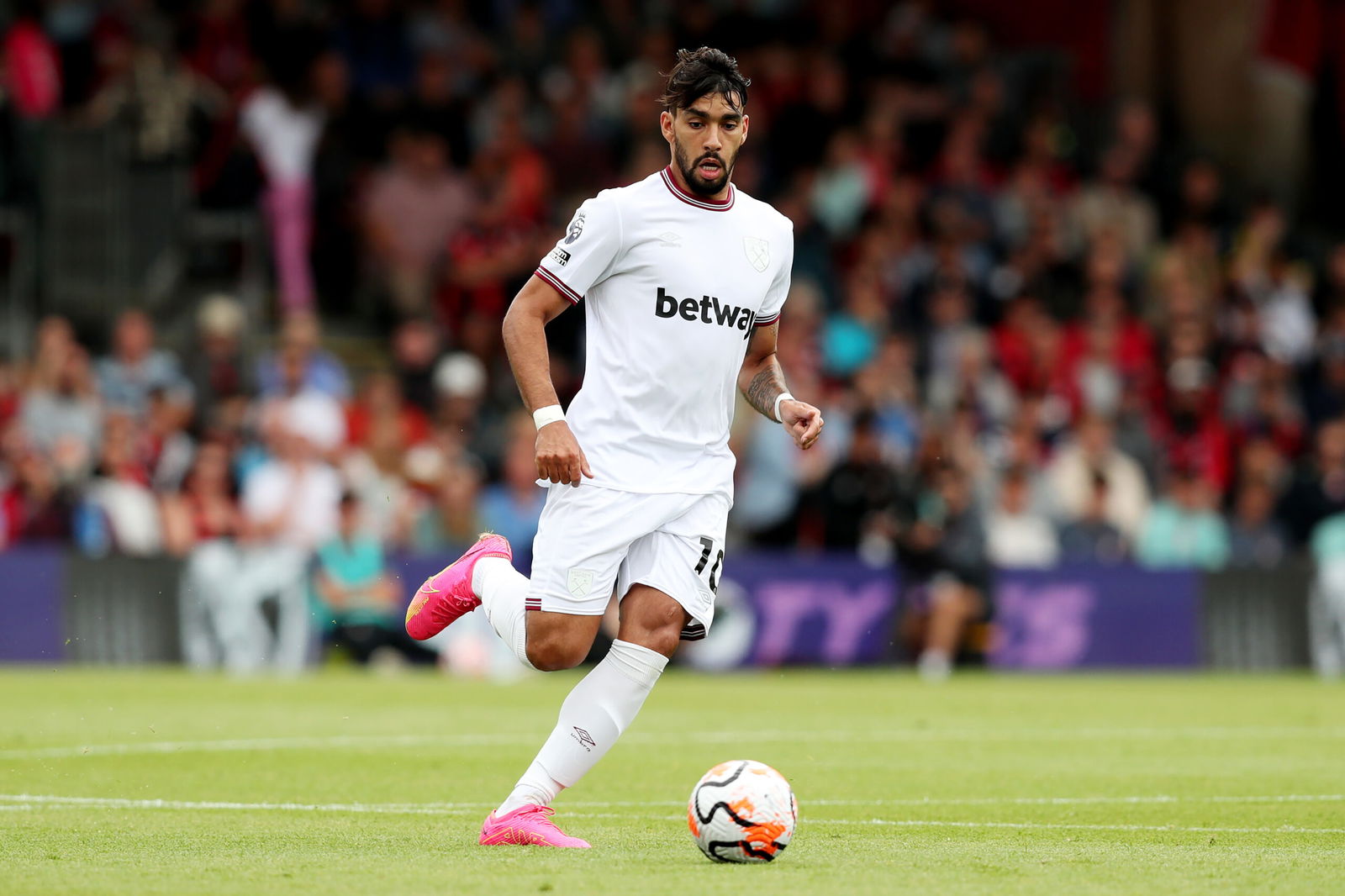 West Ham United manager David Moyes has recently lifted the lid on Manchester City's transfer interest in star midfielder Lucas Paqueta.
The Premier League champions are in hot pursuit of the Brazil international, as they look to further supplement Pep Guardiola's squad and also cover for the recent hamstring injury sustained by Kevin De Bruyne in the 0-3 opening weekend victory over Burnley.
Elsewhere and Manchester City may be on the verge of securing Joao Cancelo his second successive loan spell away from the club, as issues concerning the Portugal international have rumbled on into the new season.
As always, City Xtra are on hand to provide you with the very latest transfer updates on Manchester City from days 56 and 57 of the ongoing summer transfer window.
Arrivals
Manchester City HAVE made an offer for West Ham's Lucas Paqueta, confirms manager David Moyes. However, it is "not anywhere near" the club's valuation. (Press conference)
Lucas Paqueta has agreed a six-year contract with Manchester City. Negotiations between the two clubs continue, but City are optimistic given the player's willingness to join. (Mohamed Bouhafsi)
Manchester City have made an offer of €85 million plus a further €10 million in bonuses to West Ham for Lucas Paqueta, who want €110 million without bonuses. The player has already spoke with Pep Guardiola. (Mohamed Bouhafsi)
Manchester City and West Ham are locked in talks over a deal for Lucas Paqueta and whether a fee can be agreed, with a transfer expected to cost more than £90 million given the current market. (Mike McGrath, The Telegraph)
West Ham have accepted they are likely to lose Lucas Paquetá to Manchester City and are trying to soften the blow by signing Cole Palmer. Paquetá's desire to join City is expected prove decisive. West Ham have rejected an opening proposal of £70 million from City, but will sell for the right price. (Jacob Steinberg, The Guardian)
There is an acknowledgment within West Ham that keeping Lucas Paquetá against his wishes could be counterproductive. It has been stressed, though, that the midfielder has remained professional, travelling with the squad for the game against Bournemouth. (Jacob Steinberg, The Guardian)
Manchester City plan to step up their interest in Lucas Paqueta following Kevin De Bruyne's injury, as Pep Guardiola now sees the Brazilian as a priority signing. West Ham are not confident of keeping Paqueta, although will demand a fee well in excess of £80 million. (Alex Crook, talkSPORT)
Manchester City hope to finalise a deal for Stade Rennais forward Jérémy Doku 'soon'. (Fabrice Hawkins)
Stade Rennais are expecting to field a bid from Manchester City for Jeremy Doku, valued at more than £30 million, over the coming week. (Jack Gaughan, MailSport)
Stade Rennais expect Manchester City's first offer for Jeremy Doku to arrive early next week (Monday or Tuesday), and hope to do a deal at €60 million but more likely to be around €55 million. (Sacha Tavolieri)
Jeremy Doku and his representatives have now agreed terms for him to join Manchester City this summer. City's recruitment have had Doku on their list since watching the 21-year-old play at the KDB Cup in 2017. (The Secret Scout)
Negotiations between Manchester City and Jeremy Doku are already advanced on the player side of a deal. City have been working on the 21-year-old since the beginning of August. (Fabrizio Romano)
Manchester City are interested in Kingsley Coman but Bayern Munich officials have 'closed the door'. (Fabrice Hawkins)
Departures
Joao Cancelo is now 'very close' to joining Barcelona on loan with an option to buy. (Matteo Moretto, Relevo)
West Ham are trying to soften the blow of losing Lucas Paqueta to Manchester City by signing Cole Palmer. West Ham have asked City about taking Cole Palmer on loan as part of a deal for Paquetá, but it is understood they would have a better chance of signing the winger on a permanent basis. (Jacob Steinberg, The Guardian)
Aymeric Laporte and Joao Cancelo are still looking to leave Manchester City this summer. Pep Guardiola's issues with Cancelo had been festering since the 2021/22 campaign and not just following last year's World Cup. (Jack Gaughan, MailSport)
Contract Renewals
No reports
Confirmed Deals
Josko Gvardiol: RB Leipzig to Manchester City, (£78 million)
Mateo Kovacic: Chelsea to Manchester City, (£25 million plus £5 million in add-ons)
Juanma Lillo: Al Sadd SC to Manchester City, (Unknown terms)
Spike Brits: AFC Wimbledon to Manchester City, (Unknown terms)
Harrison Parker: Manchester United to Manchester City, (Unknown terms)
---
Riyad Mahrez: Manchester City to Al Ahli, (£30.4M plus €5M add-ons, Permanent)
Carlos Borges: Manchester City to Ajax, (€14M plus €5M add-ons, Permanent)
James Trafford: Manchester City to Burnley, (£15M plus £4M add-ons, Permanent)
Adedire Mebude: Manchester City to KVC Westerlo, (£1.65M, Permanent)
Ilkay Gundogan: Manchester City to FC Barcelona, (Free transfer)
Enzo Maresca: Manchester City to Leicester City, (Unknown terms)
Rodolfo Borrell: Manchester City to Austin FC, (Unknown terms)
Callum Doyle: Manchester City to Leicester City, (Season-long loan, £500,000)
Josh Wilson-Esbrand: Manchester City to Stade de Reims, (Season-long loan)
Issa Kabore: Manchester City to Luton Town, (Season-long loan)
Yan Couto: Manchester City to Girona, (Season-long loan)
Liam Delap: Manchester City to Hull City, (Season-long loan)
Kian Breckin: Manchester City to Wycombe Wanderers, (Season-long loan)
Finley Burns: Manchester City to Stevenage, (Season-long loan)
Alex Robertson: Manchester City to Portsmouth, (Season-long loan)
Filip Stevanović: Manchester City to RKC Waalwijk, (Season-long loan)
Morgan Rogers: Manchester City to Middlesbrough, (Unknown terms, Permanent)
Josh McNamara: Manchester City to Southampton, (Unknown terms, Permanent)
Cieran Slicker: Manchester City to Ipswich Town, (Unknown terms, Permanent)
Yangel Herrera: Manchester City to Girona, (Unknown terms, Permanent)
Herbie James: Manchester City to Tottenham Hotspur (Pre-Agreement, Permanent)
Benjamin Mendy: Released
Terrell Agyemang: Released
Rowan McDonald: Released
Follow City Xtra on Threads here: threads.net/@city_xtra