Josko Gvardiol & Nathan Ake update, Lucas Paqueta rumours, Cole Palmer future – Every Word: Pep Guardiola's pre-Burnley press conference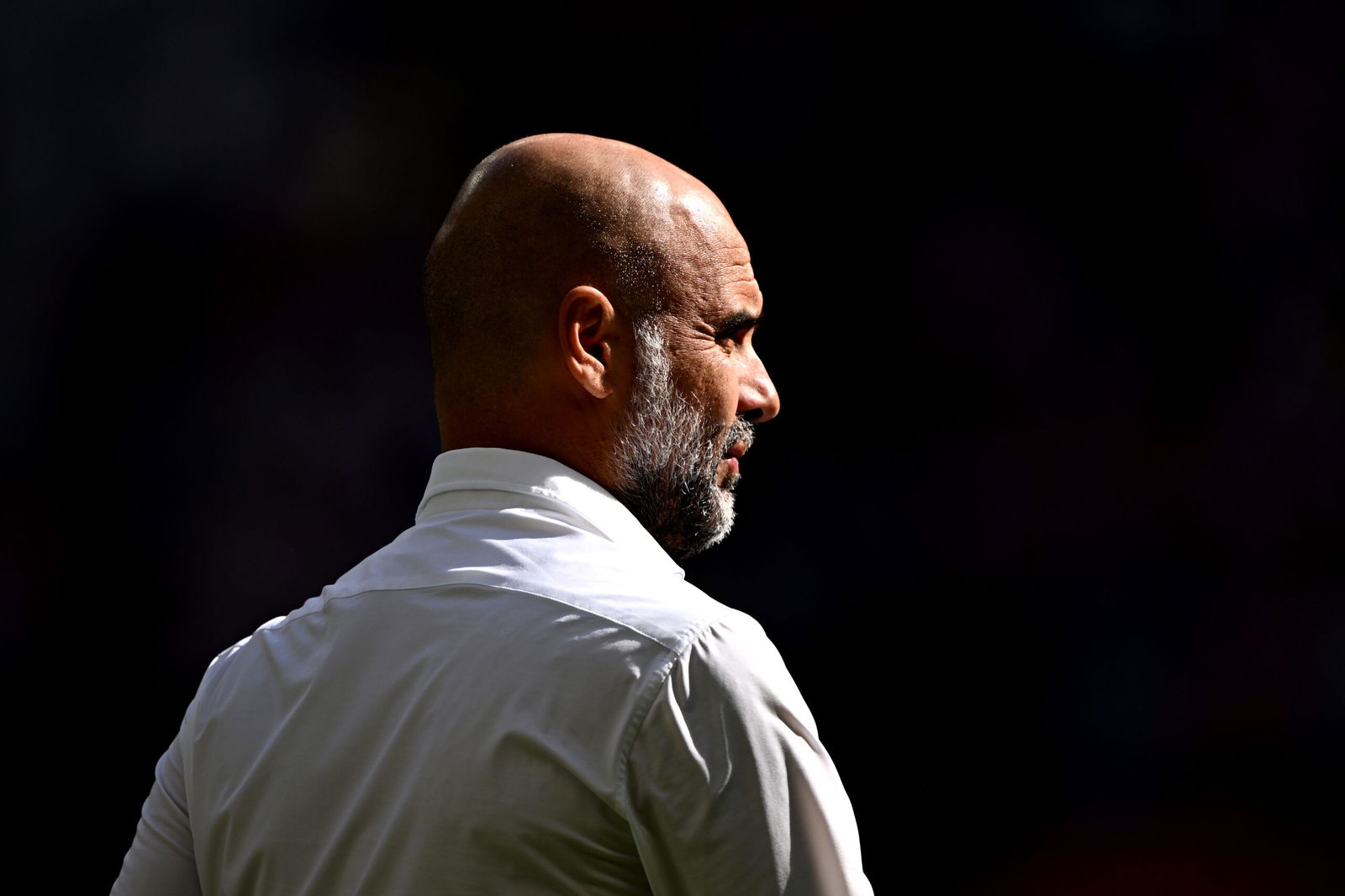 Manchester City manager Pep Guardiola has addressed the media ahead of his side's opening Premier League game of the 2023/24 season.
Burnley are the opponents on Friday night, as Manchester City take on last season's Championship winners who cruised to Premier League promotion courtesy of a staggering 100+ point campaign in England's second division.
Pep Guardiola and his City players were crowned Premier League champions for the third time in the last three seasons, and did face Burnley en route to a historic treble of silverware as they hosted Vincent Kompany and his players in the FA Cup quarter-final.
An Erling Haaland hat-trick, complimented by a brace from Argentina international Julian Alvarez set the Blues on their way to a staggering 6-0 win with Cole Palmer putting the finishing touches on a speculator meeting with the club's legendary former captain.
Last time out, Manchester City were taken all the way in the FA Community Shield after a last minute Leandro Trossard equaliser took to the contest to penalties, where Pep Guardiola's players faltered and missed out on the first piece of silverware in the season.
TOPICS were among the topics spoken about by Pep Guardiola during his first press conference of the 2023/24 Premier League season.
Here is every word from the boss at the City Football Academy!
On the new season
"It feels like it finished yesterday, but we start again. We start from zero and go game by game. It is not good to think about the (Premier League) title in August and September. We will go day by day and try to get better each day."
On replicating last season's success
"I don't think it will be possible to do what we did last season. We climbed the highest mountain last season, but we have come down that mountain now. We start the same as everyone else. Our mentality will dictate how the season will be. Every season you start from zero. The history speaks for itself. We need to try and do a performance against Burnley, then Newcastle and then Sheffield United."
"I have to challenge myself. The players have to challenge me. We have to respect each other. We start again and we will see. We will take it step by step, compete like we did against Arsenal and go again. Let's go again."
On the threat of Burnley
"Normally the first games are difficult, especially against newly-promoted teams. They have energy and want to start well. Vinny (Vincent Kompany) knows us well. He did an incredible job and destroyed the Championship. To win, win, win is so difficult in the competition. He is going to do really, really well (in the Premier League). It is going to be a difficult game."
On Cole Palmer's Manchester City future
"Cole is with us. Today he is with us. What is going to happen, I don't know. I understand he wants to be more active than the previous season. But Riyad (Mahrez) has gone so we have one more place there. I cannot say anything because, of course, all the decisions need to be made by the club. The club has to decide what the best is. All together, we will do it"
On the demanding footballing schedule this season
"Sometimes there were meetings with UEFA and the Premier League. We were there. It is ok to play football, but we don't have enough days. When people say that we play in the same conditions as the other teams in the Premier League, we don't; we play more games than other teams. We play much more. We will play Newcastle on the Saturday after facing Sevilla on the Wednesday. We cannot give a day off to the players.
"UEFA decide, FIFA decide, the Premier League decide and the clubs in Europe decide. I don't think anything is going to change. When they invite us (managers) to these meetings, we are busy with a game to prepare for. I don't have time. It is a lot."
"Every season is the same, except we play the Super Cup against Sevilla and the Club World Cup in Saudi Arabia. The rest is the same. We will see at the end of the window."
On Josko Gvardiol
"He is ready and available."
Pep Guardiola also confirmed that Nathan Ake is ready and available.
On Harry Kane and a reported agreement between Bayern Munich and Tottenham
"Everyone knows (his qualities). He is a top, top striker. He scores goals and has the ability to assist. He is an exceptional striker. Alan Shearer is the only man in front of him as top goalscorer. I don't know if Daniel Levy will allow him to leave or he will stay there."
On Lucas Paqueta
"I will not answer about (Lucas) Paqueta; he is a West Ham player."
On the future of Kyle Walker
"No (further updates). We are wishing he stays, since a long time we made him feel (that). But no, no news."