Manchester City invite record-breaking forward on trial as club completes further three transfer negotiations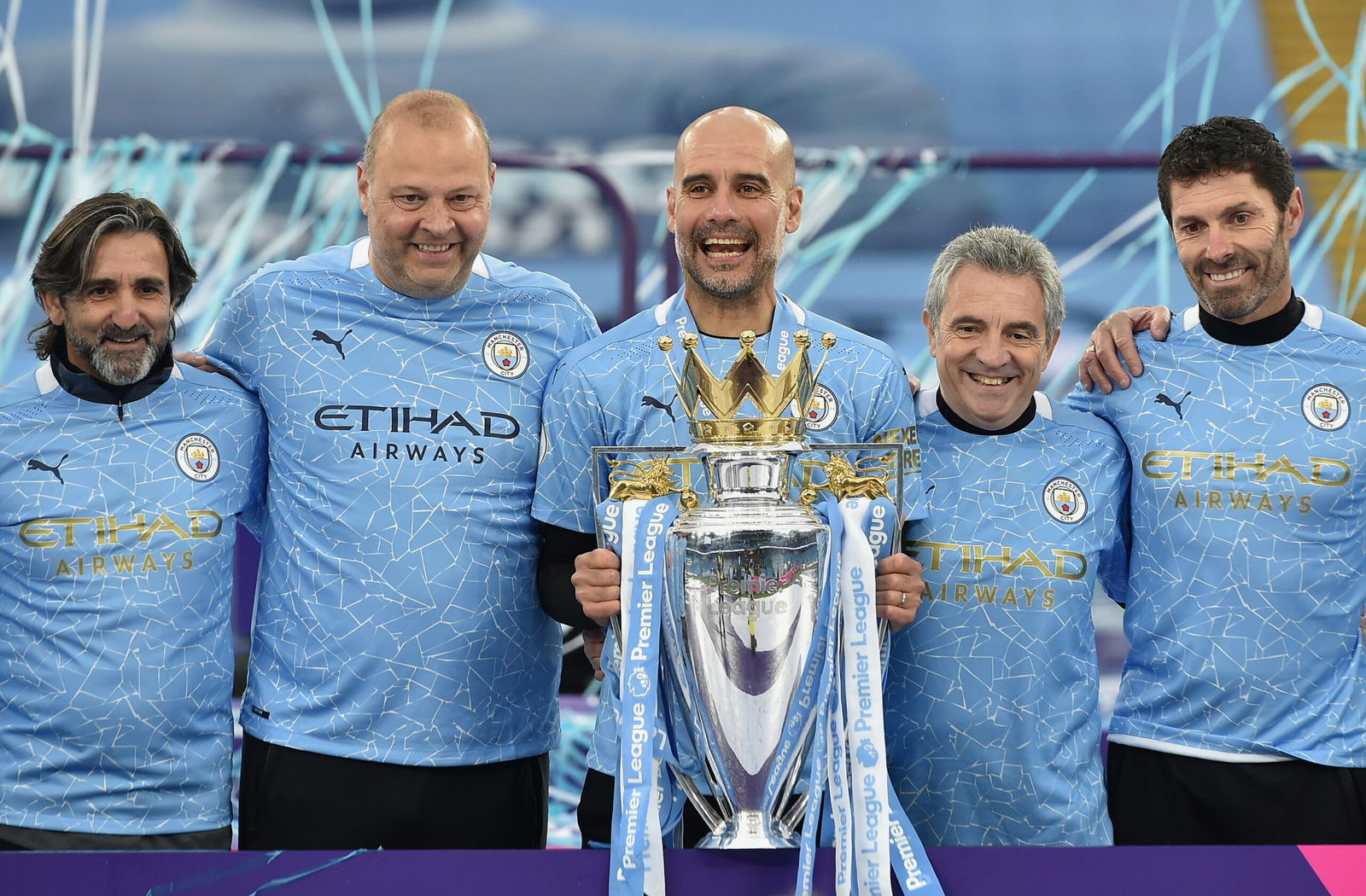 Alongside a trio of completed deals, Manchester City have invited a record-breaking forward to go on trial with the Premier League champions over the next few days.
Txiki Begiristain and his colleagues finally got a deal for Josko Gvardiol over the line this week, as the Croatian central defender signed on the dotted line in time for the start of the Premier League season.
A further loan deal has also been agreed, while Pep Guardiola has added to his depleted backroom coaching staff structure by welcoming a familiar face back into the Etihad Stadium dugout.
All that and more in a bumper round-up of all things Manchester City from the last four days and days 50, 51, and 52 of the 2023 summer transfer window!
Arrivals
Josko Gvardiol has joined Manchester City, signing a five-year contract with the Premier League champions until the summer of 2028 and taking the #24 shirt. (Official)
Juanma Lillo has re-joined Manchester City and Pep Guardiola's coaching staff ahead of the 2023/24 season. (Official)
Instead of add-ons included in Manchester City's €90 million deal for Josko Gvardiol, RB Leipzig will play a friendly match against City in the future with all money made from the game going to the Bundesliga club. (Christian Falk)
St Patrick's Athletic forward Mason Melia is having a trial at Manchester City. The 15-year-old only made his senior debut in May and a month later became the youngest goalscorer in the League of Ireland Premier Division at 15 years and 281 days. (Simon Jones, MailSport)
Pep Guardiola has said it would cost Manchester City over £50 million to replace Kyle Walker and Bernardo Silva in the transfer market, and as such they need big offers if they are to sell. (Press conference)
Pep Guardiola: "For us to buy a player, just because we are Manchester City it is £10-15 million more expensive than the other clubs all the time…" (Press conference)
Roy Hodgson on Manchester City target Michael Olise: "No one knows at this moment. If there are clubs desperately/seriously preparing a bid and tempting him then he'll have a decision. I can only wait and see what decision is he going to make. He knows we are very keen to keep him… You can never be certain that the players you've got, like, want are definitely going to stay – we have a transfer market. I can only hope that market doesn't on this occasion punish us by persuading one of our very important players to move." (Sky Sports)
Departures
Manchester City are open to selling Aymeric Laporte this summer, but it has to be for an 'important proposal'. Laporte will speak with his agents this week to get some clarity over the future, and there is a concrete chance for him to leave City. (Fabrizio Romano)
Manchester City will now look to cash in on Aymeric Laporte after the signing of Josko Gvardiol. Arsenal, Tottenham and Aston Villa have all been monitoring his situation, although City would prefer to sell to a foreign club and value the defender at £30 million. (Simon Mullock, The Mirror)
Aymeric Laporte has received an offer from Saudi Arabia worth €20 million net per season, but has so far not responded. A return to Athletic Club is an option for if the end of the transfer window arrives and Manchester City 'give him up desperately'. (Jose Manuel Monje)
There is no clarity yet on transfer fees for Aymeric Laporte and Joao Cancelo. Manchester City want permanent transfers if they are to part ways with both players and not loans, but it is not always possible – especially in Joao Cancelo's case. Barcelona remain interested in Cancelo but they would prefer a loan deal. As for Laporte, at the moment there is nothing imminent regarding a move away from City. (Fabrizio Romano)
Sheffield United are still waiting on an answer from Manchester City on James McAtee returning to the club on loan this summer, and have also let them know of an interest in Cole Palmer. (Alan Nixon)
Manchester City are facing a decision on the future of James McAtee. City are reluctant to let him leave but know Wolves, Brighton, Celtic, Real Sociedad, Southampton, Sheffield United and AZ Alkmaar are all interested; some for a permanent move, others on loan. (Simon Jones, MailSport)
Celtic are in the queue for Manchester City's Tommy Doyle, with Brendan Rodgers a fan and could splash out for him if he loses any of his players in that area before the end of the month. (Alan Nixon)
Cole Palmer on his Manchester City future: "I don't know, I'll have to see what the plan is next season. If I'm at City, (or) I'm elsewhere… I'm not 100% sure (where I'll be), I don't know. I'll have to speak to (City) see what the plan is…" (ViaPlay)
Pep Guardiola on Cole Palmer's Manchester City future: "Tomorrow (Monday) he's going to train. We have a lot of confidence, appreciate a lot. I know he wanted to play last season, and didn't much. The agent, himself, we have to talk. If he wants to stay, we're more than pleased. If he wants to leave, we'll find a solution because he's a top player…" (Press conference)
Pep Guardiola has confirmed that Manchester City are yet to receive a "proper offer" from any club for Bernardo Silva. Pep: "I don't want any players who don't want to be here. I want to work with guys who want to stay. But we need a proper offer, we didn't… If they (Barcelona) want him, they'll get on a plane and speak to our sporting director…" (Press conference)
Portsmouth have signed Alex Robertson on a season-long loan from Manchester City. (Official)
Contract Renewals
Manchester City have now tabled a second contract offer to Kyle Walker in a bid to keep him at the club. (Sam Lee, The Athletic)
An official proposal from Manchester City to extend Bernardo Silva's contract has now been submitted. The midfielder is taking his time to decide, but City are 'very confident to receive an answer very soon' and to get a new deal done. (Fabrizio Romano)
Bernardo Silva is giving serious consideration to signing a new contract with Manchester City. As it stands, Bernardo is now more likely to stay at City than leave. PSG and Barcelona view Bernardo Silva as a potentially 'transformative' signing, but they are yet to submit an official bid to City for the midfielder. There are also serious doubts about whether Barcelona can afford to sign one of City's best players. (Paul Hirst, The Times)
Everything is now pointing towards Bernardo Silva staying at Manchester City and renewing his contract. (Matteo Moretto)
The most likely scenario today (Monday) is that Bernardo Silva will renew his Manchester City contract, while the player assumes that a possible move to Barcelona this summer is close to over, sources close to the player have confirmed to Mundo Deportivo. (Ferran Martínez, Roger Torelló)
Pep Guardiola on Kyle Walker: "Seven years together and such an important player for us. Hopefully he can stay. We have one more year of contract, it's not the end so if someone wants him they have to talk, like Bernardo. We want them to stay, they are so important for us…" (Press conference)
Pep Guardiola has said that Manchester City will "do everything" to keep Kyle Walker and Bernardo Silva this summer. Pep: "They are so important to us. We want them and will do everything. We want him to stay because he wants to stay. We will do everything. Replacing these two would be so difficult…" (Press conference)
Confirmed Deals
Josko Gvardiol: RB Leipzig to Manchester City, (£78 million)
Mateo Kovacic: Chelsea to Manchester City, (£25 million plus £5 million in add-ons)
Juanma Lillo: Al Sadd SC to Manchester City, (Unknown terms)
Spike Brits: AFC Wimbledon to Manchester City, (Unknown terms)
Harrison Parker: Manchester United to Manchester City, (Unknown terms)
---
Riyad Mahrez: Manchester City to Al Ahli, (£30.4M plus €5M add-ons, Permanent)
Carlos Borges: Manchester City to Ajax, (€14M plus €5M add-ons, Permanent)
James Trafford: Manchester City to Burnley, (£15M plus £4M add-ons, Permanent)
Adedire Mebude: Manchester City to KVC Westerlo, (£1.65M, Permanent)
Ilkay Gundogan: Manchester City to FC Barcelona, (Free transfer)
Enzo Maresca: Manchester City to Leicester City, (Unknown terms)
Rodolfo Borrell: Manchester City to Austin FC, (Unknown terms)
Callum Doyle: Manchester City to Leicester City, (Season-long loan, £500,000)
Josh Wilson-Esbrand: Manchester City to Stade de Reims, (Season-long loan)
Issa Kabore: Manchester City to Luton Town, (Season-long loan)
Yan Couto: Manchester City to Girona, (Season-long loan)
Liam Delap: Manchester City to Hull City, (Season-long loan)
Kian Breckin: Manchester City to Wycombe Wanderers, (Season-long loan)
Finley Burns: Manchester City to Stevenage, (Season-long loan)
Alex Robertson: Manchester City to Portsmouth, (Season-long loan)
Morgan Rogers: Manchester City to Middlesbrough, (Unknown terms, Permanent)
Josh McNamara: Manchester City to Southampton, (Unknown terms, Permanent)
Cieran Slicker: Manchester City to Ipswich Town, (Unknown terms, Permanent)
Yangel Herrera: Manchester City to Girona, (Unknown terms, Permanent)
Herbie James: Manchester City to Tottenham Hotspur (Pre-Agreement, Permanent)
Benjamin Mendy: Released
Terrell Agyemang: Released
Rowan McDonald: Released
Follow City Xtra on Threads here: threads.net/@city_xtra