Every Word: Pep Guardiola's pre-Arsenal press conference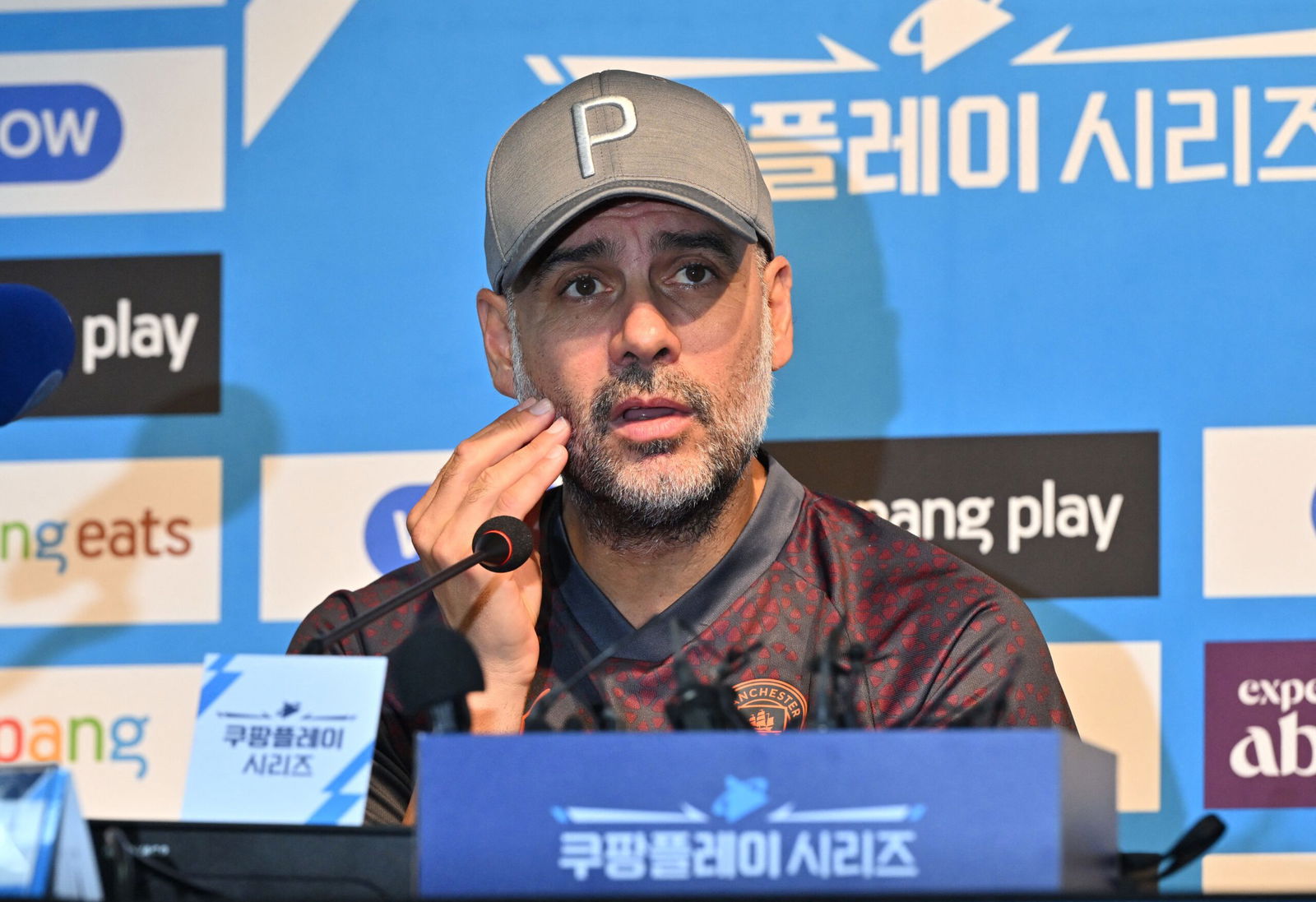 Manchester City manager Pep Guardiola has addressed the media ahead of his side's first cup final of the season, in the traditional curtain raiser at Wembley Stadium.
Arsenal are the opponents on Sunday evening, as Manchester City take on last season's Premier League title challengers whom they pipped to the league trophy following a downfall from Mikel Arteta's side at the most crucial stage.
Pep Guardiola and his City players were crowned Premier League champions for the third time in the last three seasons, following up their English top-flight success with a triumph in the FA Cup final and Champions League final.
As for Sunday's opponents Arsenal, Mikel Arteta and his players will look to begin the new campaign in much better fashion than how they left off, following a summer of major strengthening throughout the squad including a £105 million signing of Declan Rice.
Last time out, Manchester City succumbed to defeat in their third and final pre-season friendly match in South Korea, after goals from Memphis Depay and Yannick Carrasco secured a 1-2 win for Diego Simeone's players.
The imminent arrival of Josko Gvardiol, future transfer business, and his thoughts on the activity of Arsenal in the ongoing window were among the topics spoken about by Pep Guardiola during his first press conference of the competitive 2023/24 season.
Here is every word from the boss at the City Football Academy!
---
On the FA Community Shield against Arsenal
"Of course, we are going to try (to win). How we are right now; we finished two weeks later than Arsenal, started two weeks later, so we're not in the best way. We'll struggle to restart. But it's the final and hopefully our mentality can help us compete."
On the imminent arrival of Josko Gvardiol from RB Leipzig
"Regarding (Josko) Gvardiol, what a beautiful surname he has. He is doing his medical. Hopefully we can finish a deal in the next hours or days."
On the future of Bernardo Silva and Kyle Walker
"Kyle (Walker) and Bernardo (Silva), what can I say? They are so important to us. We want them and will do everything (to keep them). We want him to stay because he wants to stay. We will do everything. Replacing these two would be so difficult."
"When you win a treble, some think the job is done and want a new experience."
Pep Guardiola stated that it would cost Manchester City over £50 million to replace Kyle Walker and Bernardo Silva in the transfer market, and as such they need big offers if they are to sell either this summer.
On the specific future of Bernardo Silva
"I don't want any player who doesn't want to be here. But that's only my opinion. But we are yet to receive a proper offer."
"I don't want any players who want to be here. I want to work with guys who want to stay. Bt we need to get a proper offer, we didn't get a proper offer. If they want him they will get on a plane and speak to our sporting director."
On having six centre-backs at the club following the arrival of Gvardiol
"The season is so long. (Six) is not too much."
On Arsenal's signing of Declan Rice
"(Declan) Rice decided on Arsenal. All the best. He's an important player, a very nice guy and for England will be important. For Arsenal, what an incredible player."
On the return of Juanma Lillo to Manchester City
"The best assistant coach you can have in bad moments. People close to you turn up in bad moments. Beyond his knowledge in football, he is a massive human being. I'm really happy he came (back). All the staff were delighted to see him back."
On the challenge of a new season
"The challenge is massive for us mentally and how we grow as a team, football-wise, to sustain that level. It's almost impossible, but the challenge is that. How hungry we still are, our desire. Over the next 11 months, we will have many low moments, it's how we come back."
On the prospect of more Manchester City transfer activity after Gvardiol
"I don't know. I think we're going to move something. It's not yet (done)."