Manchester City announce 2027 contract agreement as Txiki Begiristain continues search for marquee attacking recruit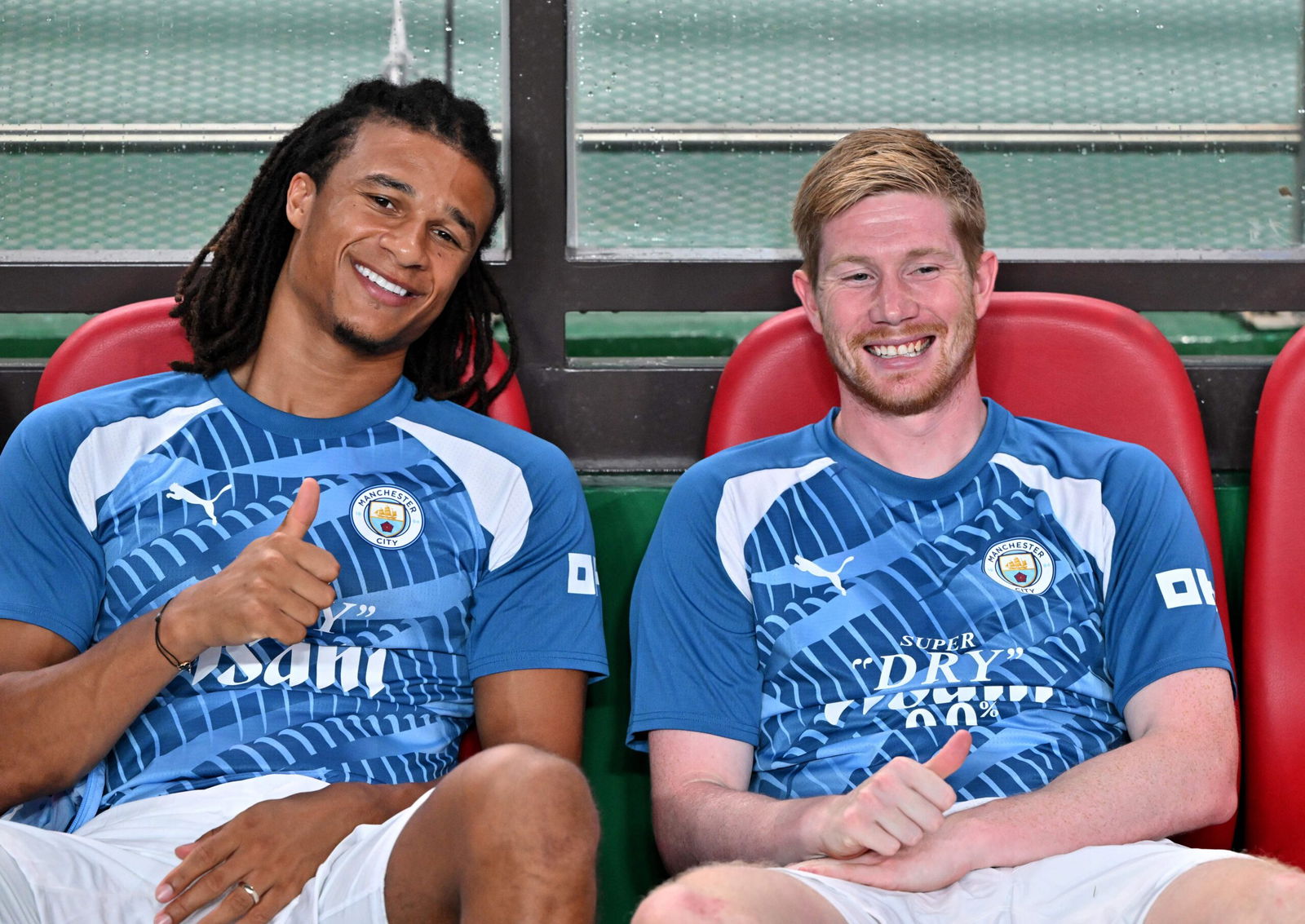 Nathan Ake has added some much-needed good news to a so-far underwhelming summer transfer window by committing his long-term future to the Etihad Stadium.
Just 12 months ago and the Dutchman was at the centre of high-profile transfer rumours linking him with a move back to Chelsea. However, following a remarkable turnaround in form and faith from Pep Guardiola, Nathan Ake is now very much a key part in the club's plans.
Txiki Begiristain will almost certainly be very pleased with finalising an agreement with Nathan Ake, but is very much focussed firmly on the task of bringing in fresh faces this summer to further strengthen Pep Guardiola's squad.
Riyad Mahrez's departure for Al Ahli means that Manchester City are intensifying their hunt for a new recruit in the wide positions, with the likes of Crystal Palace's Michael Olise admired by the Premier League champions.
Here is your daily transfer round-up collating all the very latest reports concerning events at the Etihad Stadium, from days 45 and 46 of the summer transfer window!
Arrivals
Manchester City's focus remains on completing the Josko Gvardiol deal, and talks will continue next week to get it done. City will then look at signing a new winger. (Fabrizio Romano)
Josko Gvardiol wants talks between Manchester City and RB Leipzig to be concluded before the season starts. (Jack Gaughan, MailSport)
Manchester City are now looking at alternative left centre-backs on their shortlist, should RB Leipzig continue to stall over the Josko Gvardiol deal. If City are unable to secure a new signing, Pep Guardiola will not sell Aymeric Laporte this summer. (The Secret Scout)
Txiki Begiristain has been searching for a winger but so far Manchester City have not found quite what they want. (Jack Gaughan, MailSport)
Manchester City could not formalise interest in James Maddison earlier this summer without knowing about departures – namely Bernardo Silva – and had already wrapped up Mateo Kovacic from Chelsea. (Jack Gaughan, MailSport)
Pep Guardiola on signing a Riyad Mahrez replacement: "The market is open until the end of august. I think a few or many things are going to happen. We'll see if we need wingers or inside players, we'll see what happens with loans, who stays or not…"
Mateo Kovacic: "Josko (Gvardiol) has great potential. He can come to Manchester City and learn and be the best version of himself. I'd obviously like it – I'm a good friend with him and he's Croatian. It would be nice to have a Croatian by my side here…"
Mateo Kovacic on Josko Gvardiol: "He's already played a lot of big games. He is ready for this step. I think it's a good time (to join Manchester City). They are on a great run, a very confident team and a team you can learn from. They have possibly the best manager in history.
"So I came to Manchester City to join a great group and to try to learn. He's still young but he's mature. He doesn't need much advice. He had a great World Cup and a great season with Leipzig."
Departures
Aymeric Laporte is expected to depart, should Manchester City finally secure a deal for RB Leipzig's Josko Gvardiol that is likely to stand at around £86 million. (Jack Gaughan, MailSport)
The word from Manchester City is that Cole Palmer cannot leave until they have found a senior replacement for Riyad Mahrez. (Alan Nixon)
Vincent Kompany and Burnley are pushing strongly for Cole Palmer, and are keen to give him his first regular taste of Premier League football. Leicester also want Palmer but Burnley seem to be offering the best platform for him if City can let him out. (Alan Nixon)
Manchester City will not drop their £15 million asking price for Taylor Harwood-Bellis as Premier League clubs queue up. West Ham, Fulham and Leeds are keen, while Burnley will not match the price despite his successful loan spell. City are adamant about their valuation. (Alan Nixon)
Pep Guardiola on Riyad Mahrez: "I understand completely (his decision to leave Manchester City). I know how tough it was to not play in the FA Cup final and Champions League finals. It was really good to work with him. Really nice. I learned a lot…"
Pep Guardiola: "Saudi Arabia has changed the market. A few months ago when Cristiano (Ronaldo) was the only one to go, no one thought this many top players would play there. In future there will be more and that's why clubs need to be aware. Riyad (Mahrez) got an incredible offer and we could not say don't do it…"
Nathan Aké on Kyle Walker: "Fantastic character and such an important player. We'd like him to stay. We don't know what's going to happen, but all we can hope for is he stays and helps us to win titles. It's clear all the players and everyone wants him to stay…"
Manchester City have rejected more than a dozen approaches from various clubs for Rico Lewis this summer. Leeds were one of the teams particularly keen on a season loan, while approaches from the likes of Everton, Southampton and Brighton were also turned down. (The Sun)
Contract Renewals
Nathan Ake has extended his Manchester City contract until 2027. (Official)
Confirmed Deals
Mateo Kovacic: Chelsea to Manchester City, (£25 million plus £5 million in add-ons)
Spike Brits: AFC Wimbledon to Manchester City, (Unknown terms)
Harrison Parker: Manchester United to Manchester City, (Unknown terms)
---
Riyad Mahrez: Manchester City to Al Ahli, (£30.4M plus €5M add-ons, Permanent)
James Trafford: Manchester City to Burnley, (£15M plus £4M add-ons, Permanent)
Adedire Mebude: Manchester City to KVC Westerlo, (£1.65M, Permanent)
Ilkay Gundogan: Manchester City to FC Barcelona, (Free transfer)
Enzo Maresca: Manchester City to Leicester City, (Unknown terms)
Rodolfo Borrell: Manchester City to Austin FC, (Unknown terms)
Callum Doyle: Manchester City to Leicester City, (Season-long loan, £500,000)
Josh Wilson-Esbrand: Manchester City to Stade de Reims, (Season-long loan)
Issa Kabore: Manchester City to Luton Town, (Season-long loan)
Yan Couto: Manchester City to Girona, (Season-long loan)
Liam Delap: Manchester City to Hull City, (Season-long loan)
Kian Breckin: Manchester City to Wycombe Wanderers, (Season-long loan)
Morgan Rogers: Manchester City to Middlesbrough, (Unknown terms, Permanent)
Josh McNamara: Manchester City to Southampton, (Unknown terms, Permanent)
Cieran Slicker: Manchester City to Ipswich Town, (Unknown terms, Permanent)
Yangel Herrera: Manchester City to Girona, (Unknown terms, Permanent)
Herbie James: Manchester City to Tottenham Hotspur (Pre-Agreement, Permanent)
Terrell Agyemang: Released
Rowan McDonald: Released
Benjamin Mendy: Released
Follow City Xtra on Threads here: threads.net/@city_xtra