Revealed: Manchester City release electricity-inspired 2023/2024 third shirt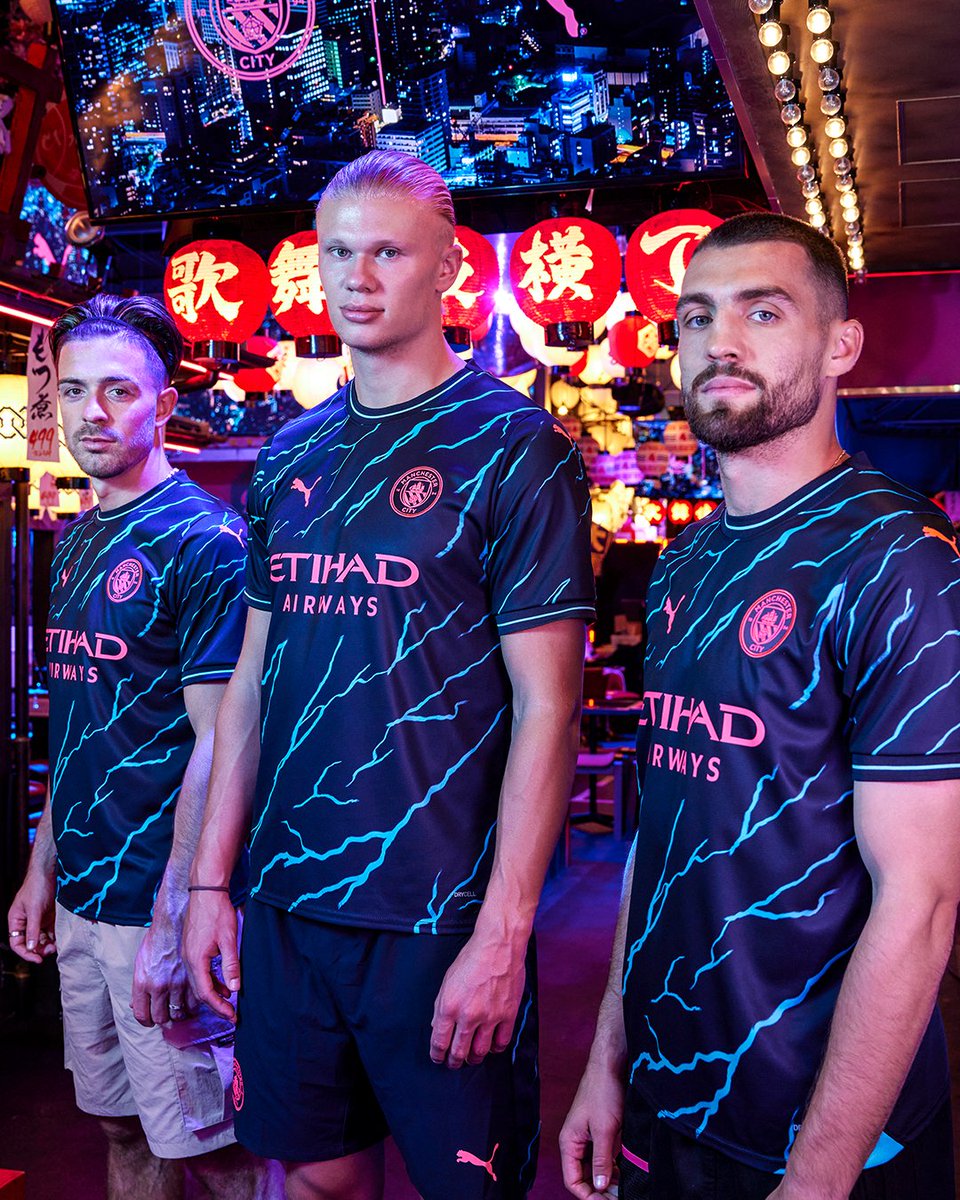 Manchester City and PUMA have officially released their brand new 2023/24 third shirt, inspired by electricity both on and off the pitch.
Dominated by black, and featuring an all-over sky blue lightning bolt pattern, the latest edition of the Manchester City third shirt is widely expected to go down as a major hit despite the bold approach to it's design.
The alternative edition's collar and cuffs remain in black, but feature a sky blue stripe running through the centre of each. Elsewhere, and supporters will see the Puma branding, club crest, and Etihad Airways shirt sponsor coloured in an orange red.
YOU CAN BUY THE NEW 2023/24 MAN CITY THIRD SHIRT HERE!
Manchester City and PUMA have stated upon the release of the new shirt, "City and PUMA have today launched our electrifying third kit for 2023/24 – designed to embody the pulsating life and dynamism of the city of Manchester.
"The new kit was exclusively launched in Tokyo, Japan as part of City's pre-season tour. City, a team breaking the mould, continues to redefine the game of football – the way it's played, coached, and perceived.
"The 2023/24 third kit is the manifestation of City's electrifying style of play, and the thrilling ambiance that envelops every match. The jersey's design features an electric spark pattern throughout, fused with neon pink versions of the Club crest and partner logos.
"Now, you don't just feel City's electrical charge when watching a match – you see it."
YOU CAN BUY THE NEW 2023/24 MAN CITY THIRD SHIRT HERE!
Among those to model the new kit, Jack Grealish, Erling Haaland, and summer signing Mateo Kovacic all star in the photoshoot, as Manchester City supporters take a first look at their superstars on the pitch donning the new look.
Manchester City have also confirmed that they will debut their new 2023/24 third kit against Bayern Munich on Wednesday night, as part of their pre-season tour of the Far East with their second friendly clash coming at the Japan National Stadium in Tokyo.