Manchester City squad rack up HUGE five-figure drinks bill during Premier League title celebrations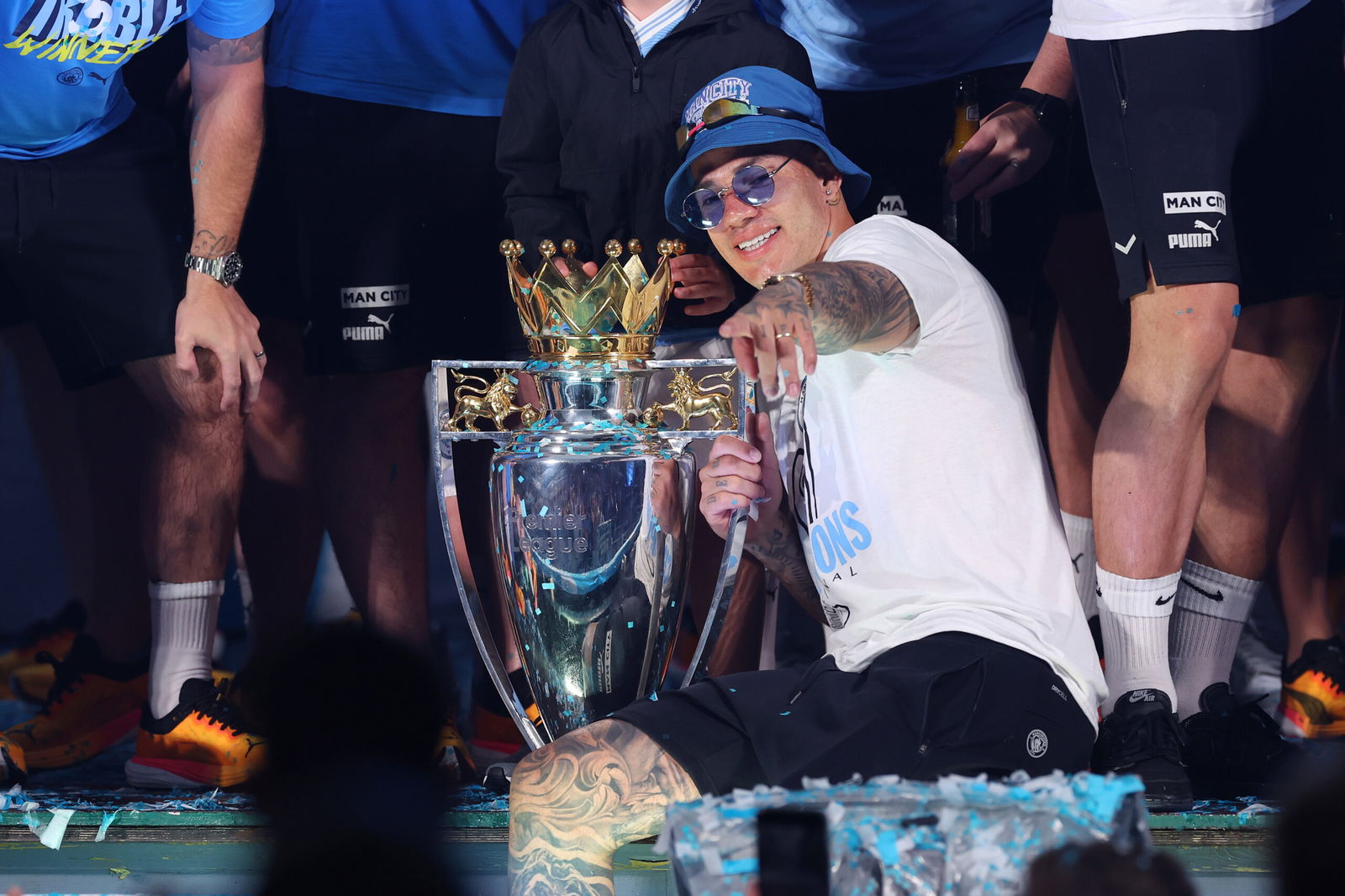 A Premier League title celebration party at the Etihad Stadium saw the Manchester City squad rack up a gigantic bar bill, Jack Grealish's father has revealed.
Manchester City celebrated winning their third consecutive Premier League title following a 1-0 win over Chelsea last month at the Etihad Stadium, after being crowned champions for a fifth time in six years prior to the match.
City sealed their latest Premier League title triumph with three matches to spare, after successive Arsenal defeats to Brighton and Nottingham Forest ended the Gunners' hopes of winning a first title in almost two decades.
The Premier League title would be the first of three trophies won by Manchester City, as the Blues completed the treble, winning both the FA Cup and UEFA Champions League in June.
Pep Guardiola's side beat rivals Manchester United in the Emirates FA Cup Final at Wembley Stadium, courtesy of two goals from club captain Ilkay Gundogan, who has since announced his departure from the club.
Manchester City concluded an historic season with victory in Istanbul, beating Inter Milan 1-0 to win the Champions League for the first time in the club's history.
Rodri smashed City into the lead 68 minutes into the game, while an inspired goalkeeping performance from Ederson ensured a famous win for the Sky Blues.
City celebrated their treble success with a major open-top bus parade in Manchester city centre, as well as a series of parties for players, families and club staff.
Several members of the Manchester City squad also jetted off to Ibiza to celebrate winning the Champions League, just hours after an all-night party in Istanbul.
Jack Grealish's father has also revealed that a party at the Tunnel Club following the Premier League title trophy lift saw the players rack up a five-figure bar bill worth £47,000, according to The Mirror.
Speaking in an interview with Mirror Football, Grealish's dad Kevin said: "To be fair to City, they've been brilliant with the celebrations and all the parties. There was one for winning the Premier League at the Tunnel Club a few weeks ago.
"The drinks bill came to £47,000, FORTY SEVEN GRAND! – I saw the receipt – and before you say it, that wasn't just Jack's drinks bill. He actually went home early that night!"