Jack Grealish reveals reporting for England duty 'hungover' after wild Manchester City celebrations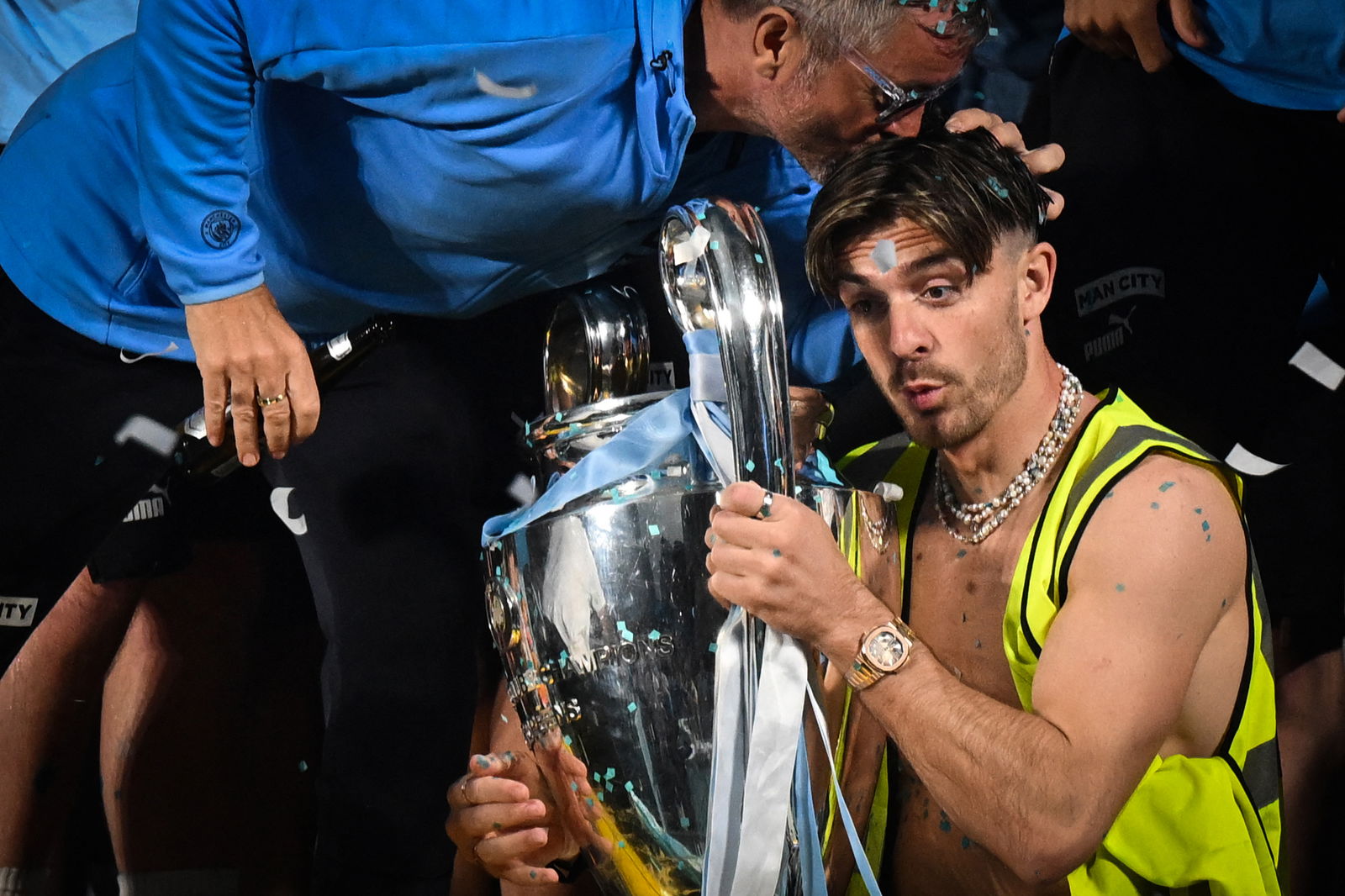 Manchester City star Jack Grealish has admitted he reported for training with England 'hungover', just hours after his crazy celebrations with his club side.
Grealish and his City teammates were crowned Champions of Europe after a 1-0 win in the UEFA Champions League final in Istanbul, adding to a third successive Premier League title and an FA Cup triumph.
Victory in Turkey sparked a wild 72 hours of non-stop celebrating for the Manchester City squad, as their party into the early hours of the morning in Istanbul was followed by a night out in Ibiza, and then a day-drink with their supporters in Manchester city centre that spilled over into a club staff party at Depot Mayfield.
Unsurprisingly given his fantastic personality, Jack Grealish was largely at the centre of attention in content shared across social media, with the England international sipping on vodka, comparing himself to a turkey, and belting out Fleetwood Mac's 'Everywhere'.
Speaking following the conclusion of the international break this week, Grealish admitted that his wild partying resulted in him reporting for England duties hungover.
"I have a great relationship with him (Gareth Southgate), honestly. I kind of knew in the back of my head that I wouldn't play (against Malta)," Grealish said. "But even so I came into camp on Tuesday night, I was a bit hungover but I wasn't drunk. I came into camp with the other guys, we slept then woke up and trained."
Speaking on his Manchester City treble-winning party, Grealish detailed, "I knew what I was doing, that's just the way I am – I'm like that when I party usually. Actually, I'm not like that usually but we've won the Treble and it's something that will never happen again.
"So I went and enjoyed myself and I wasn't the only one. I think a lot of the time you'll see everyone recording me but I could show you stuff where other people were the same. We all enjoyed ourselves, other people enjoyed themselves where the cameras weren't but that was just me enjoying myself, I'd had the most successful season of my life.
"It is now June 19, I came into training last year on July 13. Years ago, you'd have a season for nine months, I've just played for nearly 12 months. I've been to a World Cup, I've won three trophies and then I'm going to be back training in four weeks or so why not enjoy myself? It was the best weekend of my life.
"I would never sit here and lie to you and say, 'I don't drink and I don't party,' because I do. But then there's so many people that will come here and say to you, 'I don't do this, I don't do that,' when they do.
"I'm just truthful. I'm living my dream of playing for the best club in the world."
Jack Grealish and his Manchester City teammates are expected to report back for pre-season training midway through July, before the club jet off to Asia for their tour and trio of friendlies against Bayern Munich, Atletico Madrid, and Yokohama F. Marinos.